An RPCV who served in Thailand steps up to support Afghan evacuees
When the process to resettle thousands of Afghan evacuees began in 2021, it was clear that a huge Volunteer effort was needed. Thousands of people from various federal agencies and nonprofit organizations joined Operation Allies Welcome—all with the goal of providing support to newly arrived Afghans.
About 100 returned Peace Corps Volunteers (RPCVs) and many Peace Corps staff members stepped up to support the Afghans as they began their new lives in America. Sarah Brooks is one of many who donated their time and talents. She's an RPCV who served in Thailand as a community-based organizational development (CBOD) Volunteer from 2009 to 2011. Now, she lives within driving distance of Fort Pickett, Virginia, one of the eight temporary housing locations.
We connected with Sarah to find out why she decided to Volunteer and how she used the skills honed during Peace Corps service to support Afghan evacuees resettling in the United States. Here's what she shared with us:
What were some of the projects you worked on during Peace Corps service?
Some of my favorite projects included forming an all-girls teen youth group that was focused on community service. I also wrote a grant to get funding for 13 families living with HIV/AIDS to help them start income-generating agricultural projects at home. Their projects included raising ducks, crickets, and catfish.
Why did you choose to volunteer for Operation Allies Welcome at Fort Pickett?
In my current job, things really slow down at the end of the year. When I saw the dates that volunteers were needed at Fort Pickett, I knew I could actually dedicate a significant amount of time on base. Luckily, my team was completely supportive and I was able to pull it off while working on my regular job from my phone and in the car while driving to and from the base.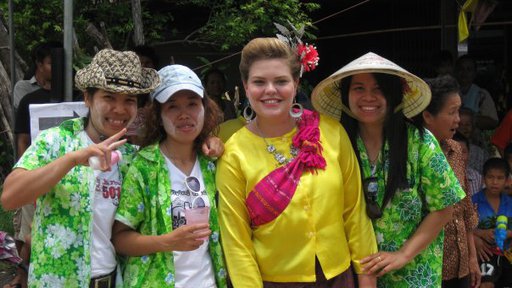 What does a typical day of volunteering look like for you?
Since the base is about 90 minutes from my home in Richmond, Virginia, I usually try to spend a whole day there (about 10 a.m. to 4 p.m.). Most of my time has been spent in the women's center. The space is a cinderblock building with one large room and one classroom. The folks from the State Department and the Department of Homeland Security who are running the efforts have done a great job at making the space as nice as possible.
There is a tea station, several closets full of toys, beauty and hygiene supplies, and about six sewing machines that the women can use to alter some of the clothing that has been donated. I usually help out with general services in the women's center and try to communicate and practice English with as many of the Afghan guests as I can.
In the afternoon, an interpreter from the International Rescue Committee (IRC) joins me in the classroom and we invite female teens and adults to come to class. Using a laptop, projector, and lesson plans from the IRC, I teach hourlong sessions on useful topics such as money management, housing, transportation, and American culture and values. Before I head home for the day, I help clean up the space.
What are some of the ways you are supporting Afghan evacuees as they resettle in the United States?
One way I've supported them is simply by telling friends and family what I am seeing and learning. Media cycles through stories so quickly that I think many people were simply unaware of the scale of this resettlement and the timeline involved. I've tried to promote the IRC more on social media, visit the local Afghan restaurant that is staffed by refugees, and I plan to find regular volunteer opportunities with resettlement agencies in my area after the operation at Fort Pickett ends. I also look forward to staying in touch with the friends I have made on base.
Education is a centerpiece of your work at Fort Pickett. What are some of the questions Afghan evacuees ask you most often when you are teaching on various topics?
Interestingly, most questions come around buying and owning a car and how to get a driver's license. Unfortunately, it's not a great time to buy a car in the U.S. right now and I try to remind folks to focus on jobs and school first.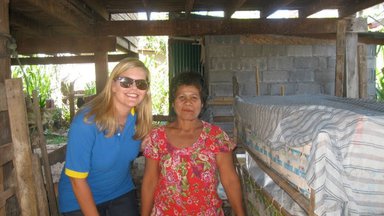 What's the makeup of the groups you support? Are they families? Kids? Teens? Single women? All of the above?
Most of my work has been in the women's center. I've meet all types of groups, families, and individuals. There are some young women in their 20s who are completely alone because their family members were not evacuated. It seems like the process is especially hard on the older population. Of course, the kids are the most resilient.
When speaking to mothers, it's clear that they are all prioritizing the well-being of the children and are excited about the opportunities that they will have growing up in the U.S. I can't imagine the emotion and stress that is experienced, but it's so wonderful to catch the glimpse of optimism in everyone's eyes.
What's the most rewarding aspect of volunteering to support Operation Allies Welcome?
Witnessing the power of resiliency. And the reminder that no matter how different someone might seem, we share values of family and kindness (and humor).
How has your experience as a Peace Corps Volunteer helped you in your current volunteer role?
The ability to adapt. Often in the Peace Corps you are dropped into unfamiliar situations, but the ability to roll up your sleeves and get to work is key. Working through nervousness and anxiety, putting a smile on your face, and connecting with others yields great results.
What is one anecdote from volunteering at Fort Pickett that stands out for you?
During my time at Fort Pickett, I got to know a mother and her two daughters quite well. The teenage daughters are extremely smart and have good English skills, so they helped as translators in the women's center. Though their mom doesn't speak much English, she was always right beside them helping out and I could tell how proud she was of her girls.
The girls approached me one day when they learned that they would be leaving the base in a few days' time to start their lives in America. They needed assistance with transportation. After researching ride-sharing and truck-rental options, we learned it would be extremely expensive to get this family of six off a rural military base and to their new home in Northern Virginia.
Most resettlement agencies provide transportation, but this family was not going through the traditional process. My parents are retired and quite active in their church, so I called and asked about using their church bus. The wheels were set in motion! Over the weekend, I went to speak with an Afghan chef to learn what kitchen supplies and pantry items a family might need to feel at home. A quick trip to the local halal market yielded great results.
The eldest daughter was set to turn 18 the day after they left the base and she shared that it was her birthday wish "not to wake up on the base." I made sure to have a cake and birthday candles in their boxes of supplies. Since I was set to teach that day, my parents graciously met the family at the front of the base and drove the family over five hours to their new apartment. Our families are now great friends and we keep in touch through email and text messages every week.
The first message I received on Christmas morning was from this family. I can't wait to see what the future has in store for them, and I hope they have peace and comfort in their new home and are cooking their favorite dishes in their kitchen.
What would you tell other RPCVs about your experience and would you encourage them to help? If so, why?
This experience has reminded me of what I am capable of and how great it is to push your own boundaries. I've learned so much about the resettlement process in America and I hope to continue my involvement and contributions through organizations like the IRC. Though the operation at Fort Pickett is set to close in February, I hope to remain involved in this work for many years to come.
Editor's note: On February 1, 2022, the last group of Afghan guests temporarily housed at Fort Pickett as part of Operation Allies Welcome departed the base. The operation was supported by more than 3,000 Volunteers from the Peace Corps, USAID, the State Department, the Department of Homeland Security, the Department of Defense, and numerous nonprofit organizations. As of February 2, the United States has welcomed more than 76,000 Afghans to the United States through Operation Allies Welcome, providing them with support and assistance as they begin their new lives in America.