An insider's account of the Peace Corps' evacuation of Senegal
The remaining staff members and I began looking at one another, with blank faces, feeling empty and alone. I think it's safe to say we were all in shock at what had occurred.
March 20, 2020, was a memorable day for all of us at Peace Corps Senegal.
I think organized chaos at its finest is the best way to describe the events leading up to that day. I believe we received a conference call from our country director confirming we had to evacuate Peace Corps Volunteers due to COVID-19. Interrupted service is something new to us, but from that point on, we got to work. I met with the training center staff and basically said, "We need to buckle up because our Volunteers and Trainees will be evacuated and we need to get this place ready – quickly."
The guard at the entrance of the training center screened the waves of Volunteers arriving via public transport from all 14 regions of Senegal. Over 240 volunteers with their luggage — and some with pets — descended into the training compound. Emotions and energies were very high, to say the least. There was a lot of excitement and lots of tears. There was also a heavy weight of angst and fear of what was happening on the other side of the Atlantic. Our dormitory buildings quickly reached maximum capacity with a cohort of more than 60 trainees in pre-service training already occupying space.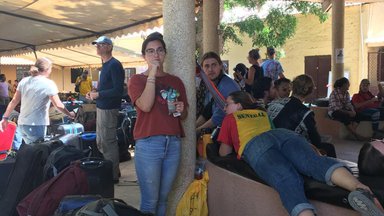 We set up beds with mosquito nets on our basketball court, and encouraged Volunteers who owned tents to use them. There were tents sprawled all over the campus. It was beginning to look like a refugee camp. We placed emergency stands throughout the campus so that the Peace Corps medical officers could perform consultations. The Peace Corps Senegal general services team collected Post-owned property and financial assistants took in as many bill-of-collection forms as possible. I asked Peace Corps Volunteer leaders to line up, as best as they could, the sea of luggage and personal items on the grounds of our large parking lot.
I remember one of them asking, "Great! We'll do it by sector?" And I said, "Bismillah, I trust you. Do what you do." Then we planned quick meals that didn't take long to prepare. That meant no Senegalese communal bowls of tiebou djeen — fish & rice — our national dish. Instead, on the menu were chicken and vegetarian sandwiches wrapped in aluminum foil and fruit and bottled water for everyone. Our wonderful kitchen cooks and helpers were true rock stars that day.
We met with the Trainees, who had been in pre-service training for nearly one month at the time, to inform them of the bad news. I took the lead and tried to boost morale and explain to the cohort the urgency of getting them home to the United States before airports closed that evening. As I began to speak, I was interrupted by a furious Trainee, who verbally chastised me, for attempting to give them a "pep talk." I recall hearing my inner voice telling me, "Breathe, old man, you've been through this before. He's scared and worried, and this is a normal reaction to such news."
I took a deep breath, and continued with my discourse. I am an emotional guy at times, but I had to say a few words of encouragement to my "kids." I wished them a safe journey home and told them that we'd miss them deeply.
More importantly, I told them that we wished them safety and security and continued good health upon their return to the U.S. And, of course, right on cue, I choked up.
Led by our awesome regional manager and the associate Peace Corps directors, our general services team, Peace Corps drivers, language and cultural facilitators, and the regional coordinators planned transport logistics. When the huge tour buses began to invade the compound, it was time to say our goodbyes. The cohorts began boarding the buses and Peace Corps vehicles with hearts heavy. Some began sobbing and were consoled by their peers — many who were also in tears. A few staff members hid so they could cry in private, while others simply took in the moment with poise and resolve.
While COVID-19 restrictions were already firmly in place, we needed to show the departing Volunteers and Trainees some love. We embraced them all, since none of us knew if or when we'd see each other again.
As the last buses and personal vehicles left the training center that day, an eerie and palpable silence took over the compound. The other remaining staff members and I began looking at one another, with blank faces, feeling empty and alone. I think it's safe to say we were all in shock at what had occurred.
As a father of three girls, I suddenly felt sick to my stomach. It was like losing my own children, without having a moment to say "we're sorry and we love you." It was an emotionally charged day. We miss our wonderful people, and very much look forward to seeing them back in Senegal and back to service in our communities.