An impactful experience for a returned Peace Corps Volunteer, on a U.S. Army base in Texas
An Army base in El Paso, Texas, might seem like an odd place to find a returned Peace Corps Volunteer who served in Zambia. But that's where Nirav Shah landed in the spring of 2021.
Fort Bliss, a sprawling military base in West Texas, was the temporary home for scores of unaccompanied migrant children found crossing the Mexican border. This emergency intake site (EIS), operated by the U.S. Department of Health and Human Services (HHS), provides care and housing for migrant children while arrangements are made for them to be reunited with family or otherwise given more permanent homes. This is how Shah, a public affairs specialist for at the Peace Corps, found himself on a temporary detail to Fort Bliss, where he worked as a public information officer for several months.
Shah applied for the detail position weeks before the opportunity was finally offered to him. When it was, he was given 48 hours to make the choice to take it — with little information on what he'd do.
"I just got a paragraph or so letting me know that I'd be a public information officer. Besides that, there was no information given to me prior to getting on the plane and getting on base. I had no knowledge of what exactly I'd be doing once I arrived at Fort Bliss."
Luckily, having been in the Peace Corps, he was used to figuring things out on the fly and he didn't hesitate. "I knew I was up to the challenge," Shah said.
The challenge became more intense once he hit the ground in El Paso and found that the person he would replace had gotten COVID-19 and was in isolation — meaning she couldn't train him for his new job, which was demanding.
"I usually worked seven days a week and my days started early — every other day I had to get a COVID test at 6:30 or 7:00 a.m. before the daily briefing at 8:00," he said. "The briefing was the time I'd let everyone know if I would be bringing visitors through, and I'd be informed about what other team members had going on."
The EIS at Fort Bliss houses youth aged 11 to 17. The vast majority were boys, Shah said, and boys and girls were kept separate from one another. A mixture of volunteers from government agencies and contractors ran the EIS, which provided education, food, activities, and health care to the children there. Shah points out that staff worked hard to link the children to their parents or guardians quickly — the average stay in the EIS was two weeks.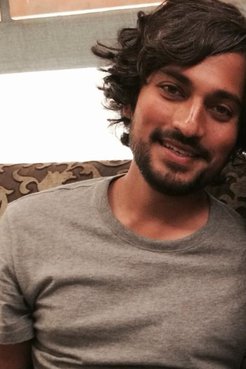 "It was a 24/7 operation," Shah said. "And part of my job was showing visitors that the government was effectively keeping the kids safe and well while they were under our care." For Shah, the hard work was fueled by passion. "Every day I was there made me love the government more. I've always had a passion for public service, and my time at Fort Bliss just increased that."
Fort Bliss had the capacity to house 1,500 unaccompanied minors, but the number of children shifted with the seasons. Shah explained that most cross-border migration happens during the summer months. He was there in the early spring, so the facility wasn't full. That didn't make his job less stressful, though. He not only worked with the media and cleared people to come take tours, but he also led the tours himself, created ever-changing sets of talking points, developed an onboarding document, wrote a training manual, and pulled together a set of standard operating procedures for his replacement.
While Shah's work at Fort Bliss was different from his work as a Health Volunteer in Zambia, he drew on his Peace Corps service experience while working at the EIS.
"As I experienced in the Peace Corps, when I got to Fort Bliss, there was nothing really given to me. I did create my own work and l was committed to leaving something behind."
All in all, the experience was deeply impactful for Shah, who recommends the experience to other government employees who may be interested in lending their time to time to efforts in support of migrants.
"It was rewarding, too, to work with the team for a mission that was so good. Like in the Peace Corps, you are there for your neighbor and you are doing work you love doing," he said.
Clearly, Shah's work at the EIS made a difference — to the other team members he supported, to the officials on the tours he gave, and to the children who benefitted from the open and transparent government oversight Shah help provide at the EIS. All in all, seems like a perfect job for an returned Peace Corps Volunteer.
---