Almaz Asanov shares what it's like working at a Peace Corps Post
Almaz Asanov was teaching English at a local university when he saw the job advertisement for a language and cultural facilitator (LCF) at Peace Corps' Kyrgyz Republic post. Fluent in Kyrgyz, Turkish, Russian, and English, Almaz was hired and proved to be a great addition to the team. Now, five years later, Almaz is one of three regional managers and doesn't plan on leaving.
"It doesn't feel like work; it's like you are going to a relative's house. We are a family here. There's a positive, friendly atmosphere. That's why I want to stay as long as I can," Almaz said.
As a regional manager, Almaz supports the thorough, nine-month-long process of preparing sites for in-person Volunteers. Peace Corps Kyrgyz Republic has exclusively operated within the Education sector since 2016. While staff often visit rural communities to share the Peace Corps' mission, most Volunteer sites come from a list of schools the Ministry of Education provides.
The regional managers then visit those schools to confirm the sites meet the agency's placement criteria. This includes confirming there will be dedicated counterparts and a compassionate host family.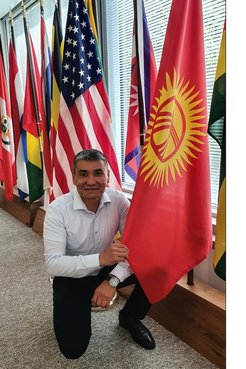 "When a host family is selected, we train them on the security and medical aspects of [supporting] a Volunteer. We talk about cultural differences and train them on how to resolve possible misunderstandings," said Almaz.
But even after a school and family are identified, the work is far from done. Housing often needs significant preparation. Among other factors, Post staff check that housing has basic furniture, sufficient heating, safe electric wiring, and a secure lock that can be locked from both the inside and the outside.
"We go three or four times to the same site to check [on the progress made towards] our criteria."
Considering Kyrgyz Republic welcomes an average of 50 Volunteers each year, that requires a lot of site visits, but Almaz doesn't seem to mind.
"I get to travel to different parts of the country, which I had never been to. I'm enjoying it. I make sure to video call my [5-year-old] son and wife every night when I'm on the road."
On top of placing and supporting in-person Volunteers, Almaz oversees the Post's online TESOL certificate program and Virtual Service engagements.
"It's a privilege to support Volunteers and Virtual Service Participants who serve our communities," the busy regional manager said.
To date, Kyrgyz Republic has connected 15 schools with Virtual Service Participants, who donate time each week to co-facilitate English classes or mentor teachers.
"[Post] believes in the future of Virtual Service. There are some sites in the country where we cannot place Volunteers for safety and security reasons or [they're in] radiation zones," said Almaz. "We connect [those partner organizations] with Virtual Service Participants and they are very satisfied."
Before the collaboration begins, Almaz hosts an online orientation in which he discusses the cultural and educational differences between the U.S. and Kyrgyz Republic as well as the student-teacher dynamics. Orientation also includes basic Kyrgyz vocabulary and elements of the culture, such as the traditional dish, Beshbarmak or the hypnotic strumming of a komuz. Although virtual orientation is considerably shorter than the pre-service training for two-year Volunteers, Almaz recognizes the importance of covering the culture. For one, it fosters respectful and thoughtful relationships. Almaz also understands that learning about a new culture is one of the many reasons Americans join the Peace Corps.
After witnessing Virtual Service's impact over the past two years, Almaz is hopeful that eligibility will soon open to other American citizens, not just returned Peace Corps Volunteers (RPCVs).
"[In my opinion], anybody could be a Participant as long as they learn the cultural nuances."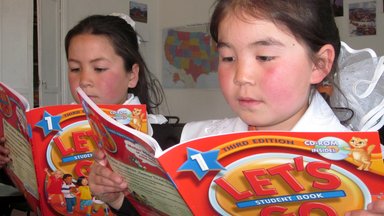 Almaz's confidence in Virtual Service is due in part to the ongoing support provided by Post. He routinely checks in on the Participants and counterparts through text messages and virtual meetings. This allows Almaz to quickly offer solutions when new challenges arise and collect feedback for programmatic improvements.
"Almaz has been an incredibly dedicated leader for virtual service in Kyrgyzstan. He is consistently ensuring that we have the resources, support, and guidance to succeed in our projects," Virtual Service Participant Noah Bratcher, said.
Kyrgyz Republic's Director of Programming and Training, Ryan Monroe, echoed that sentiment, stating, "Almaz is great to work with – he is friendly, collaborative, and humble. He is loved and respected by all."
Almaz, of course, is just one of the many incredibly talented staff members working in the field. Kyrgyz Republic has 40 staff members–from drivers and LCFs to the country director–alone! If you want to work at a Peace Corps Post, Almaz recommends emphasizing your interpersonal skills since so much of the work revolves around building and maintaining relationships.
If you'd like to serve in country, there are two-year Volunteer positions, short-term Response positions, and virtual service opportunities. Post is particularly excited about their new Eco-tourism Marketing Specialist position. Not only is the project with Kyrgyz Community Based Tourism Association "Hospitality Kyrgyzstan" (KCBTA) the Post's first step outside of the Education sector, but it also promises a significant financial boost for the local economy. KCBTA hopes that with the support of Peace Corps Volunteer, they'll inspire avid travelers and nature lovers alike to enjoy their country's storied peaks and 2,000 lakes.
---