'Adjust, adapt, and overcome': A boy from Cleveland embraces a life of service
As a child growing up in racially segregated Cleveland, André Boyer dreamed of getting an advanced education, and to be known as "Dr. Dré." Setting and reaching one goal after another from a young age, Boyer aimed for a career in the military and ended up achieving a rewarding life of service that includes three stints in the Peace Corps.
The youngest of 10, Boyer grew up under the care of a single mom. When he reached high school, he was offered an opportunity to attend an aviation magnet school.
"In the early 80s the Space Shuttle had just come out, and the idea of joining the Air Force attracted me," he said. "I thought that if I learned to become an aircraft mechanic, I could transfer my skills to the Air Force."
The school attracted youth of different ethnic, racial, and socioeconomic backgrounds from all over Cleveland. Boyer was among 13 Black students in a class of 30 and received free tuition.
"At that time Cleveland was really segregated. I lived on the east side of the city and whites lived on the west side. I didn't interact with people of different races on a daily basis," he said. "At school I learned how to get along with different people. It helped me understand that people are people, no matter what their background. We were all there for one goal, and that was learning the trade."
After graduating, Boyer took the military's aptitude test but didn't meet the score required by the Air Force, so instead he enlisted in the Marine Corps, where an older brother also served.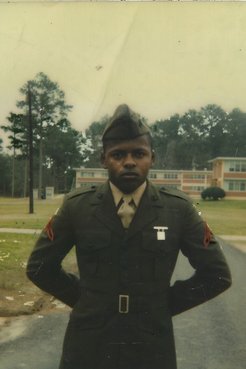 "I wasn't good with my hands, so being a mechanic was not going to work. The Marines put me in aviation logistics, where I thrived," he said. "We provided squadrons with the parts they needed to meet the mission. We said, 'You don't fly without supply.' Eventually, I became a subject matter expert in the field, a chief warrant officer (CWO)."
By this time, Boyer was married with two young kids. He loved being a Marine but wanted to expand his career prospects for post-military life. He began attending night classes while off duty and eventually earned a bachelor's degree from the University of Maryland, a master's degree from Troy University, and a certificate in teaching English as a Second Language (ESL). He also completed course work for a doctorate in education (TESOL, Teaching English to Speakers of Other Languages).
"While on active duty in Japan, I was introduced to teaching English as a foreign language and found that I loved it," he said.
Boyer retired from the military after a 22-year career and, within a year, earned his doctorate.
Eventually, the University of Phoenix, under a U.S. military contract, hired him to teach business management and teacher education for civilians, service members, and their families in Japan over a period of 11 years. He also started a business teaching English as a foreign language.
"And yes, my students and colleagues call me Dr. Dré!" he said.
When the University did not renew its contract with the military, Boyer, who had also recently divorced, had to figure out his next move.
"I loved being in service: I define myself by helping others," he said. "And I had long wanted to join the Peace Corps. I looked at the opportunities, and as I learned more about the goals of the agency, I said, 'Wow! This fits with who I am as a person.'"
Boyer spent two years as a Peace Corps Volunteer in China, teaching university-level English and training teachers. After completing service in China, he signed up to be a short-term Peace Corps Response Volunteer in Georgia.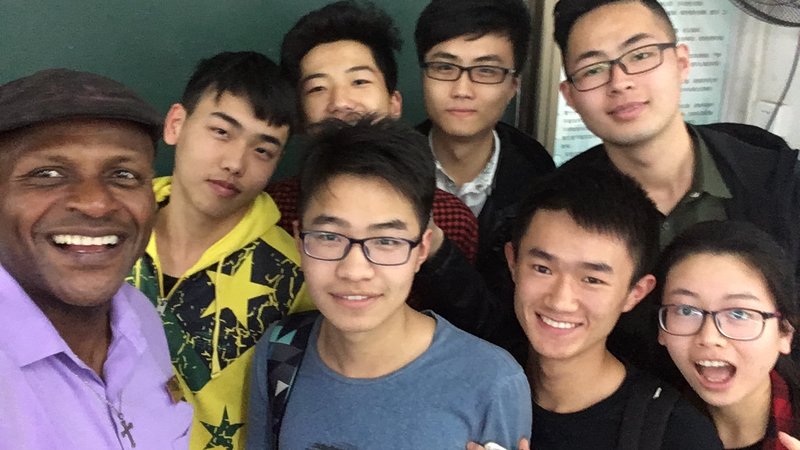 "That job was written with my skillset in mind. I helped an NGO (nongovernmental organization) with a media campaign, fundraising, and organizational development. I also co-developed and co-taught university level English as a Foreign Language (EFL) classes. Once our EFL curriculum was complete, I traveled around Georgia and co-facilitated teacher workshops. It was one of the best jobs in my life," he said.
After remarrying in Georgia, Boyer went back to the States to find a job. But that didn't stop him from continuing to serve. He became a Peace Corps Virtual Service Participant, doing TEFL work with teachers in Ukraine.
"During one meeting, the power went out because of the war. The teacher ended up using her cellphone to finish her presentation," he said. "In spite of the war, Ukrainian teachers prevailed. Many felt that meeting with us every other week helped them take a break from the difficulties of daily life and continue their professional development."
Boyer feels the Peace Corps was a great fit for him as a veteran because of the agency's organizational similarities to the military.
"There is in both a big focus on safety, security, and individual accountability. In both, you have an introduction period (pre-service training/basic training) where you're learning the rules and the regulations of the organization as well as getting a cultural orientation. The Peace Corps offers some of the best foreign language training I received throughout my career," he said. "During service, you serve in a structured environment, but there is flexibility and autonomy in getting the job done."
Boyer also feels that the skills needed for successful Peace Corps service are similar to those cultivated in the Marine Corps.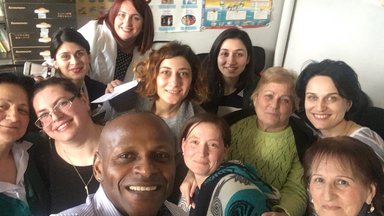 "Marines are mission-focused but flexible. In my time, our slogan was 'Adjust, adapt, and overcome.' You need the same attitude in the Peace Corps," he said. "Marines are also known for their leadership skills. For example, during my Peace Corps service, I acted as a warden for my province. If an emergency happened, I was responsible for communicating with the Volunteers in my region so rumors and misinformation wouldn't arise."
As a three-time Peace Corps veteran, Boyer enthusiastically recommends the Peace Corps to other military veterans.
"As a veteran, you bring a lot to the table — leadership, organizational skills, and a love of country," he said. "The Peace Corps can provide an opportunity for you to share your knowledge and abilities with others. And it can pave the way for more opportunities down the line."