Adapting to climate change as a Peace Corps Volunteer
When I first applied to join the Peace Corps 10 years ago, I didn't know much about climate change, but I was assigned to work as an English teacher in rural Mongolia, where I had a front-row seat to the unfolding emergency. Many of my students there came from traditional herding families, and they were struggling in ways that that their ancestors had not.
During my two years in Mongolia, I helped plan multiple environment-related projects, including hikes, trash cleanups, and a tree-planting event. I also led a fuel drive to carry some of our more vulnerable neighbors through the country's frigid winter nights. My students were amazing, and they continue to accomplish amazing things, but there was little we could do to change the climate around us, which was hurting our community — including some of the world's last nomadic reindeer herders — with ever increasing droughts and storms.
When the rains came early, the grass was covered in ice, and our classes were canceled. There was no time for math and English — the teachers from my school spent their day in the hills, cutting feed for hungry animals. From my little yurt in Mongolia, I saw a lifestyle that lasted for 1,000 years becoming more and more challenging.
After serving in Mongolia, I was invited to serve as part of the first batch of Peace Corps Volunteers in Myanmar, where I was briefly among the six most famous high school teachers in the country.
A photo of me and my fellow Volunteers in traditional Burmese longyi garments went viral on Facebook, drew hundreds of thousands of likes, and was shared more than 30,000 times. In the first month or two, strangers came up to me in the streets of Yangon, showed me the photo on their cellphones, and thanked me enthusiastically for serving in their country. I loved Myanmar so much that after completing my six-month Peace Corps assignment, I worked at the U.S. Embassy's American Center for six months before leaving due to violence there.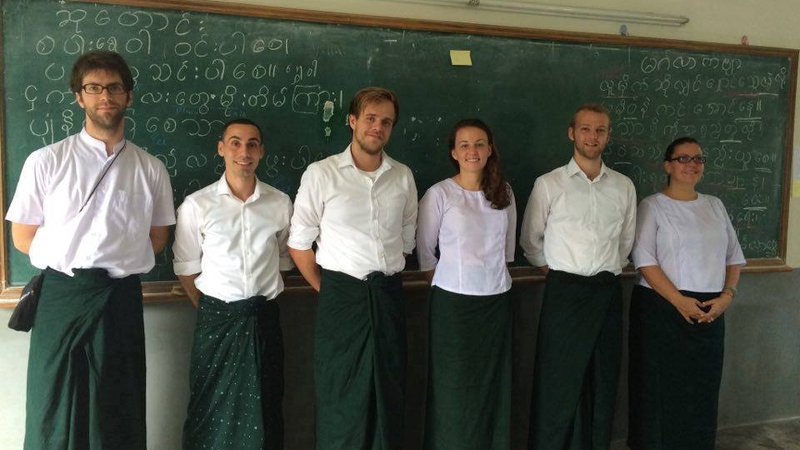 During my time in Myanmar, friends from a local university took me to see the Chindwin River, the main tributary of the Irrawaddy River. Some 6 million people depend on the Chindwin for food and transportation, but on that day the river ran yellow with toxic runoff from copper mines. The poisoning of the river in Myanmar felt massive, tragic, and inevitable. I wanted to do something about it. Eventually, I went back to school and spent three years studying environmental law.
Now, I'm packing for my third Peace Corps journey — this time to the Philippines, where I'll work alongside community members on issues related to coastal resource management. As an attorney with a few years of experience in climate policy, I hope to bring new skills to a familiar set of challenges, including food security, waste management, and stewardship of natural resources to protect communities and wildlife.
In the Philippines, the need for climate adaptation is urgent. Filipinos emit only 10 percent as much greenhouse pollution as many other countries, but they're about 10 times more likely to lose their homes or livelihoods to climate-related disasters. In other words, they're suffering about 100 times more than they deserve to.
The Philippines' vulnerability is a function of its geography. Most people probably associate climate change with rising air temperatures, but the global ocean has absorbed more than 93 percent of the energy trapped by greenhouse pollution since 1971. As the ocean warms, it will fuel stronger typhoons, like Typhoon Haiyan, which displaced more than 4 million Filipinos in 2013 (about four times as many people as Hurricane Katrina in the U.S.). The warming ocean will also expand, raising sea levels. Both storms and rising seas pose a growing threat to Filipino communities, even as ecological impacts threaten to rip away food security and economic livelihoods.
I'll stop here. The job of a Peace Corps Volunteer isn't to scare people or tell them what to do. It's crucially important in the climate sector that we approach our work from a position of humility. The U.S. and other developed countries need to lower their emissions, period. Climate change isn't a problem for Filipinos to solve; however, surviving climate change is. And that's what I'm here to help with, in any way I can.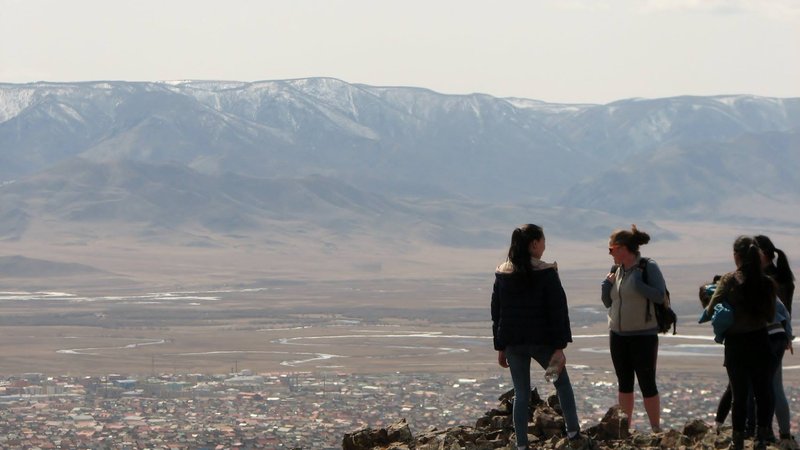 Approaching my work from a position of humility also means being ready to learn, adapting my views, and changing myself. No one knows more about the ecology of the Philippines than the fishers and divers who depend on it. The Philippines is a hotspot of both biological and cultural diversity. It hosts an incredible array of indigenous cultures, all of whom can teach lessons on sustainability and stewardship. I can't wait to learn from them.
I've been lucky. Without my background as a Volunteer in Mongolia and Myanmar, I would never have benefited as fully from the opportunities I received afterward. I might be the only attorney in the country who has spent two years in a yurt on the edge of Siberia, and my experience there shaped the person I am today. Now I'm hoping to pay it forward. And I hope that in 10 more years, I can look back on my time in the Philippines as an experience that redefined my life all over again.
---