Acting Director puts her stamp on Togolese entrepreneurship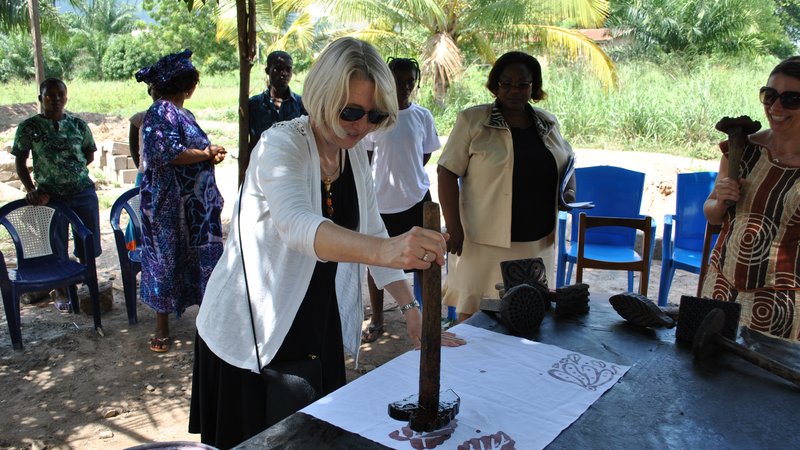 March 13, 2014
Who enters Peace Corps thinking they'll emerge a leader in entrepreneurship? 
You can prepare for service all you want, but you never really know exactly what and whom you'll be involved with until you hit the ground and get started. As a Peace Corps Volunteer (PCV) in Togo, Megan Rhodes met Chantal Donvide, a seamstress who had been making traditional Togolese outfits for PCVs for years. As a result of their work together, Chantal is now an international entrepreneur.
This week Acting Director Carrie Hessler-Radelet had a chance to visit Chantal's Aklala Batik Boutique in southwestern Togo, where she got to participate in part of the batik fabric-making process. At Aklala Batik Boutique, Chantal sells sandals, shirts and bags made from traditional cloth, called aklala in Ewe, the language spoken across southern Togo.
As a seamstress in southwestern Togo, Chantal served as the Secretary of Kloto Tailors' Training Center, where she provided free trainings to orphans and disadvantaged young women to prepare them to become economically independent.

In 2000 PCV Jean-Marc Gorelick recommended her work to fellow PCVs, and they loved her workmanship and started frequenting her shop. In 2006, Megan started working with Chantal on small business management, assisting her with the sale of batik materials. Together, they officially established Aklala Batik and created a blog to advertise her products. Megan also helped Chantal to attend a business training organized by USAID in Accra, Ghana, and to attend regional trade shows.
Recently, Chantal started working with a U.S. company named Reef, which purchases her batik and transforms them into shoes. In 2012, she also attended a women entrepreneurs' conference in the U.S. financed by the American Embassy of Togo. Now, Chantal is a successful small business owner and donates a percentage of her profits to pay for the school fees of orphans in the villages near her home. She's grateful for her relationship with PCVs and Peace Corps.
As the Acting Director told her during her visit, "I encourage you to continue helping your community the way you are already doing, and share your products and experience with Peace Corps. We look forward to working with you and maintaining this good relationship for many years to come."