A Volunteer explains why she chose love over evacuation
When the plan to evacuate more than 7,000 volunteers around the world was announced in March 2020, most of them packed their bags and left. I didn't. I am the few who chose to stay,
When I reached out to my country director about how I could avoid evacuation from Madagascar, he told me about field termination and strongly advised against it. In order to field terminate, a Volunteer must relinquish their Peace Corps-issued passport and give up their flight home. This is virtually impossible for most, but I was determined to find a solution.
Field termination is possibly the most terrifying option you can choose during a global pandemic. I couldn't sleep due to the anxiety of it all. The anxiety of being left behind while all my fellow Volunteers evacuated; the anxiety of giving up my passport, and of not knowing when I would see my family again. So why did I do it?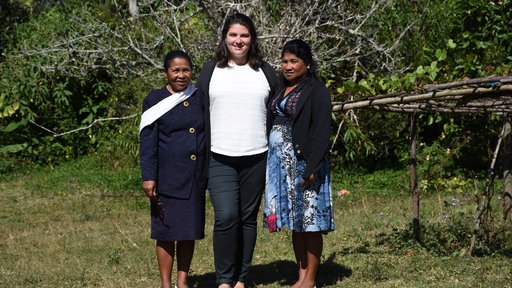 I did it for love. For the love of the country I served in, yes. But also the love of my partner. I knew I needed to stay if I wanted to be with the person I loved.
My partner and I met on a dating app. Two days before my close of service (COS) conference, I injured my back while riding my bike. I had to rent a private car the next day to get to the capital, and our medical unit, 11 hours north of me. In Madagascar, we are given the opportunity to stay with American host families the night before our COS conference, and after seeing the doctors, I was cleared to go to my host family. I was especially excited to stay with them, for their company and career advice, but also for their internet.
Later that evening, after dinner, I was in bed surfing the web. I thought to myself, "I never use this app, why is it even on my phone? It doesn't even work in my village. Hmm, maybe I'll look right now. Why not?"
His was the first profile that the app opened to, and we instantly matched. We chatted a bit and made plans to go on a date after my COS conference was finished.
We went to a fancy raclette restaurant for our first date. It was the first time in two years I had used a fork, and I ended up accidentally throwing it across the table at him. We stayed out until 3 a.m. talking and drinking wine. For the next two weeks while I was on medical hold, we had a date every day, sometimes two dates. It turned out we were only 100 yards away from each other; you could see the roof of the medical unit from the balcony of his house.
Our first date was three weeks before evacuation. Why did I decide to stay in Madagascar with a man I only knew for three weeks instead of going home? I must have been crazy. Or, I must have been in love. All I can say is that fate brought me a man who was patient, kind, caring, and supportive. On one of our first dates, I had my first panic attack. It was a terrifying experience, but he was there to help me through it. I knew from that moment that he was unlike anyone I have ever known. I knew that if I was to evacuate, I would never see him again. I couldn't accept that, so I took a chance on him and I stayed.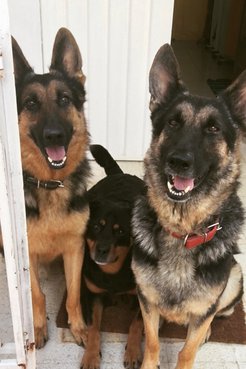 Only a few days after the evacuation, Antananarivo was put on total lockdown and we spent the next six months in quarantine together. We are still happily together, living with our three dogs: two German shepherds named Inky and Gilly, and a rottweiler named Missy.
I thank Peace Corps every day for teaching me the resiliency I needed to stay. I overcame everything thrown at me, and moved forward with my head held high. I stayed behind during one of the most uncertain times any of us have ever lived through. I found a job to support myself while so many around me were losing theirs, and I woke up every morning missing my family.
Yet, I would still make the same decision, over and over.
By staying in Madagascar instead of evacuating, I am living a life that I am passionate and proud of. I was able to stay because I found a job teaching English at a private school, where I've been for the past 18 months. I am now blessed to take on a new opportunity as the coordinator of the International TEFL Training Institute of Madagascar.
Like so many volunteers who fall in love with their country of service, I fell in love with Madagascar. I've never loved a country like this before – it's gotten into my soul. I thank Madagascar every day for so many things – for teaching me humility, kindness, patience, and resilience. For helping me see the beauty in the calm, quiet, and slow days. For showing me that I can fail at 15 things a day, but that I will forget them instantly when I succeed once. And especially, for bringing me to the man I love.