A Virtual Service Participant says one engagement is simply not enough
Christa Gibson, who has a penchant for intercultural collaboration, shares why she plans on participating in Virtual Service for the foreseeable future.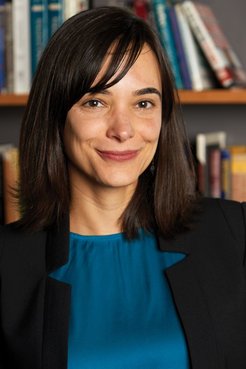 "Service changed my perceptive. I had been an ESL (English as a Second Language) teacher before going into [the] Peace Corps and I thought that was what I was going to do for the rest of my life, but working in the school made me want to make an impact at a higher level," Christa said.
After her Peace Corps service in Bulgaria (2002-2004), Christa earned her master's in public policy and has worked within global health policy ever since. Christa and her husband, who served in Ukraine from 2004-2006, recently relocated to Germany for his work. Christa was looking for something to keep her busy between walks with their dog, Maya, and devouring novels.
"At the time, I thought we were here temporarily, so I wanted to find something meaningful to do. I saw an email about Virtual Service and, while I didn't get the engagement I originally applied for – I honestly can't even remember what that was now – I got another engagement that was fulfilling."
Based on her professional experience as a project manager for various global health projects, the Peace Corps Virtual Service team recommended a monitoring and evaluation (M&E) engagement with South Africa's partner, Right to Care (RTC).
"I'm never the M&E expert on a project, but I routinely help data collection and tracking, so I was confident that I could still support the project," Christa said.
For the past 20 years, RTC has provided access to innovative treatment, care, and supportive services for HIV, tuberculosis, and associated conditions. The team was excited to partner with the Peace Corps for their male circumcision project, which aimed to raise awareness on circumcision as a preventative measure against HIV and AIDS among men ages 18 to 45.
"In South Africa, there is a traditional male rite of passage [involving circumcision]. I was impressed that RTC embraced those traditions, viewing them as something to build upon rather than something to try and fight. The organization trains traditional practitioners of male circumcision on hygienic best practices and offers medical services during that period," explained Christa.
To kickstart the 12-week-long collaboration, the RTC team sent Christa annual reports to orient her on the organization's programmatic history.
"The Peace Corps South Africa staff did a great job of helping me and my counterpart identify realistic goals given the engagement's short duration."
Christa spent a month analyzing quantitative and qualitative data for significant trends and insights on the Voluntary Medical Male Circumcision Program (VMMC) data. The RTC team used her findings to identify areas that could be strengthened within the current HIV testing services. The team then successfully wrote and submitted the abstract "Uptake of HIV testing among circumcised clients in 15 districts in South Africa." Christa reviewed and provided feedback for their second abstract, "Customary Male Initiation (CMI) as an ideal strategy for physical follow-up of males' post-circumcision." Both abstracts were translated into posters and showcased at Durban's National AIDS Conference.
"Christa provided the template and first draft of a concept paper that profiles insights of best performing social mobilizers in the VMMC program, such as age, gender, and geographical area. Her involvement and support were exceptional, and we miss her brilliant, outcome-driven approach," said Right to Care's VMMC senior monitoring and evaluation manager, Motshana Phohole.
Understanding what makes some social mobilizers more successful in terms of raising awareness on the VMMC program and booking clients will help the RTC team build their own team's capacity.
A second virtual engagement
This past July, Christa began her second virtual engagement. For 12 weeks, Christa and four other Virtual Service Pilot Participants (VSPPs) began donating their services to support America House, an organization that provides Moldovans free access to American cultural learning opportunities, such as movie screenings, book discussion clubs, and speaker events. The center is managed by Academy for Innovation and Change through Education (AICE), an NGO in Moldova that specializes in intercultural education and exchange programs.
"I had been itching to do another engagement. I think the online audio library engagement is going to be fun and I'm really excited about it," Christa said.
This engagement involves co-facilitating read-aloud Facebook Live events that cover literature from Moldova's national English textbooks. For sustainability purposes, the recorded events will then be added to a video library, which grade 8-12 English language teachers across Moldova and their students can access long after the engagement ends.
This isn't America House's first time partnering with the Peace Corps through Virtual Service. Earlier in the year, the NGO had VSPPs contribute to the read-aloud virtual library for grades 2-7. After an overwhelmingly positive response from teachers, the organization decided to expand the resource library for the higher grades.
"Developing students' listening skills is an important component of teaching English as a Foreign Language in the Republic of Moldova, because Moldovan students get exposure to English language just twice a week for 45 minutes. Interactions with native speakers is a rare occasion, as there are only a few Americans living and working in our country. [Participating in Virtual Service] is a unique opportunity," said Margareta Calugher, the program manager at America House in Chisinau.
Margareta and the rest of the America House Chisinau team went on to say they were thrilled to team up with Peace Corps Moldova to build a resource bank that caters specifically to the needs of English language teachers. The audio and video files, available on America House's YouTube channel, will serve as indispensable tools for teachers to foster effective language acquisition in their students by exposing them to authentic pronunciation examples, various accents, and speaking styles.
Christa is excited to learn something herself, too. While she's professionally worked with teams across 19 countries (Djibouti, Kazakhstan, India, Rwanda, Tajikistan, Turkmenistan, and Uzbekistan to name a few), she views Peace Corps' Virtual Service as the perfect opportunity to expand that list and be exposed to new people.
"I enjoy the bit of complexity involved when collaborating with people who don't necessarily see the world the same way as I do. It makes the work better; you come to more creative conclusions and you can stretch yourself in ways you wouldn't if working with people who have the same lens," She went on to say, "I'm happy that Peace Corps is doing [Virtual Service]. I see myself engaging this way for the rest of my life. It's a nice way to try different things, learn new skills, and meet new people."