A Peace Corps "taster" for American undergrads?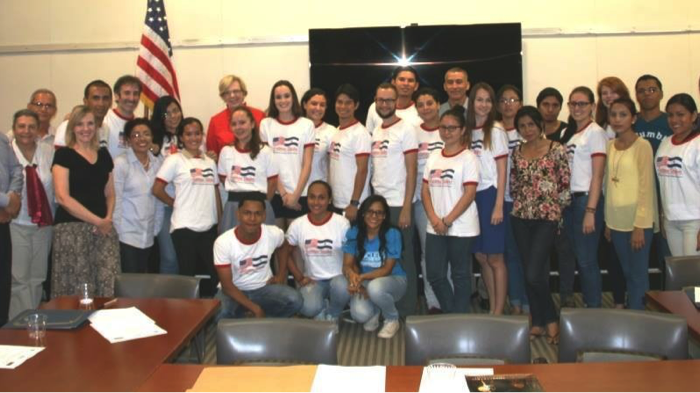 May 15, 2015
I am not a Peace Corps Volunteer, but conversations I'd been having with the Peace Corps over three years led to several Volunteers participating in a cultural photo essay camp that I ran in Nicaragua last December. 
Three Volunteers in particular – Evelyn Cervantes, Tim Kruth and Debbie Rodriguez – paired up with three Boston University undergraduates to join Nicaraguan university students on photo essay sojourns all over the country.
The Volunteers were… amazing. They exercised soft-handed leadership, creative problem solving, a deep and serving spirit — and on top of it all, they were fun to be with. They all shared a rare talent for positioning themselves in exactly the right ways to keep everyone and everything on track. They further provided that "third space" cultural perspective, which was invaluable to our photo essay project.
The BU students observed all of this. They also deeply bonded with Evelyn, Tim and Debbie, and this had a profound impact; two of them now want to join the Peace Corps after they graduate. Here are reflections by international relations major Katie Teran and her Volunteer mentor, Debbie.
From Katie:
My experience working with Debbie was one I could have never imagined. Her air of confidence and drive is addictive. Within half an hour of meeting we had planned out our fieldwork including room for error and fun.
When we arrived on site, Debbie generously invited me into her host family's home. It was there that I began to get an inside view of what it really means to be a Peace Corps Volunteer. I got to experience a traditional Creole family and a side of Nicaragua I hadn't previously been aware of. I was able to ask Debbie anything and everything about the Peace Corps, which she answered truthfully and realistically. It became evident that we had very similar views and personalities, and we bonded very quickly. She also introduced me to Clint and Nadia Parker, other PCVs who gave me additional insights.
Working with Debbie was like having a mentor I never knew I needed. Now with Tim, Evelyn, Debbie, Clint, and Nadia, I feel I have a network of volunteers whom I can call on if I ever need advice, and it is because of them that I look forward to joining the Peace Corps in two years.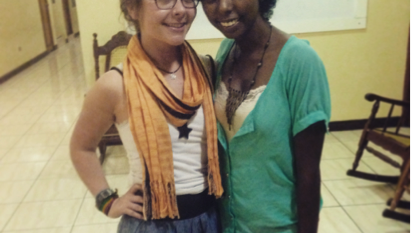 Debbie:

Katie was a guest at my host family's home. She ate local foods throughout the week and gained exposure to the local languages. We spent the week working in my standard work conditions. Being in an authentic context, Katie was able to ask more profound questions about Peace Corps service and volunteer life. All of these elements were able to solidify her interest to serve. We have agreed to become Peace Corps "big and little sisters." I hope to be able to guide Katie with questions she may have during her future application period and support her throughout her service. Also, I should mention that Katie was not the only one to benefit from the relationship. As a former intern with UN Women, Katie encouraged me to consider that organization as a post-Peace Corps work option. Being able to share my experiences with her also made me feel freshly motivated and inspired. It was rejuvenating to have her support and encouragement.
Similar relationships between the other Volunteers and BU students also blossomed, and all of us came away thinking that a similarly modeled Peace Corps "taster" program might be a great thing. In such a program, focusing on cultural photo essay production with local people would constitute one way of enabling Volunteers, the visiting undergraduates, and local people to do something meaningful together within a short space of time.
Our fledgling photo essay project is called Our Global Villages. We aim to engage youth worldwide in the production of photo essays that inspire an appreciation of the fundamental commonalities and great diversity of our global human family, and also to introduce issues that threaten our world such as climate change.
In addition to posting young authors' work online, we plan to develop an academic introduction to global studies for middle school students based on those essays. The curriculum will meet global educational objectives shared by the U.S. and several other countries; we intend to develop a borderless classroom in which students of diverse cultures can all be on the same page — both a common, academic frame of reference and also a sense of collective agency in addressing global issues.
Most of us are affiliated with the Hubert H. Humphrey Fellowship Program, a Department of State-sponsored initiative that brings to the U.S. for a year professionals who have demonstrated great potential for leadership and public service in developing countries. It was Sen. Hubert Humphrey who conceived the Peace Corps and lead-authored the bill that brought it to life. Speaking less than two weeks after President Kennedy signed the executive order, Humphrey summarized his vision: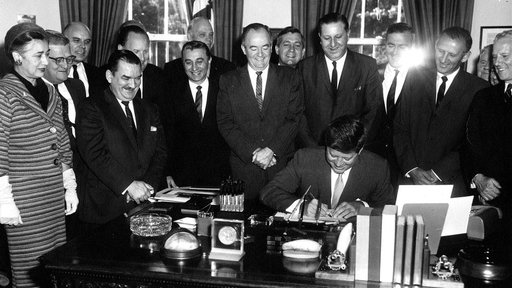 "I think this will have a very healthy impact upon our political understanding of the world in which we live. We Americans are prone to read a pamphlet, or a headline, or an editorial about so-called "emerging nations" or "underdeveloped nations" — and this streak of compassion in you says, "Do something about it"; or somebody else says, "That's not my business." So we treat it superficially. But when you have a substantial number of young people that are really living with their neighbors in other parts of the world — not living above them, not living removed from them — but part of a family, so to speak — and right down at the basic, fundamental parts of community life, you are going to have an understanding of the world in which we live. 
This is not a part of the Cold War; this is a part of the warm heart and the open mind."
In spending time with Evelyn, Tim and Debbie in Nicaragua, I was moved to see that Humphrey's vision of the Peace Corps has been realized. Volunteers are harmoniously integrated communities all over the countries in which they serve, and their service collectively supports the healthy kind of global warming.