A parent's perspective on love, gratitude and new beginnings
One mother's reflection on visiting her Peace Corps Volunteer daughter in Senegal.
After arriving in Dakar on a hot October evening, we got up Monday morning and began the long journey to Emily's region. 
In Senegal, the major means of public transportation is sept-place, literally "seven places" in French. This is essentially a long-distance taxi where you rent a seat in a car with six other people heading the same direction. 
We, however, bought all the seats in the beat-up, un-air-conditioned Peugeot station wagon, making it somewhat less unpleasant but still quite the experience. Imagine 14 hours without air conditioning in 100-degree heat plus humidity over bumpy, often unpaved roads. We stopped once to use the bathroom, and again to get something to eat, but otherwise, we drove… and drove… and drove. 
After leaving Dakar, the road became bumpier, the scenery more pastoral and the population more sparse and scattered. We passed through miles of fields of corn and other crops, dotted with baobab trees and monkeys, and small villages of thatched roof huts along the way. Everywhere, the children yelled "Toubab! Toubab!" at our car as we passed, and when we stopped for gas or anything else, we were mobbed by kids saying, "Donnes-moi des cadeaux! (Give me presents!)" I guess it was pretty obvious we weren't locals…
The most amazing part of that drive? Coming around a bend and finding several full-grown lions lying in the middle of the road! While our driver did not find this as exciting as we did, we were amazed to see the beautiful animals just hanging out and occasionally roaring. When we finally convinced our driver to drive by, we were less than six feet away from one. Incredible! 
After spending a few days visiting the Peace Corps Regional House, where we met other Volunteers, and shopping in the market, we journeyed on to Em's village. Wow, what a welcome! 
We arrived in the early afternoon and the women of the village turned out in force to welcome us, dancing and singing for nearly two hours. When the men returned, we did it all over again, dancing and singing late into the night. 
The Senegalese are known for their hospitality and we certainly experienced that to the max. We met all of the people we've been hearing about and scores of children who climbed all over us when we handed out balloons and other gifts.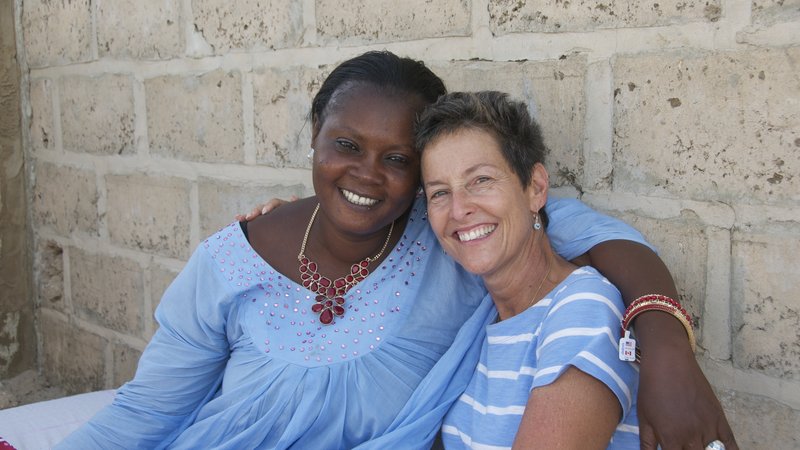 During our time in the village, Em showed us around. We helped finish a mural at the schoolhouse, saw the water pump she had funded and installed (I pumped and carried water on my head), were gifted with a live chicken each day, drank tea with so much sugar it hurt your teeth and so much more. 
Later we took another sept-place to a game preserve where we "glamped" in air-conditioned tents, walked with lions and saw giraffes, zebras, warthogs and more, then visited the family Em lived with during her two-month pre-service training, who fed us amazing food. These wonderful people have given our girl so much love.
It was a whirlwind trip during which we saw and experienced so much love – from the village for Em and from Em for her village. These beautiful, generous, giving people have welcomed our daughter into their homes and their hearts, and she has taken to this life like nobody's business. She will downplay this, but what we saw is that she has fully integrated into her village, become more than just "proficient" (her word) in Jaxanke and is the embodiment of what the Peace Corps is about – promoting mutual understanding of culture and people while working to improve health in her village and region. 
She has grown into a more confident, competent, strong and powerful young woman – and not just because she can fish with a machete and carry water on her head. She has become a citizen of the world and we could not be more proud. This experience has forever changed her in all kinds of ways, and while she doesn't yet know what will come next, we have no doubt it will be amazing. I know I'm biased as her mother, but even an objective observer could not miss what a difference she is making in the lives of her people merely by being there and participating actively in every aspect of village life. 
When we left the village, everyone gathered around us to bless us, led by the village imam. It was one of the most beautiful things I've ever experienced – a moment filled with love and welcome and respect and joy and gratitude for friendships made and experiences shared. 
Sending love to you, our Djeneba (Em's Senegalese name), and all our Senegalese family – we hope to return in the not-too-distant future!