A new pathway towards more conscious businesses in Peru
In being able to pivot and work remotely, together, my colleagues, counterparts, the participants in our training showcased how that collaboration might work.
I had the incredible opportunity to serve our country as a Community Economic Development Volunteer in the highlands of Peru from April 2019 until March 2020. At that point, Covid-19 was officially declared a pandemic, and I was evacuated from Peru and returned home. Afterward, I continued my service virtually until late March 2021.
I served in the Peruvian region of Ancash which, in Peruvian Quechua, means "blue." The spectacularly breathtaking landscape I saw from my window every day from my home in the rural town of Recuay is definitely something I miss. My town was nestled alongside the Cordillera Blanca ("White Mountains"), the world's highest tropical mountain range and host to Mount Huascarán, which rises to 22,204 feet above sea-level.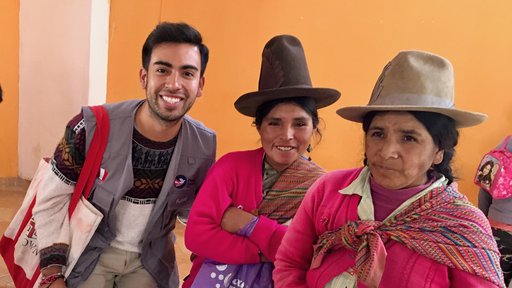 My work mainly consisted of training local Peruvian teachers and directors in social and sustainable entrepreneurship, circular economy, and financial literacy. I also worked very closely with groups of local women through a business consultancy. I help by supporting their products sales and budget management. While most of the women I worked with were generous, kind, strong, and perseverant, many still were aligned with the traditional gender roles predominant in Latin America. They often faced the triple burden of having to take care of their families, bolster their household incomes, and care for themselves both physically and mentally. Having these multiple responsibilities often places the bulk of women's labor outside of the economic system. That is, these women were not paid for most of the work they did.
Once the pandemic started, all Volunteers were evacuated back to their homes. For me, that change little. I continued to collaborate with my Peruvian counterparts who worked remotely to create and design a nine-week, intensive social entrepreneurship training program for the country's Salesian Network. The Peruvian Salesian Network is present in four regions of the country, including Arequipa, Junín, Piura, and Lima. The Network hosts more than 35 teachers who specialize in the areas of business and management.
During the nine weeks that I virtually met with and trained the professors, we had a plethora of incredible and fruitful sessions. Together, we learned about the social and environmental perspectives of businesses structures and operations, and how these should be re-shaped after the current health and economic crisis. The world has changed and the private sector needs to innovate and re-invent itself.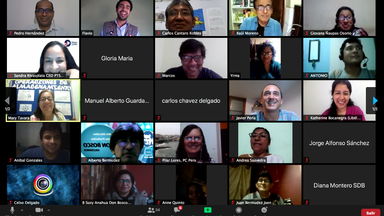 In every virtual session we had, I introduced participants to a group of Certified B Corporations who are using business as a force for good. These businesses included Patagonia, Dr. Bronner's, Happy Earth, and Returned Peace Corps Volunteer-run companies like Beyond Good. These kinds of companies offer examples to strive for as participants acquire new skills and methodologies to use in their future entrepreneurship classes.
Covid-19 abruptly disrupted our lives, but it also gave us a unique opportunity to re-think how companies, the public sector, and communities can collaborate to achieve the sustainable prosperity we all deserved.
In being able to pivot and work remotely, together, my colleagues, counterparts, the participants in our training showcased how that collaboration might work. Together, we created a new path towards a more inclusive, equitable, and regenerative capitalism.