A lesson in love, life and sunsets
I knew Shalin Shah only briefly. But I can honestly say that Shalin was one of the most courageous, purpose-driven and extraordinary individuals I have ever met.
Joining the Peace Corps is not for everyone. Being a Volunteer requires tremendous courage, a creative mind, and a caring heart. But perhaps most of all, a Volunteer must have a passion for service and a deep commitment to helping others.

Shalin embodied each of these traits, in a way that few do. His commitment to service started long before he entered Peace Corps, when he sold water bottles at college games to raise money for UNICEF.
Shalin had nearly completed his training as a Peace Corps Volunteer in Peru when he became very sick. He returned shortly thereafter to the United States.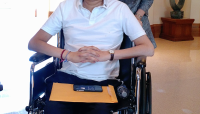 Even while undergoing grueling treatment, he remained in close contact with Peace Corps staff and his fellow Volunteers in Peru. From his room in the UCLA Medical Center, he would write to those facing challenges in their service, sharing messages of encouragement and support.
Everywhere he went, he wore his Peace Corps hat, and that is how everyone in the hospital came to know him – "the Peace Corps Volunteer."
But one thing was missing. At the time he left the program, he had just one week of training to go before being sworn in as an official Volunteer.
It was one of the greatest honors of my time as Peace Corps Director to help fulfill Shalin's dream to be sworn in as a Peace Corps Volunteer.
The photograph we took from his swearing-in in the hospital lobby sits on my desk in Washington and reminds me, each and every day, of Shalin's dream to inspire people to embrace life passionately and to live life to the fullest, no matter what your circumstance.
Many Peace Corps Volunteers around the world have recommitted themselves to service as a way to honor Shalin's memory. His story has brought people together across borders and divides of all kinds and inspired our Peace Corps family to think more deeply than ever about the legacy that each of us hopes to leave behind.
I can think of no better example of a Peace Corps Volunteer in action.
The movement that Shalin inspired called on millions of people around the world to find beauty in each moment and reflect on the gift of life… and in so doing, he has motivated us to be our very best.
He reminded us that even when the day draws to a close, we are blessed with one glorious burst of light.
He reminded us that the opposite of death is not life, it is purpose. Our stories only come to an end when the reasons to keep telling them fade away, and that is why I know that Shalin's legacy of love and light will live on forever.