A father's love in action
One thing that you must first understand is that a stereotype exists in Mozambique about fathers. 
This stereotype labels father as drunks who do not care about anything in their life except for themselves – not their wives, not their children. However, like many stereotypes, it's often proven false. Here's just one example that warmed my heart.
I noticed the father and his daughters during speeches at the "welcome to school" ceremony. One of the girls was playing peekaboo with me around one of her father's legs. She kept giggling around every corner. The father noticed what was happening and gave me a wave and an ear-to-ear grin. He seemed like a friendly guy, but I wasn't sure why he was there. He was clearly not a student or a teacher. Almost all of the children came alone but it is always nice, especially as a teacher, to see a parent caring about his children's education.
Later that day was a ceremony for a playground opening. While the kids stormed into the town's first playground, the adults stood outside and continued to chat with their friends. That's when I spotted the father holding his daughters' hands as he walked them in. The nervous little girls were comforted by their father's touch.
At one point while everyone was playing, he asked me to take a picture of him and his daughters. As I took their picture, we were swarmed by other children who wanted to get in the shot; it ended up so that you couldn't even see his daughters.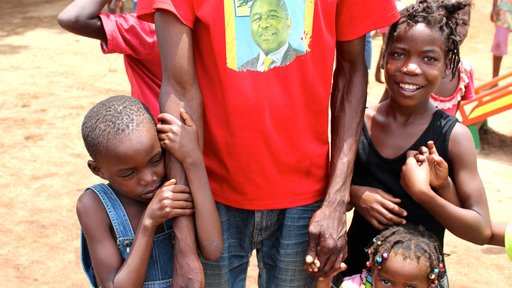 I caught up with the father later to show him the picture with his daughters. He was blown away, and asked for a photo of his daughters by themselves. I snapped the picture of his eldest daughter as he tried to fetch the younger.
After seeing the picture of his eldest and losing all hope in getting both girls in a picture together, he could only manage a soft, "Wow. I just wish the world could see how beautiful they are."
Well, he is getting his lucky wish.
I cannot begin to express how great these children must think their father is. As we look at this one example, let us reflect on moments when we have experienced a father's love or had it shown out as clearly as this man did that day. What stories have you witnessed of loving fathers?