A family rooted in Peace Corps service
This story is as much about Virginia (Kollin) Shovlin (Nigeria 1962-1964) as it is about her son, Paul (Moldova 1996-1998) and daughter, Suzanne (Ukraine 2007-2009).
Virginia was a female trailblazer in the 1960s. She studied chemistry, a male-dominated field, before applying to serve as one of the first 1,000 Peace Corps Volunteers. When she received her invitation from Sargent Shriver to teach chemistry at an all-girls secondary school in Nigeria, she didn't have a clue where the country was located or what to expect, but she was excited for the service journey that awaited.
Teaching in Nigeria was everything Virginia could have hoped for; She was touched by the kindness of her fellow teachers and the students as well as their collective effort to make the school one of the best in the country. Upon completing her service, the naturally curious returned Peace Corps Volunteer (RPCV) took a trip across the Sahara Desert and Europe, but not before sending home a steamer trunk full of locally made African art that would one day inspire her children.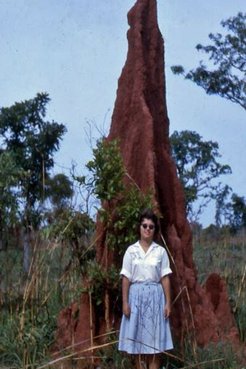 "My mom was the only [parent] who did Peace Corps Day at school. She would talk about her experiences and show photographs from her service. She'd bring in things like a Nigerian talking drum and wood carvings," remembered Paul.
When Virginia wasn't captivating her children's classmates with folklore stories from distant lands, she was making the U.S. feel a bit more like home for newcomers. She helped immigrants in her community practice their driving skills, took them to their English as a second language (ESL) classes, and cheered for them at their citizenship ceremonies.
"For me, it's the way she interacts with others. She seeks out connections with people from different countries and cultures. Even in retirement now, she helps immigrants in the neighborhood get acclimated," Suzanne said.
Much like her Army veteran husband, Gerald, Virginia never wanted to stand in the way of her children's dreams or pressure them into serving the country in one form or the other. Even after Paul, her third son, announced he applied to serve in the Peace Corps, Virginia refrained from sharing her feelings.
"I think she was just quietly proud. We didn't discuss it, except how best to support me. I remember we went all over town to buy teaching materials and clothes at the camping store," Paul said.
For his two-year Volunteer service, Paul taught English to grades 6-11 in a Moldovan lyceum.
"I was lucky to have a chalkboard on the wall. It was essentially a painted piece of plywood. There was a rumor among us Volunteers that if you brushed these types of chalkboards with sugar water, it would be easier to write with chalk."
His secondary projects included an English-speaking debate club and summer camps.
"One camp had me doing activities like making scrunchies [hair ties] for the girls. I didn't know what a scrunchy was or why people would want to make them. The girls had to teach me."
In some ways, the young girls reminded Paul of his sister, Suzie, who was nine years younger and over 5,000 miles away.
"He knew I was reading "Dracula" for school and so he included all these allusions to the story in his letters home to me, telling me what he was supposedly seeing on trips to Romania," Suzanne said.
When Paul returned to the States, he worked as a Peace Corps recruiter and, unlike their mother, he directly encouraged Suzanne to experience service abroad. He thought her studies on Indo-Malay communities of Southeast Asia combined with language skills in Indonesian, Malay, and Thai would make her a competitive candidate. When the invite arrived though, the assignment was for Suzanne to serve as TEFL Volunteer at a Ukrainian pedagogical college.
"I was a little surprised that she ended up going to the same part of the world that I was in," Paul said.
In addition to co-teaching English, Suzanne supported a local multicultural working group and co-facilitated a camp that strengthened the youth's intercultural understanding and English skills.
"My students were so talented and my colleagues in the foreign language department were amazing. I fell in love with teaching in Ukraine. The Peace Corps changed my life."
Paul and Suzanne continue to work in education today, Suzanne at the Tennessee Department of Education, Paul at Ohio University. Neither expected their paths to return them to the Peace Corps.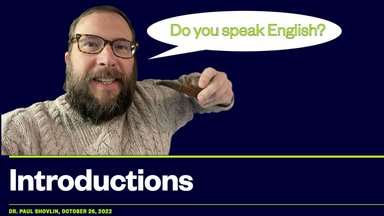 "I wasn't very connected to the Peace Corps community, but then Russia's full-scale invasion happened. Our RPCV Ukraine community immediately sprang into action, sharing ways to advocate and support. When I saw the Ukrainian virtual service opportunities, I thought, 'Oh, wow! These are things I could do, and they align with my work experience,'" Suzanne stated.
As she filtered the Virtual Service engagements by region, she noticed opportunities to support Moldovan partners. It was now her turn to recruit her brother.
"It didn't take much convincing on Suzie's part," chuckled Paul. "I talk about Moldova at least every week, if not every two or three days. I have always wanted to do something to support them."
This past fall, the Shovlin siblings began donating time each week to community-driven, education-focused tasks. Paul's 12-week-long engagement involved co-facilitating bi-weekly English sessions for the directors of regional educational institutions.
Virtual Service has been every bit as rewarding as my in-person service experience.

Suzanne Shovlin
"For me, it was shockingly easy. The directors of educational institutions that I worked with wanted to meet around 4:00 p.m., which is 9:00 a.m. (EST) my time. I just blocked off time before my classes began," said Paul, regarding the school's different time zone. He says, "I enjoyed working with my Moldovan counterpart, speaking Romanian again after almost 20 years, and contributing to people whose generosity during my time as a Volunteer meant so much to me," he said. Paul enjoyed the virtual engagement so much, he decided to continue supporting the directors for an extra month.
Suzanne's 18-week-long engagement, on the other hand, was comprised of co-developing bi-weekly professional development sessions about online teaching for 25-30 English teachers. Suzanne has since started her second engagement supporting additional Ukrainian teachers in a similar fashion. She shares tips and best practices that she and her brother have learned through their participation with new Virtual Service Participants at Peace Corps Ukraine's orientations.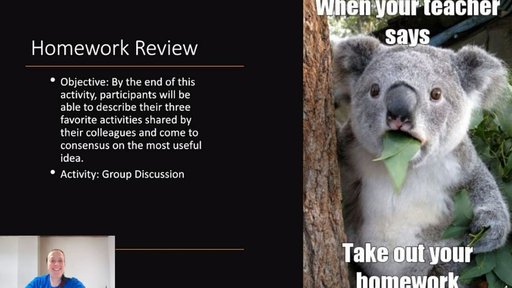 "Meeting with my counterparts and teachers is the best part of my week. Ukrainian educators are working through incredible circumstances and their dedication to their students is inspiring. Virtual Service has been every bit as rewarding as my in-person service experience," Suzanne said.
Virtual Service not only gave Paul and Suzanne the opportunity to support their former countries of service when they arguably needed it the most, but it bonded the Shovlin siblings together in a new way.
"I think we've talked more in the last year than we have in our entire life. [Paul] understands and shares much of the same worries for the people in the region and hopes for Ukraine's victory," said Suzanne.
Just as their mom once pioneered Peace Corps service 60 years ago, Paul and Suzanne answered the call to serve virtually. Their participation in Virtual Service has enabled the agency to meet the evolving needs of partners abroad.
---