A family born 50 years ago: The amazing career paths and friendships of Peace Corps Senegal 1972
When the acceptance letter from the Peace Corps arrived, John "Buz" Williams nearly turned it down. He'd found a job he really liked in the mayor's office in New York City. His salary was about to double. Then he talked to his boss, who had been a Peace Corps training director in Micronesia.
The advice: Go. "It will change your life," he told Buz. "And you'll probably find your wife."
Right on both counts.
What neither Buz nor his boss could foresee was another lasting effect – the extraordinary bond of friendship that would unite the Volunteers who went to Senegal in 1972. So strong and deep was their bond that Buz recently found himself helping with plans for the 50th reunion in Alexandria, Virginia, to be held in September 2022.
Buz started off in Peace Corps working on development projects in Senegal. In the middle of his three years of service, he was sent to Zaire (now the Democratic Republic of the Congo) to help with a smallpox eradication campaign. He met his future wife at a remote clinic there, where she and two other Volunteers with a European nonprofit had beaten him to the punch: They'd already vaccinated the whole village.
The Peace Corps set Buz on a path he couldn't have imagined. He became a lawyer focused on helping countries develop the legal tools to control and profit from their own natural resources.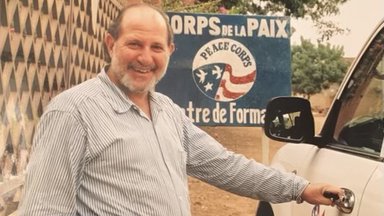 The experience was life-changing for other Volunteers, as well. Malcolm Versel, who had to look up Senegal on a map when he was first assigned there, later came back to the place as a Peace Corps country director from 2002 to2007.
Joyce Neu, after teaching English in Senegal, traveled the globe as part of the conflict resolution program with the Carter Center, founded by former President Jimmy Carter. The assignments could be frightening. She was one of two outsiders to meet in Uganda with Joseph Kony, leader of the ruthless Lord's Resistance Army.
"We were surrounded by some of his warlords," she remembers, as they lobbied for humanitarian measures, including the release of captive children.
Peace Corps service catapulted some Volunteers, like Susan Basiri, out of a sheltered home environment. "Being in Senegal and experiencing another culture and life opened my eyes to the world," she says. It spurred her to get a degree in English as a second language – and then spread that knowledge in the Philippines by teaching teachers who worked with Southeast Asian refugees.
After their Peace Corps years, the rest of the 1972 Senegal group also scattered. They lived in places as diverse as Japan, Malaysia, Saudi Arabia, and Iran. They worked as lawyers, teachers, a journalist, agricultural specialists, and a restaurant critic.
Yet they've built a network that has lasted and grown even stronger over a half century.
They started from a strong base. Today's Volunteers can stay connected with family and friends through Facebook and other social media platforms. In the 1970s, Volunteers relied on each other as they worked through cultural, language, and practical challenges. When Volunteer Edmund "Ed" Sullivan needed to choke down liver to overcome anemia, fellow Volunteer Carey Peck stepped in. "He'd put ketchup all over it," Ed recalls, "and say, 'Come on, you can do better.'"
In the snail mail days after their service, several overlapping circles of friends managed to keep in touch.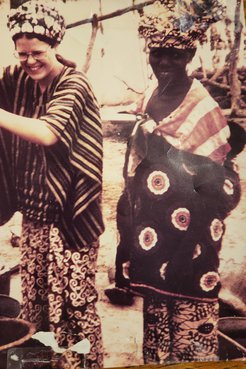 The glue that put them all together was Lee Brainerd ("I actually prefer the term 'connector'," she says.) She'd worked for a time as a Peace Corps recruiter after returning to the United States and was committed to keeping her fellow Senegal Volunteers in touch. She kept track of where they lived and shared their news before the internet made it easy. Of the original 40 Volunteers in 1972, 29 are still in touch. Five have passed away.
Lee promotes "mini-reunions" when travel brings together two or three Volunteers (plus partners and kids) and shares photos afterwards. Arnie Falvo, who became a university professor in Tokyo, can tick off a dozen Volunteers or their children that he's seen in Japan.
Full-fledged reunions, starting with the 20-year mark, have kept and renewed friendships.
After years in Kenya, working for nonprofits like World Vision, Nora Mwaura felt out of the loop and hesitated to attend a reunion in 2007. But, gently prodded by the organizers, she went. "The years melted away," as Nora says, and she found she had even more in common with the former Volunteers than before.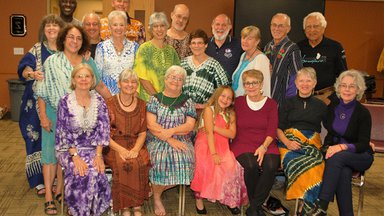 The group has bonded over sorrow as well as joy.
When Arnie's daughter Mici suddenly passed away in 2015, the Senegal group raised more than $5,000 to help with expenses. Emails, texts, and cards poured in. "I was bolstered at that time of unbearable sadness by the caring and moving expressions of support," Arnie says.
The group was there for beloved fellow Volunteer Alan Silverman, who had spent years at UNICEF, when he was diagnosed with brain cancer. They took him to appointments and arranged visits to lift his spirits.
After his death in 2017, the Senegal group contributed to establishing a memorial garden in his name. It's part of Development in Gardening (DIG), a nonprofit for which he was a founding board member.
After five decades, the Senegal 1972 group functions a lot like the Three Musketeers: All for one and one for all.
"I feel like we all participate in each other's accomplishments," Buz says. "It is special to celebrate them together because we began our journey together and remember how we were when it started."
---