A crash course in Eswatini's goat and honey markets
As the livelihoods technical program manager for World Vision Eswatini, Mpendulo Simelane assists small local businesses get started, fundraise, monitor projects, and evaluate for future development. The organization advocates for and supports the country's most vulnerable people and communities through four strategic technical programs: water and sanitation, health and nutrition, child protection, and livelihoods.
Working with the Peace Corps Post staff, Mpendulo developed a short-term Virtual Service engagement that partnered him with a returned Peace Corps Volunteer (RPCV) on specific tasks related to beekeeping and raising Boer goats – a species prized for its ability to grow fast and graze on the uncultivated grassland, or veld.
"When I looked at the project description, I thought the [donated] time – 5 to 15 hours a week – wasn't going to be a big burden," said Virtual Service Participant Ed Novick, who served in Ukraine from 2009 to 2011.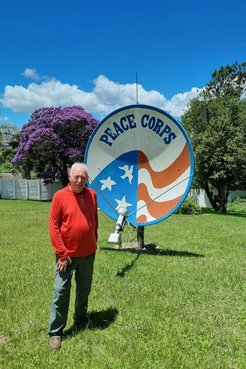 Mpendulo supplied Ed with a livestock guide that introduced their agricultural challenges. Ed offered recommendations to make the guide more concise while incorporating informative, country-specific details.
"When I talk about raising goats, Ed can only imagine the systems he knows," Mpendulo said. "In Eswatini, [raising goats] is quite different. It's easy to always think it's just for business, but for us, that's not the case. Trying to paint a picture of agricultural gender norms and issues for [someone remote] was the only challenge we faced."
Ed and Mpendulo conducted a situational analysis in which they examined the goat project's current strengths, areas for improvement, and their audience's motivations.
"We've never taken a step back to think what exactly is motivating people. Is it money or success? That was an interesting conversation," Mpendulo said.
Initially, the two men thought forming a co-operative, a network of farmers who pool their resources, could be beneficial. Co-ops are common in the U.S., but it was important to Ed to research their use in the Southern African country. He quickly discovered co-ops haven't historically been successful in Eswatini, because of unique administration and conflict resolution challenges. It was time to go back to the drawing board.
"The business side of the engagement I was prepared for, the agricultural side not so much. It's been a great experience for me. It opened my eyes," said Ed.
Ed looked for possible solutions from agricultural experts in his community in Phoenix.
"I went to a bee farm and talked to a guy who has 700 hives. I asked him about Africanized bees, because that's what they have in Eswatini."
Bonginkosi Mabuza, World Vision's livelihood coordinator, explained how farmers manage this species, stating, "Farmers always keep the hives a few meters from human and livestock traffic to minimize disturbance, which can trigger their aggressiveness. Farmers visit the hives early or late [in the day] to monitor and harvest."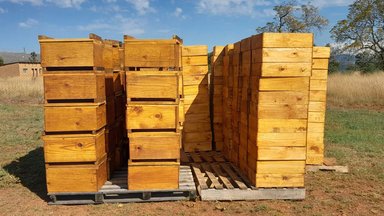 "I also went to a livestock auction and sent pictures to my counterparts," Ed said. "It was not just an auction; it was a family event. Some people were there to buy goats to breed, but others were there just to feed the goats. Food [vendors] and children were there. Buyers and sellers were all talking about the market and their cost to feed."
Visiting the auction sparked an idea: Could Eswatini do something similar with the auctions being done in collaboration with the Ministry of Agriculture? The World Vision team is now exploring ways to conduct auctions more frequently and to advertise in new ways.
When offering possible solutions to counterparts abroad, it's important to consider that some approaches do not work within certain cultures or environments, Ed says. "I always start by saying, 'I know you're not in the United States, and this may not work the same way, but you may be able to take and utilize parts."
It was Ed's way of looking at challenges through a different lens that Mpendulo appreciated most about their virtual collaboration.
"Ed's perspective or understanding of issues is different from mine. He can share experiences and ways for us to reach our goals. When you only work with local people, you're thinking may be similar. But someone from a different country – they have a different way of thinking due to their different exposure, which can help you [approach a challenge differently]."
Mpendulo and Ed explored options to protect goats during extreme droughts and researched optimal conditions for the goats to live healthy lives.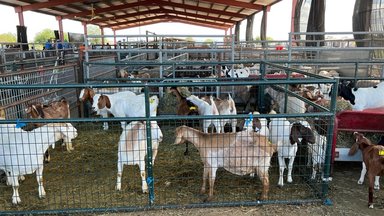 Clean living conditions for livestock like goats can be expensive, and many locals don't have the disposable income for that, Ed said. However, Ed was delighted when his counterparts introduced him to a local group of 20 young adults who invested in a healthy home for their goats.
"The goats climbed up a ramp and were off the ground, so they weren't walking around in their droppings. The droppings would fall through the floor onto the ground below. But they're unsure if they could raise the money to scale that."
At the end of the engagement, Ed and his counterparts developed a guide that outlines World Vision programmatic standards.
"We also developed agricultural trainings for goats, vegetables, and honey. We'll be developing a clear investment plan," Mpendulo said.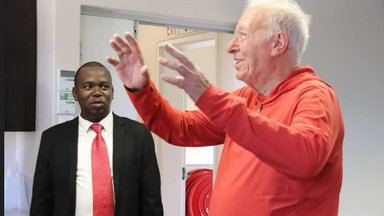 "The completed goat production manual will be an invaluable resource for local farmers engaged in both small- and large-scale goat farming. Virtual service has made us realize the different ways we can support the evolving needs of our host country partners," said Eswatini's Peace Corps Response Manager, Khombisile Gumede.
"For me, the value [of Virtual Service] is more than the documents produced. [The biggest benefit is] the different way of thinking that provokes discussions," Mpendulo said.
As for American Virtual Service Participants, Ed says, "It gives a person an opportunity to be engaged and expand their life experience in another part of the world without actually going there."