8 Sichuan street foods you'll find during service in China
Sichuan "small eats" (or street snacks) hold a big place in the local culinary culture. 
This part of China is famous for its food, like hot pot, kung pao chicken, mapo tofu, twice-cooked pork and yuxiang eggplant.
While each Sichuan dish is complex and delicious in its own right, you don't need to go to a restaurant to have a good meal. Hit the streets and you'll find heaps of good eats.
牛舌饼 (niúshé bĭng)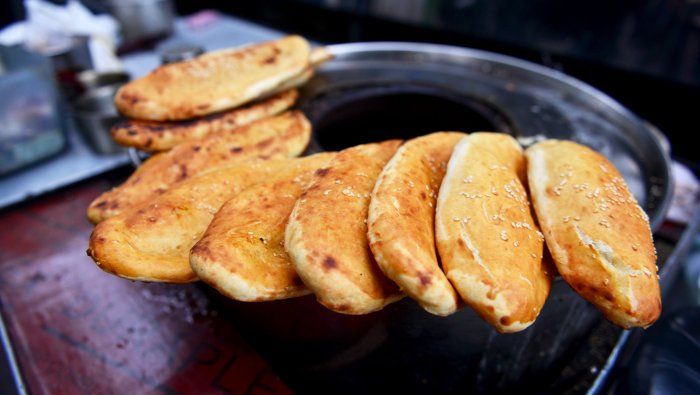 This so-called "ox tongue flatbread" gets its name from its shape, not its ingredients. It may originate from Yilan, Taiwan, but this version plays to local tastes. Sichuan is famous for its use of málà (hot and numbing) flavor, and this flatbread certainly delivers – stuffed full of ground pork infused with chili and Sichuan numbing pepper.
糖油果子  (tángyóu guŏzi)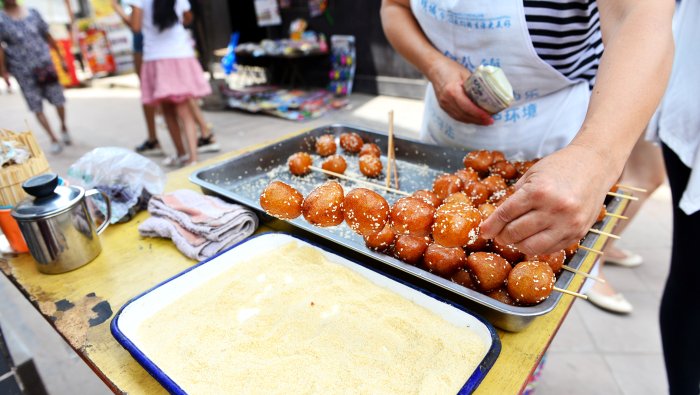 Fried glutinous rice balls are a sweet and starchy snack sprinkled with sesame seeds. They're especially popular with children, but who can resist some sweet rice balls?
伤心凉粉  (shāngxīn liángfěn)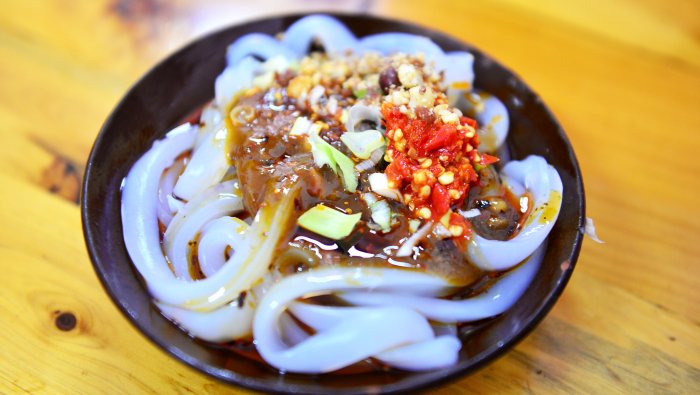 Broken-hearted grass jelly gets its name from its level of spice. The dish is considered so spicy that your taste buds will leave heartbroken from the cruelty you've subjected them to. These slippery noodles are relentless! Make sure to have a carton of milk handy. Or a gallon…
烧烤 (shāokăo)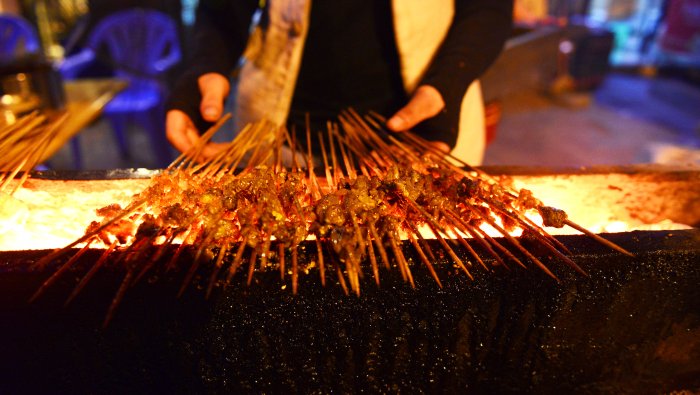 Barbecue is an incredibly popular late night snack for night owls and party animals. You can choose from a wide assortment of veggies and meats to have grilled up, slathered in chili powder and cumin, and served up on small tin trays. The moment you get a whiff of Sichuan barbecue, your mouth will immediately begin to water.
豆腐脑 (dòufu năo)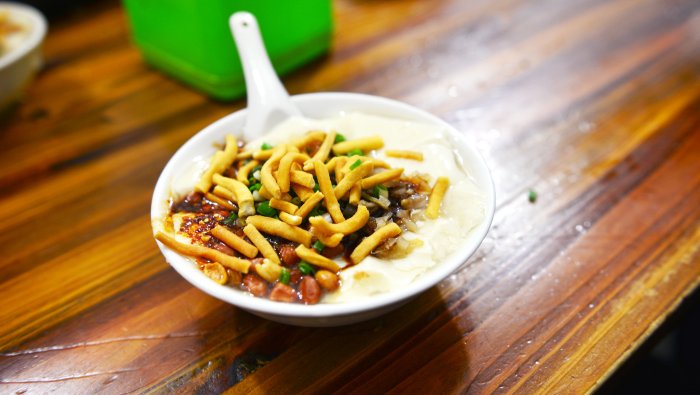 Literally translated as "tofu brain," this soft tofu dish is topped with all sorts of goodies like peanuts, chili oil, Sichuan numbing pepper, scallions, soy sauce and fried sticks. Different parts of Asia have different styles, but the Sichuan take is a savory, salty and spicy delight.
蛋烘糕 (dànhōnggāo)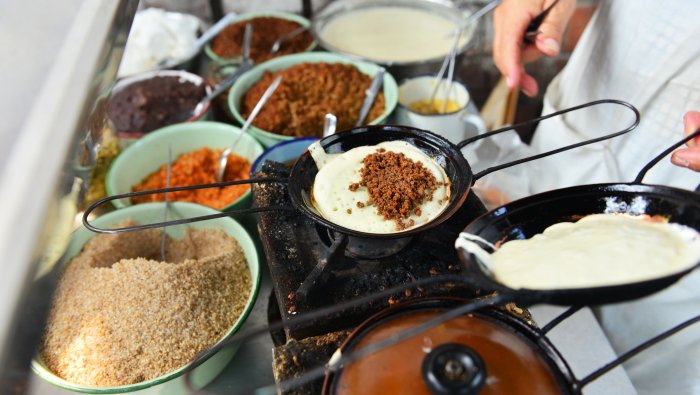 Imagine if you could create a taco with a pancake shell. That's the type of heavenly snack you'd find in these Sichuan stuffed pancakes. The sweet and fluffy pancake exterior is made in a tiny pan at high heat, then laced with whatever savory or sweet topping(s) you choose. Hot and numbing ground beef or cowpeas navigate the salty-sweet combo to perfection.
牛肉卡饼/夹饼 (niúròu kăbĭng/jiābĭng)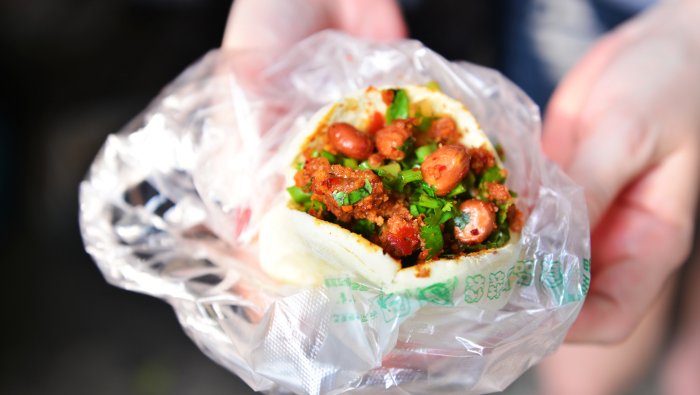 This street snack is like a Sichuan hamburger! The vendor will mix beef steamed in a hot and numbing ground glutinous rice with cilantro, scallions and peanuts in a bowl before stuffing it into a small round bread that resembles pita. The whole thing is a masterful dance of flavors and textures that will blow your mind.
狼牙土豆 (lángyá tŭdòu)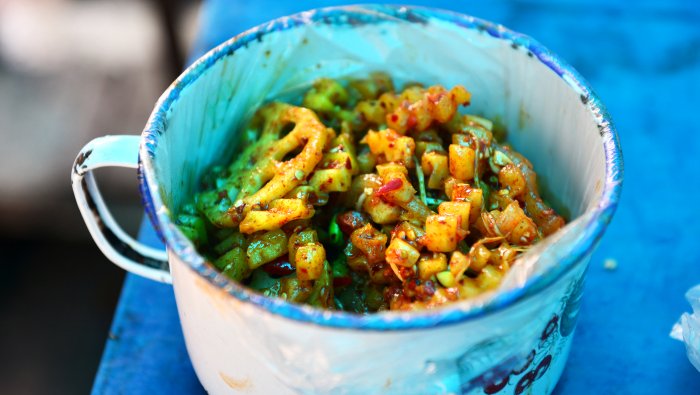 Wolf's fang potatoes are basically crinkle fries mixed with your choice of veggies and seasonings. It's filling, nutritious and cheap!