At 66, I'm still learning and grateful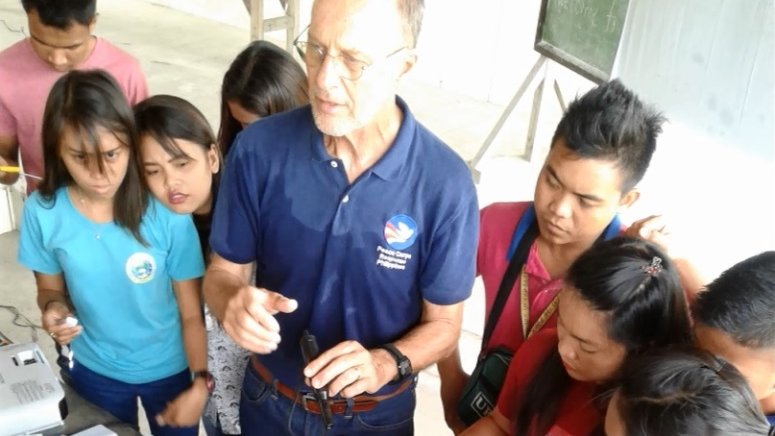 July 12, 2017
"You're giving the students nosebleeds," a Bohol Island State University (BISU) colleague told me.
Giving "nosebleeds" is the Philippine way of saying that they have some difficulty in engaging conversational English language. My American-accented English was very different from the mix of Filipino-accented English sprinkled into Bisaya, the dialect spoken in the Central Visayas region of the Philippines.  
As a Peace Corps Response Volunteer, I've been a fisheries instructor/specialist at BISU's Calape campus, Bohol province, in the fisheries program. I came to Peace Corps Response after a teaching and research career that included many years of exposure to marine fisheries as well as a traditional two-year Peace Corps Volunteer experience in El Salvador in the 1970s. We had about 260 students total and in the third level (similar to junior year in the United States), one double section research methods course had 80 students. That meant 40 per section, a huge number to handle, and I was a co-instructor.   
I'm an aquatic biology emeritus professor and have taught countless courses in my career, but I have never had to try to manage such large groups of students, especially in a course that demanded a lot of individual attention. As I integrated more into my campus life in Bohol, I was surprised but also discouraged to find so little in the way of laboratory facilities, equipment, and supplies that would be customary and minimally necessary to provide the students with an empirical experience in their university training program. When the research methods students spoke of their proposed field work, they planned to measure water quality parameters where either the instrument to measure was not available or the one unit available needed to be shared among all 80 students. 
In spite of the very spartan conditions provided by the campus infrastructure, I was nevertheless impressed by the resourcefulness of the students, their collegiality and willingness to share and collaborate with each other. As I sat, listened to and observed those 80 students, I sensed that they will be able to complete their proposed research through their efforts.  
The Peace Corps has several ways of funding Volunteers' ideas in collaboration with partner organizations. Given the short time frame of my Response position, I had to move quickly to push the possibility of acquiring some very basic instrumentation. Working with my counterpart and our Peace Corps Philippines office liaison for internal grants, we quickly produced a proposal to purchase some equipment and supplies and proposed a training workshop that turned out to be the culminating experience of my assignment. This initial purchase, thanks to a grant, should go a long way in aiding BISU-Calape fisheries students and the fisheries program in conducting their field work and training into the future. 
As for the experience living in the Philippines, Bohol Island has been a feast! I like to cycle, and I can't believe what luck I had finding a Filipino cycling community. To explore my island region and to be able to get off campus and relax, I routinely rose at 4:30 a.m., still dark, and headed out to join a group of cyclists for a spin around Pangangan Island, connected to my municipality of Calape by the longest causeway in the Philippines. This routine, as well as frequent evening and weekend rides, was how I built my social and community life while being a Volunteer.  
Nearing the final weeks of my assignment and the final days of the university academic year, I was requested and had the honor of addressing all third- and fourth-year fisheries students, as well as their families and friends, with "words of wisdom" as they approached either their final year in the Bachelor of Science program or were about to enter the job market. I focused my remarks on their new obligation, in light of their possession of an advanced degree in a natural resource field, to forever be stewards of Philippine marine resources, a densely populated country that endures intense pressure on its marine resources.  
When I arrived I was surprised to find that, in a campus of around 1,800 students, approximately 260 would choose to major in fisheries. But I have to recognize that being in the Philippines is the first time I've ever experienced a country where fisheries are so important. 
Fisheries barely exist as an academic program in the U.S.; it's very rare. Here in the Philippines, a country of more than 7,000 islands, it's perfectly understandable how important fisheries are and how attractive it could be as a career for students. The fact that working in fisheries is an accredited profession here? Well, that doesn't exist in the U.S. 
This has been a very illuminating experience for me after years in fisheries, aquaculture, and water quality assessment in El Salvador (I'm a returned Volunteer from 1975-77), Costa Rica and Dominican Republic. At 66, I'm still learning and grateful.