6 things to delete to get your résumé noticed
Since returning to the U.S., you've probably been reminded that things move pretty quickly here. From the pace of conversation to walking to decision-making, Americans move quickly.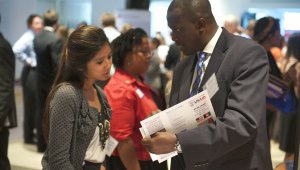 And guess what? All those potential employers you're courting are no different. They're busy people and the last thing they want to do is sift through a résumé full of unclear or irrelevant information. Check out the tips below to clean up your résumé and make it easy for employers to see how great you are.

1)      "Volunteer"
Yes. We were all Peace Corps Volunteers (and we're proud of it!), but that isn't the position title we have to use on our résumé. For a lot of employers, the term "volunteer" brings up images of a short-term project.
Our work as Peace Corps Volunteers was, of course, much more than that. To help make this clear, use a title that describes the work you did. Instead of calling yourself an "Education Volunteer," try "Math Teacher;" instead of "Community and Economic Development Volunteer," try "Business Development Specialist." The more descriptive title paired with the bulleted descriptions of your work will make it clear to employers that you worked in this role while serving as a Peace Corps Volunteer.
2)      Mailing Address
I hear it all the time, "I'm job hunting in San Francisco but I'm having trouble getting any interviews. I'm using an out-of-state address on my résumé. Will listing a local address help me get noticed?"
The short answer is yes. Employers receive stacks of résumés from qualified candidates and hiring an out-of-town candidate presents them with potential complications – negotiating moving packages, waiting for the candidate to move before she can start, going through the hiring process again if the candidate doesn't like the city. To try to avoid these complications, many employers will start their candidate search with the local résumés.
But what do you do if you don't have a local address? It's simple. – Don't list any address at all. When was the last time an employer contacted you by snail mail? Never, right? So leave it off. Sure, you'll have to discuss your living situation eventually, but at least by then you'll have gotten your foot in the door and had a chance to make them love you!
3)      Acronyms
SPA, PCV, DOS, VRT, WWS. Using Peace Corps-specific acronyms is a sure way to make an employer's eyes glaze over as soon as they look at your résumé. Instead of using acronyms, replace them with explanations that define exactly what you're talking about. For example, a "SPA grant" becomes a "USAID-funded grant" (And just like that, you've added the much sought after "experience with USAID grants" to your résumé!).  "Submitted quarterly reports for the VRT," becomes, "Monitored projects, submitting quarterly progress reports to headquarters." Dropping the acronyms not only makes your résumé more easily understood, but spelling out exactly what you mean gives you an opportunity to include key terms from the hiring announcement (important for getting past electronic screening systems) and showcase the skills you bring to the organization.
4)      Objective Statement
I know. Your college career counselor told you to include an objective statement to help the employer get to know you and what motivates you. But that logic has changed. Today's hiring process is all about what you can do for the employer – not the other way around. So drop the objective statement and make room to highlight more of the impressive skills you're able to bring to the organization.
5)      Activities
As I mentioned above, the hiring process is all about what you can do for the employer. So unless the activities you list relate to the job you're applying for (e.g. your photography hobby might be relevant if you're applying for a communications position), leave them off your résumé .
6)      "References Available Upon Request"
Employers know that your references are available upon request so there's no need to state it. Leave this line off your résumé and use that valuable space to highlight all your dazzling skills instead.
Sign up for emails with information about RPCV career events, resources, and jobs.
Sign up