6 SPA projects empowering communities around the world
 "The intent of the funding mechanism is to finance… small "self-help" activities which will have immediate impact at the community level. The activities will be responsive to the needs of communities as expressed by community members through their local group."  –  original "SPA Program Guidance and Procedures," December 1982
Thirty-five years have passed since these words, along with the signing of the Memorandum of Understanding between the Peace Corps and U.S. Agency for International Development (USAID), marked the beginning of the Small Project Assistance (SPA) Program.
Since 1983, the Peace Corps has partnered with USAID through the SPA program to build capacity and empower local communities to lead in their own development. During this time, SPA funds totaling at least $57,720,800 have supported over 25,771 projects, benefiting more than 26,079,719 people across the globe. Through the SPA program, USAID resources combine with the Peace Corps' reach, scale and local community interaction to catalyze community-led development. Often, communities continue to independently maintain or expand SPA grant projects even after the grants have ended, reaffirming the program's long-term, sustainable impact in communities around the world.
The SPA program supports small, community-driven projects through grant projects, training activities and in-field program support that address local needs across many sectors at over 40 Peace Corps posts around the world. The SPA program requires communities to provide at least a 25 percent contribution to each project. Over the past 35 years, communities have continuously surpassed this requirement, upholding an average community contribution of 43 percent (over $43,632,357 total). 
This statistic underscores one of the most important lessons learned during the lifetime of SPA programming: the greater the community's investment of its resources, the greater the chance for project success.
We are happy to share with you just a snapshot of six SPA projects empowering communities around the world.
1. Solar-Powered Water Supply System Project in The Gambia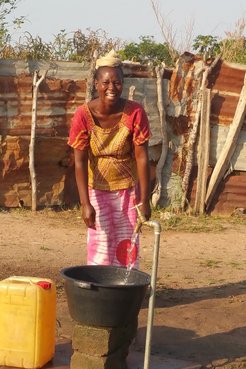 A SPA project currently underway in The Gambia is working to increase local water access in a village that operates with only one hand pump well. SPA funds are being used to increase the volume of water available by installing a 4000-liter water tank, a pump with four solar panels and four taps to be distributed throughout the village.
From the Volunteer: "Completion of this project will reduce the time women and girls spend at the pump everyday fetching water.  Project activities will be completed with active participation by the Volunteer, counterpart, Village Development Committee, and community members in the following activities: (i) complete pipe network (ii) purchasing taps, (iii) purchasing solar panels, (iv) provision of metal tower and welding the panels on it to protect the solar panels from breakage and potential theft, (v) erecting and installation of the water tank, (vi) training of men and women on water hygiene, water borne-diseases, and proper maintenance and use of the water system, (v) talks on time management to assist in girls education on study time versus water fetching.  The main objectives of this project will be to increase opportunities for girls to attend school, reduce time spent fetching water, and improve the quality of water, and decrease diarrhea and water-borne illnesses in the community."
2. Eco Glass Crusher Project in Tonga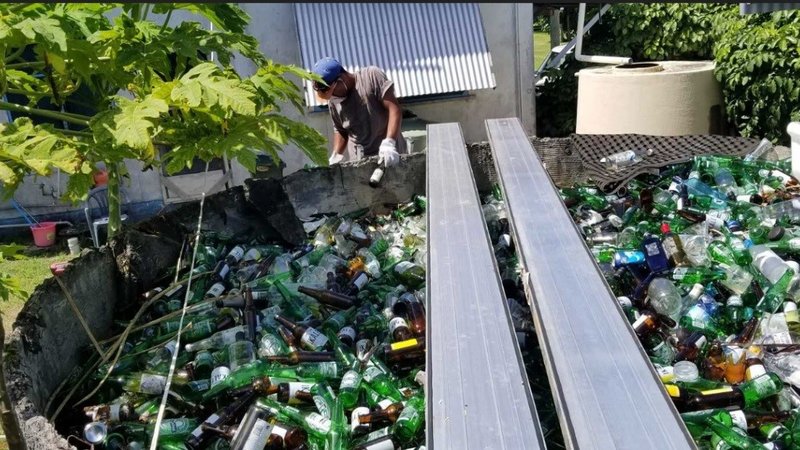 In Tonga, a Volunteer developed a local solution for waste management and sustainable infrastructure recovery. SPA funds were used to construct a glass crushing system, which now reprocesses glass into fine aggregate to be used in civil construction projects across the island in lieu of local beach sand.
From the Volunteer: "I live on a small outer island in the Kingdom of Tonga with little electricity and running water. It is a simple but beautiful life. The ocean as my front door is a reminder that this world, even though vast, is still in need of our protection. I witness coral reefs dying and garbage strewn in the ocean daily. The eco glass crusher project is a long-term goal to revision trash as valuable and to rethink the notion that the ocean is our personal dumping ground. That a glass bottle can be turned into sand and used for a good purpose. The glass crusher has generated many, many tons of recycled glass sand that is now being used to build hospitals and playgrounds in [my region]. The crusher not only eliminates wastes, but is a valuable tool to prevent coastal erosion, and the start of a project to build sustainable ecotourism in the Kingdom of Tonga.  The eco glass crusher project has done more than just recycle bottles. I have found friends through the THINK GREEN eco committee with many strong female leaders in my community who will carry on the goal to keep Tonga self-sufficient and ecofriendly."
3. Food Surplus Redistribution IT Solution in Macedonia
In Macedonia, SPA funds helped a Peace Corps Volunteer and community counterpart establish a technology platform connecting food-providing entities with civic sector organizations to facilitate the donation and redistribution of food surplus to families in need. This project facilitated an estimated $18,000 of food surplus donations. Through diverting food waste from landfills and into the hands of citizens struggling with chronic food insecurity, this project also helped save over $1,188 in waste collection services.
From the Volunteer: "Prior to development of the technology platform, we relied solely on phone contact to identify and redistribute food surplus donations. As we considered expanding the service across the country, we realized this was unsustainable.  With the new platform, businesses are able to post food surplus donations with several clicks in under two minutes, and community service organizations can claim said donations in the same amount of time. The feedback from the community has been extremely positive, which is represented by the utilization of the platform and the food surplus donations (over nine tons, totaling 30,206 meals) since we launched the program four months ago. We are extremely excited about the possibilities the platform provides as we look to expand our capabilities across the country. We are on track to not only achieve the desired results but exceed them." 
4. Playground Project in Albania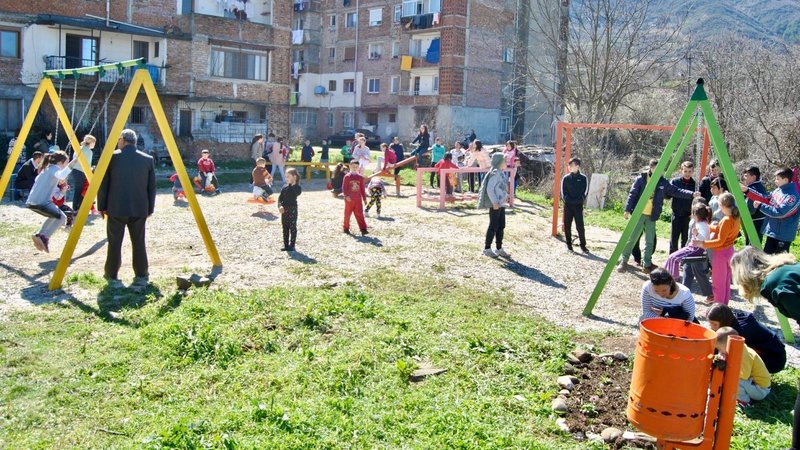 In Albania, a Volunteer used SPA funds to help address the longstanding community need for a safe place for children to play. The Volunteer and community worked together in what the Volunteer describes as "a collaborative community effort" to construct a playground. Several trainings held with local residents on environmental protection and the importance of active play "were well attended and generated a lot of discussion."
From the Volunteer: "After attending a SPA-funded project design and management training, we developed the playground idea and began implementing preparatory activities, such as surveying potential neighborhoods and gathering information about community priorities. The need for a playground was universally agreed upon by everyone that we spoke with, and we felt confident that we had the community's support in going forward with the idea. The community was passionate about the idea of a new playground. Within a few months, the trainings were completed and the equipment installed, and the children in [the community] began playing in the new space immediately. As my counterpart Klaudja said, "If you truly desire something wholeheartedly, when you collaborate with others who are also passionate, it's inevitable that the project will be realized." If we had only one person in the community who was dedicated to the idea of a new playground, we would not have been able to complete the project. Because we were working in a team and the entire community was excited about the prospect of a safe place for children to play, we were able to implement our project much more easily. To officially open the playground, we held a kick-off event that featured music, flower planting, refreshments, and lots of free play. Dozens of local children and their parents were in attendance, and many thanked the community group for listening to their concerns and building the playground."
5. Animal Husbandry Project for Mothers' Group in Rwanda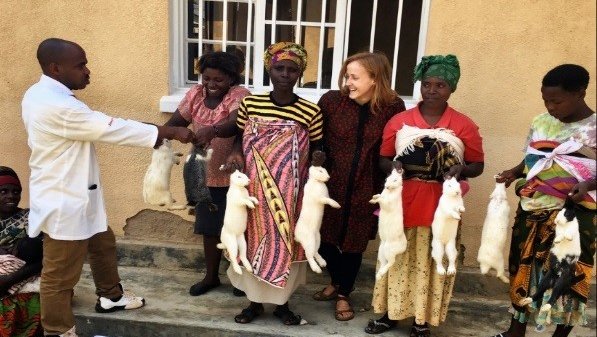 A Volunteer worked with a mothers' group in Rwanda to increase access to nutritional food in the form of both rabbit meat and kitchen garden outputs, and to create a new form of income-generation. SPA funds were used to hold trainings on rabbit-rearing, permagardening and personal finance.  
From the Volunteer: "My counterpart and I first began working with this mothers' group in January of 2018. All of the mothers were receiving milk from the health center because their children had been identified as malnourished. For three months, my counterpart and I taught the mothers a weekly lesson from the First 1,000 Days curriculum. However, my counterpart and I had discussed the issue that ultimately, the mothers were dependent on the health center's milk and fortified food for their children's nutrition. We began to think about how they could take ownership over their families' health. In baseline interviews, no mother reported eating three meals a day, and of the 11 mothers, nine responded that preparing a balanced diet was very difficult. The other two mothers reported that it was somewhat difficult. No mothers reported being able to prepare a balanced diet every day. All of the mothers are farmers, but only two of them had functioning kitchen gardens, and with limited income, they felt they could not afford food to fill in their nutritional gaps. To address these issues, my counterpart and I decided to implement animal husbandry and kitchen gardening workshops. Currently, each of the 11 mothers has received two rabbits and housing, training and assistance on building a permagarden, and weekly finance lessons. Now, the mothers have formed a savings group, and in five months, they have saved 89,890 Rwandan francs (over $100 USD)."
6. Training Center and Early Pregnancy Malnutrition Training Program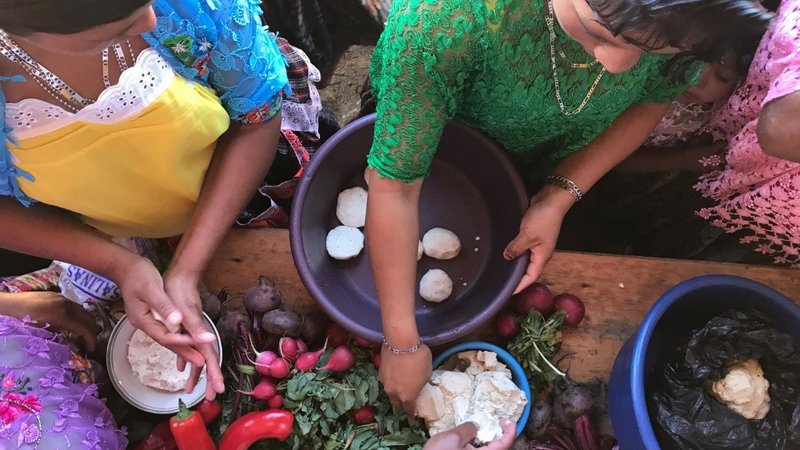 In Guatemala, a Volunteer and community came together to hold trainings for rural and indigenous women on the importance of self-esteem, family planning methods, starting and maintaining a garden, handling and preparing the different herbs and vegetables grown in the garden and preventing malnutrition. SPA funds were also used to support the construction of a local sub-health center complete with a training space for community use. 
From the Volunteer: "This project has had great successes. The construction of the sub-health training center was completed easily and efficiently as the community, non-governmental organization medical teams and I all worked together. The series of trainings entitled "Strong Families" given to the peer mother counselors and chosen community members were successfully planned and implemented with a total of 32 women.  The assistant to the women's office was able to translate all trainings from Spanish to the local native language, Poqom Chi, increasing the level of understanding and participation of the women in the group. The sub-health training center is already being utilized daily by the auxiliary nurse that works in the community; the center is also available for any health commission or community leader meetings. In addition, the training with the peer mother counselors and chosen community members has further enriched knowledge around health and nutrition in the area, as well as promoted and provided resources for sustainable home gardens. These trainings have educated mothers on providing support to other families, sharing the information they learned in the trainings, and creating nutritious meals for their families. Throughout the six months we have met with these women, we have seen them put into practice lessons from the trainings, grow more comfortable and outspoken, and most of all, become more confident in themselves. The women's support network and sense of community has certainly strengthened as a result of this project."
________________
Researched and compiled by Isabel Dunkley

The projects above were funded through the Small Project Assistance program (SPA). SPA is a joint collaboration between USAID and the Peace Corps which allows Peace Corps Volunteers to participate with USAID in development efforts, helping communities to implement small, self-help activities, in sectors ranging from health to agriculture to small enterprise development. Click here to learn more about SPA.