6 returned Peace Corps Volunteers explain who inspired them to serve
If you asked 100 people who or what inspired them to serve as a Volunteer, you'd probably get 100 different answers.
For some, it's a teacher, classmate, or family member who inspires them. For others, catastrophic events like the attacks on September 11, 2001, or natural disasters drive them to support relief efforts.
Whether it's volunteering to serve in the Peace Corps, AmeriCorps, the military, or for a local organization that provides essential support to a community or group, people choose to serve in different capacities for countless reasons. Often, the inspiration can be traced to an inspiring figure who influenced their decision.
We asked six returned Peace Corps Volunteers – Martha Courtney Biede, Athanasios "Tommy" Kolovos, Dani Ohemeng, Jazzmin Perry, Suzanne McCloskey, and Brian Scott – whom or what inspired them to serve. Each of these people have served with the Peace Corps multiple times, most recently as Volunteers deployed in the United States to support COVID-19 vaccination efforts. Alongside the Federal Emergency Management Agency (FEMA), they worked tirelessly and used skills they honed overseas to provide administrative, logistical, and language support to encourage residents in underserved communities to get vaccinated.
They are an ideal group of people to answer this question: Has anyone in particular inspired your desire to serve in the Peace Corps?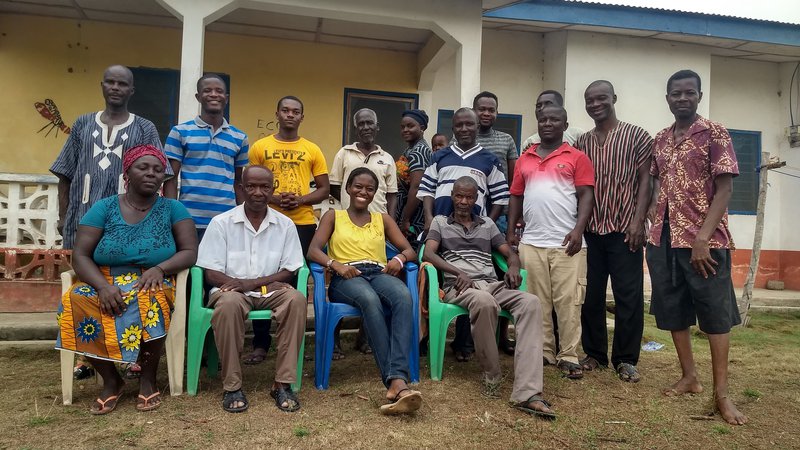 Dani Ohemeng
RPCV Ghana, 2018-2020; Oregon Team 4, 2021
A series of educators I had throughout my high school and undergrad education inspired me. Specifically, my undergrad advisor and boss, Dr. Marjorie Church, who oversaw international student services at High Point University in North Carolina. She helped me get involved with the international community on campus through work, clubs, and services. The biggest impact she had was mentioning Peace Corps to me and helping me take my volunteerism [abroad]. Without her, I would never have known how much further my desire to serve could go, and how far it could take me.
Martha Courtney Biede
RPCV Burkina Faso, 2017 (evacuated); PCV Benin, 2018-2020; Oregon Team 3, 2021
My inspiration to serve came from watching my parents interact with strangers. They supported people experiencing houselessness and living on the street. They treated people with dignity and kindness. My parents laughed with waiters when an order was wrong, they gave what they could, where they could. As I grew up, I realized that the world was often a pretty unforgiving place and the kindness my parents showed others was rare. I decided to take my parents' kindness one step further and serve.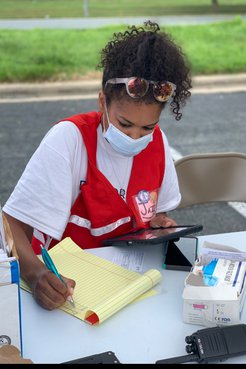 Jazzmin Perry
RPCV Cambodia, 2019-2020; Maryland Mobile Vaccination Unit 2, 2021
I'm constantly inspired by the people who have served me … and the people who've served beside me. Whether it's the bonds I've developed with colleagues, my host family, or with the populations I've served, I've felt at home with whatever group of people happened to be thrust into my life. Service doesn't solely revolve around the support that I have to offer, but being receptive and open to relying on others, as well.
Athanasios "Tommy" Kolovos
RPCV Madagascar, 2019-2020; Virginia Team 3, 2021
I vaguely knew about the Peace Corps before applying. Ultimately, I was inspired to service by my former professor Dr. Phyllis West, a returned Peace Corps Volunteer who served in Sierra Leone and Liberia. During a service-learning trip abroad, Dr. West told me to consider joining the Peace Corps. Initially, I laughed. Me? A Peace Corps Volunteer? Never in a million years. But, somehow, the thought of joining the Peace Corps stuck with me.
The stories of my former professor's service, along with a symposium of RPCV stories, inspired me to answer the call to service. … A few months after submitting my application, I found myself reciting the Peace Corps pledge at the swearing-in ceremony. I watched so many videos of Volunteers before me taking the same oath, and was thrilled to express the same pledge. … At that moment, I had taken the same steps as my mentor before me and felt overcome with excitement and happiness. I was beyond ready to face service with an open heart and an open mind.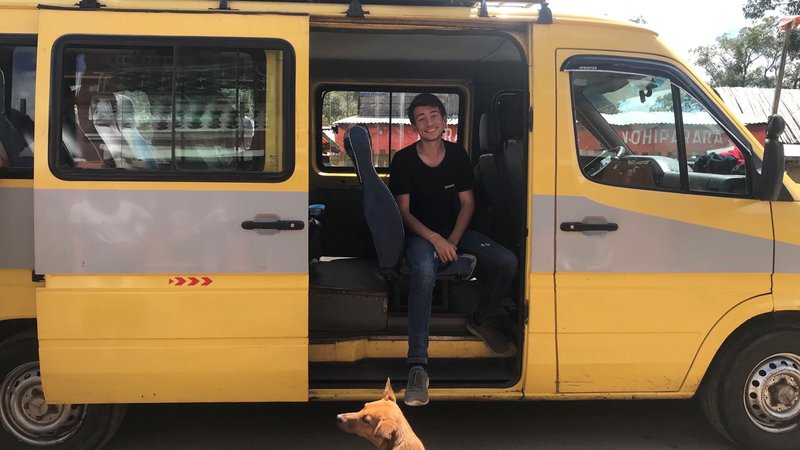 Suzanne McCloskey
RPCV Tanzania, 2014-2016; RPCV Morocco, 2018-2020; Maryland Team 3, 2021
The whole Peace Corps experience has been a blessing and an inspiration that allowed me to work for causes that I feel strongly about, including women's health, gender empowerment, and developing leadership skills in youth. Meeting and working with dedicated host country counterparts and Peace Corps staff has afforded me the opportunity to be a part of a movement that gives people the chance to make real changes in their own lives and the lives of those in their community. I am eternally grateful to be a part of that movement.
Brian Scott
RPCV China, 2019-2020; Illinois Team 1, 2021
When I was younger, I chose to serve in order to live up to the expectations of leaders who had inspired me; those who had seen potential and wouldn't let me waste it. Now I serve to live up to the expectations of those I have led and served. And those will I may serve in the future.
When I was about 16, I joined a conservation program for the summer. It was out of character for me. I wasn't an outdoorsy person and was not particularly motivated as an environmentalist. My thoughts were more along the lines of "Getting paid to camp for six weeks? Sounds great!" I quickly learned that this was no summer camp.
I learned what it means to serve over the course of several weeks of hard, physical labor in the wilds of the Pacific Northwest. The experience was not only physically demanding, but also mentally and emotionally taxing. During the experience I was introduced to three individuals who changed the course of my life.
Matt Sterner was in charge of the program. His brusque manner and ability to cut to the quick left no room for excuses. Leigh Clarke, my crew lead, held me accountable and raised expectations daily. She led by example and taught me the value of leaders who care for the people they lead. Jake Norton was a senior crew member who had completed the program previously and earned a peer-leadership position. Over time, although he revealed his difficult life story, I noticed that his positive demeanor rarely faltered. In these three, I saw the strength in service and it inspired me to keep serving.
Category:
North Africa and the Middle East
,
Morocco
,
Africa
,
Burkina Faso
,
Benin
,
Asia
,
China
,
Madagascar
,
Cambodia
,
Tanzania
,
Ghana
,
Youth in Development
,
Health
,
Environment
,
Education
,
Community Economic Development
,
Agriculture
,
After Service
,
Current Volunteers
,
Returned Volunteers
,
Family and Friends
,
Peace Corps Volunteer
,
Peace Corps Response
---