50 years later, a memorable reunion in Belize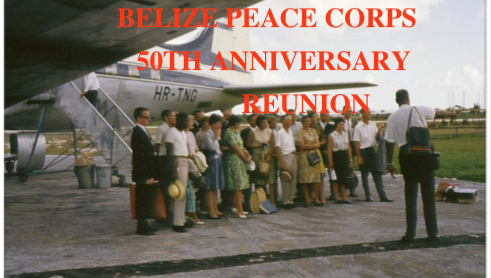 July 21, 2015
In September 1964, 22 Peace Corps Volunteers landed in British Honduras (now Belize) to begin their two-year service.
On February 27, 2015, nine members of the original BH II group, along with four RPCVs from BH III and IIIb, met to celebrate their 50th anniversary reunion at Caye Caulker. The group enjoyed daily treks of the island on foot, rides in a golf cart, excursions to the nearby reef by boat and swimming in the "Split."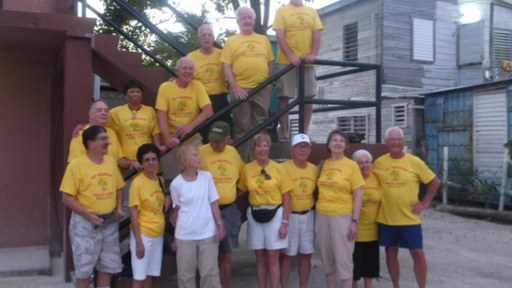 On Friday night, everyone gathered at the Paradise Inn for a dinner of good Belizean food and beverages, and began sharing stories from their lives 50 years ago and catching up on what they have been doing ever since. This was more that just fun in the sun, as you'll see.
On Saturday night, the group of 17, including spouses, met in the village center thanks to village council president Wayne Miller. Mr. Miller offered opening remarks that stirred the hearts of everyone in the room: "Welcome home! On behalf of the people of Caye Caulker and my country, thank you for your service here."
He shared how, as a young boy, he was personally influenced by Volunteer Gene Adams, who provided inspiration and encouragement for him and others like him through baseball and basketball activities for youth that continue today. He thanked the group, and Peace Corps in general, for years of service to the people of Belize: "Offering the room for you to meet is but a small token of my appreciation."
Everyone was touched by Mr. Miller's statement but it wasn't an unfamiliar story, as several of us were stopped along the way by people who knew of, or were affected by, the work of Peace Corps Volunteers. It's a family worldwide, it seems.
These remarks set the tone for an ensuing discussion based on three questions: 1) What motivated you to join the Peace Corps? 2) What were three outstanding memories of your service? and 3) How did your service impact your life thereafter? Many of the RPCVs felt that they had received far more than they had given during their two years of service.
Personal relationships that Volunteers developed among host families, coworkers and students were lasting and meaningful. Many RPCVs shared that they still have contact and involvement with Belizean friends and would be visiting them on this trip.
RPCV Blen Lakin reported back from her return to San Ignacio, where she and Perry had served, that the Cahal Pech ruins had been nearly restored and that "one of our kids" (Miriam) and her husband now have a successful hotel-restaurant by that name nearby.
When RPCV Barry Morrisroe left for the airport in a taxi, he discovered that his driver was a student in Hattieville School and lived in Building "F," where he had lived in 1964. This was not an uncommon experience for all of us.
Some talked about how the experiences in Belize shaped their careers after returning to the United States, where they embarked upon careers in teaching, public service and international development. Tim Krieger, who along with wife Sarah later served two tours as Peace Corps staff elsewhere in the world, remarked that amidst the personal relationships each of us developed during the two years in Belize, there was the realization, "The people we worked with, who were often the poor, gave most generously of themselves and what little they had to others – namely, to us."
Traveling to Belmopan, the nation's capital, there were opportunities to talk again with the people of Belize, particularly those from villages who always seemed to know of the presence of Peace Corps and spoke of having personal experience with at least one Volunteer.
We were met in Belmopan by Reuben from Peace Corps Belize, who welcomed us "home." The purpose of the visit to Belmopan was to learn what Volunteers today do, and the RPCVs shared how things have changed over the past 50 years.
Everyone thought that time with friends and sharing experiences of long ago – priceless!