5 ways Volunteers are feeding the future
Through a partnership with USAID, Peace Corps Volunteers have been working with the U.S. Government's Feed the Future initiative to support its goals to reduce hunger, poverty and undernutrition around the world. 
To date, more than 1,200 Volunteers have served or are serving as Feed the Future Peace Corps Volunteers (PCVs), improving global food security at the grassroots level.

PCVs are uniquely positioned to work at the community level on improving food security. They respond with a multi-faceted approach, tailored to community needs, that addresses key areas like household food production and improved nutrition. Volunteers also employ activities and practices that address climate variability and improve families' ability to access food through local markets and elsewhere.
Here are five things Peace Corps Volunteers are doing to feed the future: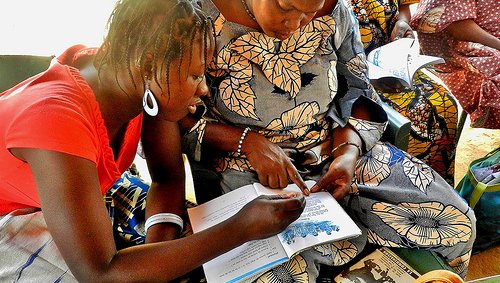 1. Nutrition: PCVs train their communities in nutrition, for example showing local mothers how to prepare nutritious foods for their children using locally-grown ingredients.

2. Sharing. PCVs share agricultural practices and techniques with communities that help farmers preserve the environment, grow more nutritious foods, earn more income and increase productivity and crop yields.

3. Entrepreneurship: By training entrepreneurs (including farmers!) to help them better run their enterprises, PCVs help grow local economies, and they help empower women leaders by teaching them math, business and literacy skills.  

4. Agroforestry: PCVs teach communities about the benefits of agroforestry (the approach of combining trees and shrubs with crops to create sustainable land-use systems) and nutritious plants, such as the moringa oleifera tree.

5. Collaboration: PCVs bring farmers together to learn new skills so they can venture into new areas of farming and diversify their livelihoods and diets.

This story was originally posted on Feed the Future's blog.