5 things you didn't know about Advancing Health Professionals
Utilize your skills to educate emerging health care professionals and improve health care systems with Peace Corps Response.
Interested in being a volunteer with Peace Corps Response's newest program, Advancing Health Professionals (AHP)? Here are answers to some of our most common questions about the AHP program.
1. Advancing Health Professionals was launched in 2019
Peace Corps has been around for a long time. This year, the agency will recognize its 60th anniversary, and Peace Corps Response (PCR) will mark its 25th anniversary. We constantly evolve to fit new needs, so in 2019, PCR launched its newest program, Advancing Health Professionals (AHP). The program aims to improve health care education and strengthen health systems on a societal level in resource-limited areas.
The AHP program has been launched in five countries: Eswatini, Liberia, Malawi, Tanzania, and Uganda. In the future, it may be expanded to other Peace Corps Response posts.
2. There is no age limit to serve with AHP
There is no age limit to serve, but AHP Volunteers must complete the same online application process as other Peace Corps Response Volunteers. The applicant must complete both medical and legal clearances to serve.
3. You don't need to have Peace Corps experience to serve
Our program is ideal for seasoned professionals without previous Peace Corps experience, or returned Volunteers who completed a successful tour of service and have technical expertise and specialized experience in their field. All applicants must be U.S. citizens and at least 18 years old. Please note that each position requires a unique set of qualifications. Applicants should review the required skills closely before deciding to apply. Returned Peace Corps Volunteer (RPCV) applicants who did not complete two years of service, but finished in good standing with the Peace Corps, can also be considered.
4. AHP focuses on improving health care education and strengthening health systems
AHP seeks to staff non-clinical assignments with skilled Volunteers who have backgrounds in: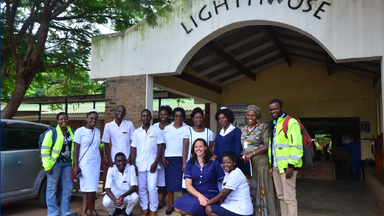 Medicine
Nursing
Pharmacy
Mental health
Pre-clinical education
Health care administration
Health care services delivery
Midwifery
AHP assignments are focused on either classroom education or on strengthening health systems through organizational change. Assignments have a national impact and contribute to outcomes that can benefit and be replicated throughout the entire country. Volunteers deliver and promote the equitable delivery of services where they are most needed.
5. Volunteers serving with AHP receive the same benefits as Peace Corps Response Volunteers
Peace Corps Response Volunteers receive many of the same benefits as traditional Peace Corps Volunteers. These benefits include transportation to and from their country of service; settling-in, living, and leave allowances; two vacation days per month of service; medical care; and, for those who complete their service, the option to receive a travel stipend instead of a return plane ticket.
Additionally, Peace Corps Response Volunteers receive a readjustment allowance of $475 for each month of service—$100 more than two-year Volunteers receive. The net amount of this allowance is sent via electronic funds transfer (EFT) to the Volunteer's U.S. bank account upon completing their assignment. While serving, Volunteers are still responsible for any student loans they have. But there may be benefits available, including deferment, partial cancellation, income-driven repayment, or forgiveness. Learn more about student loan information.
For more information about AHP, please visit our website or sign up for a newsletter to receive updates about volunteer stories and openings. Browse current openings for AHP here.
---