5 reflections from an Advancing Health Professionals Volunteer
Launched in 2019, Advancing Health Professionals (AHP) is the newest Peace Corps Response program. AHP aims to improve health care education and strengthen health systems on a societal level in resource-limited areas. The program recruits medical and health professionals as educators and advisors to help bridge the gap by sharing their skills and knowledge in 12-month Volunteer assignments. Volunteers served in Malawi, Uganda, Eswatini, and Liberia before the global COVID-19 evacuation in March 2020. Liliana Oscanoa served as a skills/simulation laboratory nurse educator in Malawi from 2019 to 2020. Read five reflections from her service journey below.
1) What did you value most about your experience as an AHP volunteer?
The most valuable moments of my AHP service were the relationships built with the staff and students. It was great developing friendships with the staff and students whereby genuine concern and respect were mutually reciprocated.
2) What was your biggest success in service? Your biggest challenge?
The biggest success during service was being able to teach more practical skills to large groups of students on a regular basis. But that, in itself, was a challenge due to large class sizes. Some had over 100 students per class year. I'm still very surprised at how we, as a team, managed to get things done. I am glad we were able to achieve those successes. Other than that, being away from family and friends was challenging at times, but the new friendships help you feel at home shortly after settling in.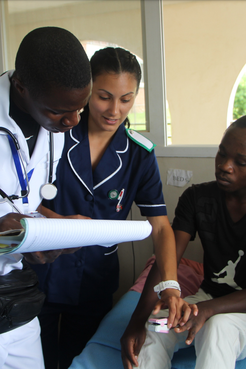 3) What key lessons did you take away from your experience as an AHP volunteer?
Don't take for granted what one can achieve. Oftentimes, we think of ideas and sometimes know it may be impossible, or unachievable because it's too [ambitious]! But with the right team and mindset, many things can be achieved. It was rewarding to see the many tasks we tackled in such a short time. So don't ever short-change yourself into thinking you can't achieve big things because you really can make a difference.
4) What did you value most about working with a counterpart?
After the initial settling in at the site, and figuring out a work-life balance, developing a plan together and working on it together is the most valuable aspect of having a counterpart. Being able to discuss openly what's important, what's needed, and what we can achieve, was so crucial. Having a counterpart with whom you can clearly communicate is a great asset. Like any other friendship, getting to know one another and how to communicate with each other is important. Once that is established, along with trust, achieving team goals becomes easier.
5) How have you utilized the skills you gain during your AHP service in your career?
I was an AHP volunteer in Malawi from 2019 to 2020. I served as a nurse educator in Lilongwe at Kamuzu College of Nursing. Upon my return home, COVID-19 had already ramped up in my region. Within the month of being back home, I signed up to be a volunteer Medical Reserve Corps member for my county. We were some of the first in our region performing COVID-19 testing for members in our county for and residents in the county-run nursing home. I then shifted to working at a Veterans Affairs hospital for some time. Now, I'm assisting with COVID-19 vaccination. Throughout this time, I've developed a lot of interest in primary care prevention — especially as a result of COVID-19, but also due to reflections of my time in service.