4 things we relearned in our first Peace Corps Week as Volunteers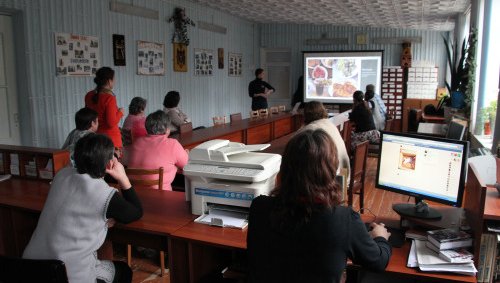 Jan. 18, 2017
We followed Peace Corps Week 2015 in the midst of preparation for our own service.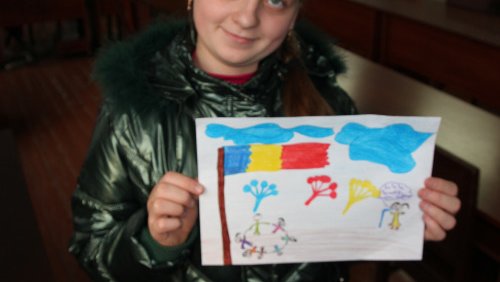 We still regularly quote comments made by a partner and his Volunteer during a webinar that week. Given what a helpful experience it was for us, it is no surprise that we leapt into Peace Corps Week activities in our first year as a Volunteers in the Republic of Moldova, enjoying ourselves thoroughly with local and online Peace Corps Week activities. 
In reflecting on the process of preparing for and celebrating Peace Corps Week, we realized four key takeaways, four things we relearned through the process: 
1. Set our own personal goals while participating in a larger project with its own purpose.
Overall, Peace Corps Week celebrates the anniversary of the Peace Corps' founding in 1961, highlights the ways the Peace Corps "makes a difference at home and abroad" and renews the commitment the Peace Corps has to service. Thinking about these broad goals, we identified two key local ones for Peace Corps Week at site: 
We serve in a community that has had many Volunteers for more than two decades. Our community is habituated to volunteers while we still felt new in our community. Our goal was to connect with our community in a way that reminded us all of the mission and goals of the Peace Corps.

The theme of Peace Corps Week 2016 was "Highlighting happiness: What does joy look like in my host country?" One thing that brings us great happiness in our service is having guests visit our community, so our second goal was to entice other Volunteers to visit us. 

These informed how we structured our events: We started every event with an explanation of the Peace Corps' mission and goals, we invited all our peers to present and we prepped our guest speakers with a spirit of relaxation and built in fun local activities to their visits. 
2. Think global and local – let international and local events inspire and inform each other. We held four events at our local library and all were tied into larger Peace Corps Week activities. The Peace Corps Week Video Challenge played a huge role: Our first event was the world premiere of videos made by a fellow Peace Corps Moldova Volunteer; our second event was an English Corner where we watched and discussed several of the finalist videos – our own small film festival. We also presented about the #PeaceCorpsLeap campaign and had a fun photo shoot. 
We jumped at the opportunity to participate in Paul D. Coverdell World Wise Schools webinars, participating in three throughout the week. We would have lacked the confidence to invite our community members to participate in these had we not already laid the foundation for Peace Corps Week with our local schedule of events.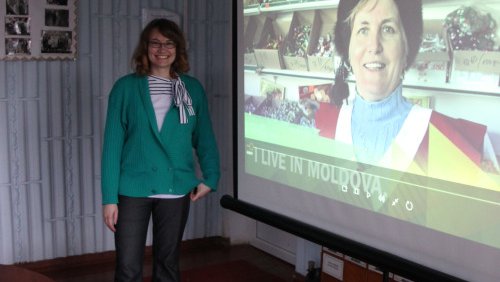 3. Celebrate the small successes! This week was our first foray into event programming in our site where we played a lead role. Knowing it was the first time for us in the community and the community's first time to check us out, we prepared physically for high attendance and prepared emotionally for low attendance. This is where having our local goals played a key role! If our only measure for success was turnout, we would have felt discouraged and inept. Having our goals in mind kept us focused on them and helped us celebrate real achievements: 
Our peer let us call her video screening event "The World Premiere" and this still brings us all much joy!

After personally inviting around 200 students of mine, only one student each came to our Wednesday and Friday events. Rather than focus on who didn't come, we focused on who did. This has expanded and strengthened relationships with these students. Plus, one suggested a recap of the week at school.

Speaking of that, by presenting about the week in all of her health education classes, Rebecca further achieved the aim of enhancing understanding of the mission and goals of the Peace Corps. Plus, the students who had come got to feel deservedly proud of their participation. We believe that the sense of FOMO felt by the students who didn't come contributed to high attendance at later events.

We connected in a new way with our library staff and local students. These enhanced relationships mean so much to us personally. 

4. Librarians rock! In our lives, librarians have long stood out for being awesome. Our community's librarians confirmed our bias around this! They were open to working with us in a new way, trying out events that haven't been held before. They were creative & insightful in advance and on the spot. They got reluctant patrons to participate. And when no one came within the first ten minutes of a program for which three volunteers had traveled from around the country to our town, they all left their pre-International Women's Day luncheon to support the volunteers. Their generosity and friendliness has been immeasurable! 
All in all, our experience with Peace Corps Week reminded us why we are so quick to say we love our community.