27 paintings in 27 months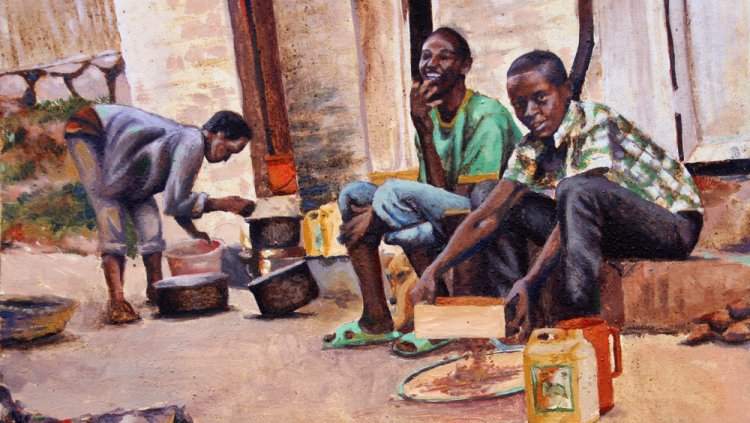 June 22, 2015
I am a Peace Corps Volunteer in Rwanda who decided to paint one painting per month during my 27 months of service.
I knew that I would not be able to buy art supplies here in Rwanda, so I brought them with me. I make my own oil paint, so I was nervous about getting a bunch of shady looking, unmarked tubes of paint onto a plane. I printed out MSDS sheets for all of my supplies, and put them with my brushes and palette to make them look more legitimate. I also brought 30 small boards about the size of a piece of paper to paint on.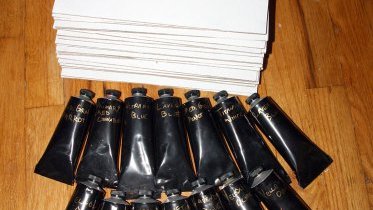 I had to find media that is non-combustible to take on the plane, so I use linseed oil and a natural paint thinner that I was not sure about and smells like oranges. I have been very satisfied with it as an alternative to other toxic and flammable solvents.
My first month of service was the start of three months of language and culture training. My wife and I lived with a host family who taught us how to cook on charcoal, wash our clothes and do all of the other basic tasks necessary when you don't have electricity or running water. Since our Rwandan family has to teach us to do everything, they sometimes assume that in America we must have dozens of servants to do everything for us. Household workers are very common in Rwanda, so of course all of the rich Americans have them, right? What they don't understand is that their courtyard area has nothing that resembles a kitchen to us, and that servants are very rare in America.
My first painting is of our host family in their cooking area. Our host brothers, Fees and Desire, are crushing peanuts while Lillian is cooking. I used dirt and egg tempera for the underpainting. Partially, I use it because it conserves my oil paints since I can't replace them. The other reason is that it gives a really nice texture in the finished painting.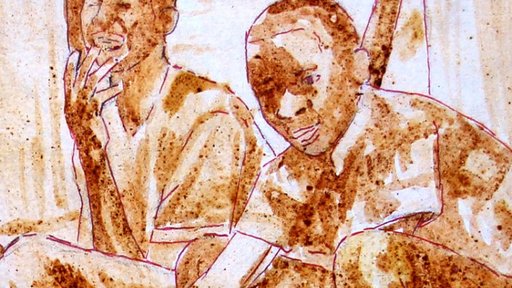 The first painting shows some of my preconceived ideas about Africa. It has a lot of brown, which is the dirt coming through from the underpainting. When I thought about Africa before I came, I thought about lots of earthy colors and wild animals. In reality, Rwanda is a very colorful place and everything is surprisingly clean. Even though the streets are dirt, everyone's shoes are spotless. They wash their shoes constantly, and they mop their concrete floors every other day. In Rwanda there is a lot of dust, but nothing is dirty.
Coming to Rwanda, we were afraid that not having plumbing or electricity would be a big challenge. Getting used to not having them took about a week. The real challenge is being in a completely foreign culture constantly and not really being able to escape to a place where you feel like you belong. Our host family helped us to understand the culture so much better, and to know how Rwandans in rural areas really live.
Some of the bright colors in the painting were added after I finished training and knew more about Rwanda. As the series progresses, it will be much more colorful.