20 years later, Peace Corps is back (with big goals!) in Comoros
Building an environmental program, raising conservation awareness and establishing an EFL program are just a few of the projects facing Peace Corps when it re-enters Comoros in early 2015, 20 years after it left the small island nation.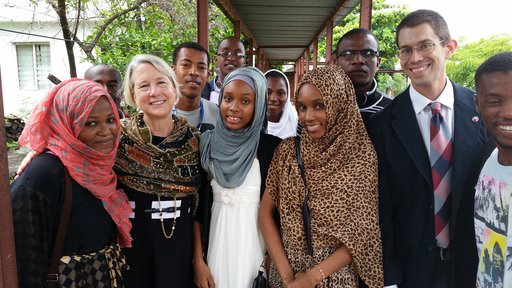 "You will be setting up the first national parks in the country, getting everything up and running, and making it sustainable," said Douglas Coutts, United Nations Resident Coordinator for Comoros. "You will also help us develop a sense of awareness and appreciation among the youth about preserving the environment, and you will help us build capacity at the university."

These first Volunteers to return to Comoros will be placed through Peace Corps Response, a short-term Peace Corps program that allows professionals with significant experience to undertake project based assignments. They will be working with the United Nations Development Programme GEF (Global Environment Fund).
Located in the Indian Ocean off the eastern coast of Africa, Comoros was home to more than 70 Volunteers from 1988-1995, when the program closed due to political instability.
Comoros "has amazing natural beauty…. There are forested volcanic islands, densely populated bush, a beautiful shoreline and wonderful people who had a legacy of love for Peace Corps," said Peace Corps' Africa Regional Director Dick Day. "This is a place where Peace Corps can go in and have a huge impact in some key areas."
Under the umbrella of the United Nations, the first group of ten Peace Corps Response Volunteers will help make an extraordinary impact at the ground level. Following their initial projects, 20 two-year Peace Corps Volunteers will arrive to continue working on variety of environmental and education projects. Some of those Volunteers will live and work in the same area where Ikililou Dhoinine, the president of Comoros, lived as a child. The president himself remembers his time with Peace Corps Volunteers from when the agency was last in Comoros.
If you are interested in applying or learning more, please visit peacecorps.gov/response.