10 reasons to participate in Peace Corps' Virtual Service
Virtual Service advances the Peace Corps mission by connecting Returned Peace Corps Volunteers (RPCVs) who donate their service and collaborate with international partners on short-term community projects.
Here are the top ten reasons you should consider participating.
1. Make a long-term impact in a short amount of time.
Each virtual engagement lasts anywhere from three to six months. That may not sound like enough time to make a lasting impact on a community, but as over 500 participants have already shown, it is possible.
The virtual engagements are designed so that participants and their counterparts can start – and finish – projects quickly. Before the engagement begins, the partner identifies a list of tasks to be completed, which sets clear expectations for both parties. Participants and counterparts then develop a work plan for when they will meet, how they will communicate, and how they will individually contribute to the project's success.
It's not uncommon to identify additional needs, so many participants choose to continue their collaboration beyond the initial end date. In fact, some participants, like Cynthia Mosca, have found their projects so rewarding that they've requested to continue multiple times!
"I was very inspired by what [the counterpart] did on a daily basis," Cynthia Mosca, former Virtual Service Participant for Ethiopia.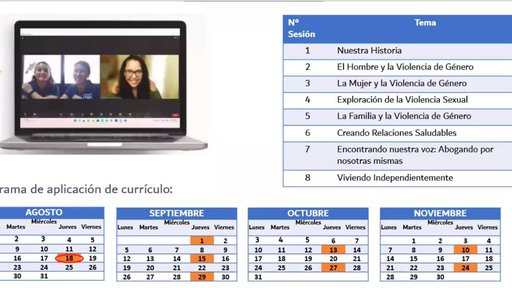 2. Commit with flexible expectations.
Did you know that RPCVs from every decade have participated in Virtual Service? That means that these part-time projects integrate with obligations at any life stage.
Participants are expected to donate 5 to 15 hours each week. Although the number of hours spent working synchronously with the counterparts differs from project to project, participants can expect to work independently for a portion of their weekly hours. A few examples of asynchronous tasks include drafting lesson plans, proofreading grants, and researching agricultural solutions.
You'll gain a better understanding of the synchronous-asynchronous ratio by reading the details of each virtual service engagement. Keep in mind that you will be expected to meet your counterpart during their normal working hours, so consider the time zone difference.
"Five to fifteen hours per week was a manageable commitment. For the first few months of my service the workload was quite light and close to the five-hour mark. Then, during my final months, work picked up significantly and I put in more hours as a final push to finish our project," Sarah Larkins, current Virtual Service Participant for Philippines.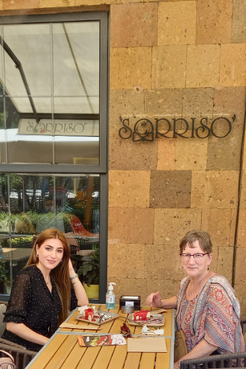 3. Build relationships.
The Peace Corps fosters positive, cross-cultural relationships, and Virtual Service is no different.
Participants build surprisingly strong relationships through their engagements. Some projects will have participants working with more than one counterpart at the partner organization, while others may have you working alongside another RPCV. Posts may also host a virtual meeting to connect all their participants and offer time to share ideas in real time.
"It expands your connections – we're friends now with people we weren't friends with before." Clint Kellner, former Virtual Service Participant for Peru.
4. Learn about a new culture.
Almost all of the virtual service opportunities are open to all RPCVs, regardless of where they served. This means you can engage with a new country and learn about a new culture and traditions during orientation and meetings with your counterpart. The cultural context will help you respectfully engage with your partner and locals in the future.
Throughout your engagement, you'll be encouraged to meet Peace Corps' Goals 2 and 3. This can be as simple as asking questions about life in your counterpart's country during meetings or as elaborate as creating videos of holiday traditions. Feel free to get creative!
"We would just be having a normal talk and I would tell her about our beaches, food, all the significant things that happen here." Alisha Anderson, RADA counterpart in Jamaica.
5. Apply professional skills.
Chances are you've learned new skills since you volunteered. Virtual Service allows you to apply that acquired expertise to support a project where it's needed most. Best of all, you don't have to pause your professional or personal life.
"[One highlight] was when the Participant exchanged experiences from her professional career as a Peace Corps Volunteer and what she knows on how to build and grow an NGO while strengthening an organization," Karen Magdalena Miche Perez, a Mujeres Mejorando Vidas counterpart in Guatemala.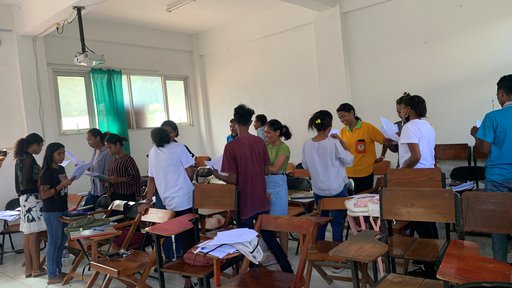 6. Support new partners or unreachable regions.
Virtual Service enables the Peace Corps to reach regions and partners who would otherwise not be able to receive support. For instance, Virtual Service paired RPCVs with Ukrainian partners for remote support during the war. Countries like South Africa are now supporting partners in cities where Volunteers are not placed. Your participation may pioneer new partnerships between the agency and organizations abroad.
"When we started our first projects, no one knew how to teach online and it was a real heavy lift. But now we are getting good at it. It is going to continue to open up new opportunities and new ideas for us," Melanie Ingalls, Country Director in Armenia.
7. Receive continuous support.
From orientation to completion, you will have the full support of the Peace Corps staff.
Post will answer all your initial questions during the mandatory orientation. Once the project work begins, you'll have bi-weekly check-in calls with the Post staff. These calls give you a chance to share how things are going, ask questions, or provide feedback to further improve Virtual Service. You can be confident that if any unforeseen challenges arise, your Post staff point of contact is just an email or WhatsApp message away.
"My most memorable interaction was in the pollution seminar when one student inquired how they would [know they made] a difference in their community, [specifically] succeeding in reducing trash on the streets and increasing recycling efforts. I spoke to them about the long-term difficulty of societal behavior changes but encouraged optimism, as was done for me by a wonderful Peace Corps Albania staff member named Genti," Vincenzo Tanza, current Virtual Service Participant for Albania.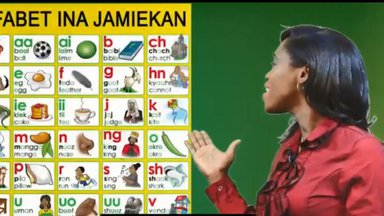 8. Gain a sense of fulfillment.
Virtual Service Participants complete their projects, knowing they strengthened a community's capacity on everything from entrepreneurial skills among local market vendors to teaching students with special needs.
Participants' time and efforts often yield tangible products that will be used for years to come. These include instructional videos, databases, educational resources, and radio programs.
"I had the availability and it was an opportunity to give back. You're seeing people learn new skills that they can then use to support their community. It's quite fulfilling," Neil Boisen, former Virtual Service Participant for Namibia.
9. Reconnect with the Peace Corps.
Do you miss the Peace Corps community? Virtual Service connects you with RPCVs from other countries and new Post staff. You may also see some familiar faces.
"I was able to finally reconnect with people and the work that I did in Madagascar, so it's been very, fulfilling to get back to where my journey as an English teacher all started," John Jordan, former Virtual Service Participant for Madagascar.
10. Add to your resume.
By participating in Peace Corps' Virtual Service, you'll gain more experience working with international organizations and expand your professional network. You may also get to practice or learn new language skills. When asked at the end of the engagement, some partners provide letters of recommendation for the participants to use during their job search.
And while partners are excited to have skilled RPCVs support their projects, the learning goes both ways. Many participants find themselves conducting independent research to complete a project task.
Depending on the required tasks and experience, participants can support a different sector from their Volunteer service. In fact, Virtual Service offers engagements in all six sectors: Agriculture, Education, Health, Community Economic Development, Environment, and Youth in Development. If you're thinking about serving again in the future, Virtual Service can help you gain experience in the sector you're interested in pursuing.
"We work alongside with our American counterparts in order to learn about different issues, to share different areas, all together in order to achieve a common goal." – Ali Aaouine, Greenside Development Foundation counterpart in Morocco.
---