The calm of sweet coconut and spicy chilies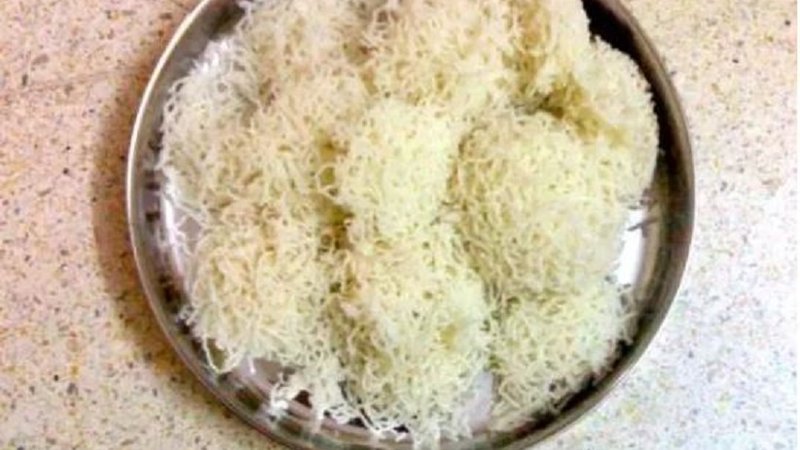 March 13, 2019
String Hoppers in Sri Lanka
Published in roadsandkingdoms.com
SEP 22 2015
Every morning, monsoon or shine, I would balance on my black one-speed bicycle with the bright pink seat and go down the path to the best local kade (store). It was at the cross road where my village, Pilikuttwa, ended, and the main one of Butpitiya began. Pint-sized, overstuffed buses hurried by, leaving traces of dust in the breeze. At the store, the only woman among the local men, I went right up to the counter and ordered breakfast.
Old toothless men with red betel juice dripping down their chins sat on worn chairs and the owner, who had thick wavy hair and a crisp starched white shirt draped over a batik sarong, would greet me. There was no, "I'll have the usual"; it was whatever was made fresh that morning by their wives in a wood burning stove at 4 am before the heat amassed in their kitchens. Often gathering fresh coconuts off the trees, husking them and scarping out the milky goodness that day.
Most mornings were the same. The ubiquitous string hoppers, were almost always available. Thin string-like pancakes of wheat flour created a spaghetti-like pile of tender steamed dough. This was always accompanied with a side of spicy coconut chutney, drenched in chili powder and sprinkled with lime: Pol Sambol. The only form of coconut this American could eat without getting sick and the perfect juxtaposition of sweet and spicy for the palate. Sometimes mustard-colored dhal would be added as well.
Other days the crepe-like version of the hoppers were served with a coconut or egg curry and sometime little pieces of dried fish were placed on the side, wrapped tightly in pink plastic for my standing to-go order. Some days the string hoppers were filled with sweet jaggery, and the brown sugar would ooze out of the sides of the pockets and drip along the side of my mouth.
As if this abundance of carbohydrates weren't enough, on special days— auspicious days—I would hit the Sri Lankan bull's eye. Orbs of kiribat were served with a spicy onion jelly. Kiribat, a sweet rice pudding whose name means milk rice, is packed into circles or triangles or squares and served on special occasions. My face would light up when the storeowner handed me these gems.
I would make Sinhalese small talk and take my parcel, wrapped in old newspaper and put in clear plastic bags, and carefully place it on the handlebars and return to the safety of my village. It was a rarity to see a sudu—white person—especially a woman, traveling around alone. Other places did not treat me as well, but this store, on the border of my village, let me cross over to another land.
Before the heat took over, I would sit back with a cup of freshly made ginger tea and unwrap my breakfast buffet. I placed all the items on a plate, washed my hands, and slowly picked and dipped each morsel with my fingers, carefully using them to ensure that every drop landed in my mouth. It was my morning ritual. The quietest and calmest part of my day, when sweet coconut and jaggery hit spicy chilies and dissolved into my mouth. All for less then 50 cents a day.