Sri Lanka
Projects in Sri Lanka
Education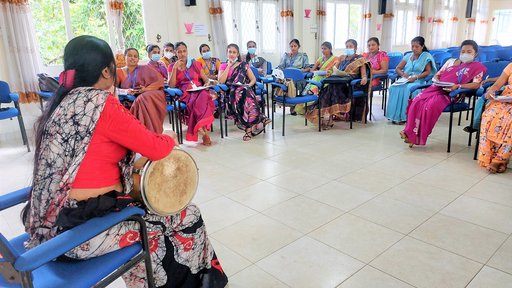 Despite their departure over twenty years ago, fond memories of Volunteers and the impact of their work are evident in many Sri Lankan communities today. Peace Corps staff has encountered Ministry of Education officials, regional administrators and teachers who credit Peace Corps Volunteers with teaching them spoken English in the 1980s and 1990s. Building on this legacy, Peace Corps Sri Lanka, and English and Foreign Languages Branch of the Ministry of Education are partnering to address gaps in English language education.
ENGLISH LANGUAGE EDUCATION PROJECT GOAL
Students and teachers in Sri Lanka will be better equipped to fulfill educational and professional aspirations, and to contribute to the creation of strong local and global communities, as a result of improved English language skills.
PROJECT OBJECTIVES
For Teachers
-Strengthen teacher capacity to use general and English teaching skills more effectively
-Increase the English proficiency of English teachers, particularly to increase usage in the classroom
For Students
-Improve student achievement in English, particularly speaking skills
-Expand opportunities for youth community engagement
SAMPLE ACTIVITIES
-Co-plan and co-teach English lessons that support student speaking practice
-Work with teachers to design and adapt learning materials for English teaching
-Bring English teaching colleagues together for the purpose of mutual exchange and learning of language and
teaching skills
-Co-organize school events and extracurricular activities to support development of English proficiency
-Co-facilitate recreational activities where students can practice and improve English language skills
-Co-facilitate youth's participation in volunteer opportunities in their school or community
---