Sri Lanka
Training
The Peace Corps uses a competency-based training approach throughout the continuum of learning, supporting you from arrival in-country to departure. Learn more about the Peace Corps' approach to training.
Pre-service training in-country is conducted by Peace Corps staff, most of whom are locally hired trainers. To foster appropriate and effective integration into the community, trainees typically live with a host family during training. Training covers technical, linguistic, intercultural competence, diversity and inclusion, health, and safety and security topics.
Technical training involves structured sessions and practical assignments working in the community.
Language training typically involves classroom lessons five days a week in small groups. In addition to classroom lessons, you will also do speaking practice assignments with your host family or in the community. For Volunteers who do not have previous experience with the local language, the goal for pre-service training is to learn basic survival communication skills while intentionally building your intercultural competence. During pre-service training, you will be given guidance and training on independent language learning skills and strategies and your language proficiency will be tested at the end of pre-service training to assess your readiness to serve. After pre-service training, you will continue to study language independently throughout service so that you can develop sufficient language proficiency to serve effectively. Language proficiency will be tested at other points during service.
Intercultural and community development training will help you explore your cultural values, those of your host community, and your role as a Volunteer. Training will guide you in considering concepts of time, power and hierarchy, gender roles, communication styles, relationships and self, and resiliency. You will also participate in cultural events and learn about local history and way of life.
You will be trained in health prevention, basic first aid, and treatment of medical illnesses found in-country. During the safety and security training sessions, you will learn how to reduce risks at home, at work, and during your travels. You will also learn various strategies for coping with unwanted attention, how to identify safety risks in-country, and about Peace Corps' emergency response and support systems.
Additional trainings during Volunteer service include in-service training after one to three months at your site, mid-service training, and close-of-service conference. You will be with your Volunteer cohort for these trainings and attention will be paid to helping you also explore and honor the diversity of US Americans within your group throughout service.
Pre-Service Training
The Peace Corps employs a community-based model during pre-service training. It is based on adult learning methods that emphasize individual responsibility for developing the competencies to function independently as a Volunteer. You will live with a family, take care of your own needs, and work either independently or in small groups to accomplish tasks that build your skill levels. Local facilitators will help you learn the necessary language and intercultural communication skills to accomplish your living and work tasks. You cannot be sworn-in to Peace Corps service until you have clearly demonstrated the attributes and skills necessary to meet the needs of your assignment. You can monitor and demonstrate your own progress through self-evaluation, consistent feedback from staff and facilitators, and participation in daily activities. Your success in this learning period requires full participation and, for some, a measure of sacrifice in terms of time and personal comfort. Investment of effort during this time will be well worth the rewards of satisfaction and well-being you will experience as a Volunteer.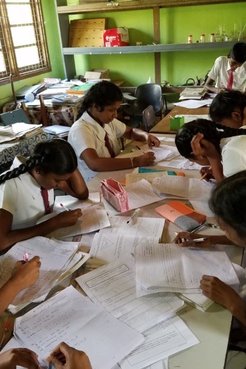 Technical Training
Technical training ensures that Volunteers are prepared to teach or co-teach in Sri Lankan classrooms. During pre-service training, Trainees will receive information on Sri Lanka's educational system, the current priorities of the Sri Lanka Ministry of Education, textbook availability, national testing, and the support for and training of Sri Lankan teachers. Much of the technical training, whether in pre-service training or in-service events, will be devoted to developing Volunteer skills in lesson planning, materials use, classroom teaching and co-teaching, and classroom management, specifically with the context of Sri Lankan schools in mind.
Emphasis will be placed on methodologies for developing speaking skills and building the capacity of co-teachers. Trainees will have opportunities to visit schools, observe classrooms, and practice their skills with Sri Lankan students during pre-service training.
Language Training
Language proficiency is at the heart of successful Peace Corps service and effective language skills are essential to your personal and professional satisfaction. Language proficiency is critical not only to your job performance, but also helps you integrate into your community, can ease your personal adaptation to the new surroundings, and supports your personal safety. As a result, language training is central to the training program and closely tied to intercultural competence, diversity and inclusion training.
Intercultural Competence, Diversity and Inclusion Training
The Peace Corps values intercultural competence, diversity and inclusion and recognizes the value and strengths these principles bring to the agency. As a new Peace Corps country, Peace Corps Sri Lanka understands the vastness of this topic, our complex operating environment, and the need to educate ourselves. As we work together to develop our own intercultural competencies, we also look forward to working with our staff and first cohort of Volunteers to develop an approach, strategies and resources on diversity and inclusion that will help future generations of Volunteers navigate likely challenges.
Living with a host family is an integral part of the experiential element of your training. It opens a window into the Sri Lankan culture and way of life. Your host family will be a great resource for acquiring the language. The host family will provide you with a room of your own, but you will be expected to spend as much time with your family and the community as possible. Life with your host family will help you make the adjustment to living the way Sri Lankans do. During pre-service training your language and cross-cultural facilitators (LCFs), will be a good resource in your cultural adjustment process. Your teacher counterparts may be a similar resource during your service.
In addition, Intercultural Competence, Diversity and Inclusion (ICDI) sessions will be facilitated throughout your pre-service training. The sessions will provide you opportunities to reflect on your own cultural values and how they may influence your behavior in Sri Lanka. ICDI sessions will help you improve your communication skills and understand your role as a teacher. Training will cover topics such as the concept of time, power and hierarchy, gender roles, communication styles, the concept of self and relationships, and Volunteer diversity. You will participate in resiliency training which provides a framework and tools to help on the challenges you may encounter with adjustment to the Sri Lankan way of life.

Health Training
During pre-service training, you will be given basic medical training and information. You will be expected to practice preventive health care and to take responsibility for your own health by adhering to all medical policies and advice. Trainees are required to attend all medical sessions. The topics include preventive health measures and minor and major medical issues that you might encounter while in Sri Lanka. Nutrition, mental health, setting up a safe living compound, and how to avoid HIV/AIDS and other sexually transmitted infections (STIs) are also covered. It will be important to be open and remain culturally sensitive as you undergo health training and suspend judgement as to not project your cultural beliefs and values.

Safety and Security Training
During the safety training sessions, you will learn how to reduce your risks at home, at work, and during your travels by building your awareness and indirectly practicing culturally competent communications skills. You will also learn appropriate, effective strategies for coping with unwanted attention and about your individual responsibility for promoting safety throughout your service.