Sri Lanka
Since you will be the first group of Peace Corps Volunteers in many years, we do not have a packing list based on previous Volunteer experiences. Therefore it is important that you use this list as a packing guide, remembering that you can buy most items you need here in country. We strongly recommend that you save your money to buy things after you observe what you will need in your life as a teacher and community member, noting that some areas of the country are very hot and humid and other areas in the mountains are much colder.
Baggage & weight limit: The Peace Corps limits the size and weight of baggage and will not pay to transport baggage that exceeds these limits. The allowance is two checked pieces of luggage with combined dimensions of both pieces not to exceed 107 inches (length + width + height) and a carry-on bag with dimensions of no more than 45 inches. Checked baggage should not exceed 100 pounds total with a maximum weight of 50 pounds per bag.
Peace Corps Volunteers are not allowed to take pets, weapons, explosives, radio transmitters (shortwave radios are permitted), automobiles, or motorcycles to their assignments. Do not pack flammable materials or liquids such as lighter fluid, cleaning solvents, hair spray, or aerosol containers.
Voltage: In Sri Lanka the standard voltage is 230 V and the frequency is 50 Hz. The standard voltage in the U.S. is 120V and 60Hz, therefore you will need a voltage converter for in Sri Lanka for any appliances (clocks, shavers, lights, etc.). To be sure, check the labels. Some devices will not need a converter. If the label states "INPUT 100-240V, 50/60Hz", it can be used in all countries of the world. This is common for laptops/tablets, cameras, and cell phones chargers. Regardless of voltage, the plugs and sockets are different in Sri Lanka (type D, M, and G). Socket adapters are available in Sri Lanka, but they can be difficult to find. You should considering bring one or two depending on the electronics you are bringing.
Clothing
All clothing should be clean and neat. During pre-service training, you should wear clothing that is modest and culturally appropriate. Loose fitted, breathable fabrics are best for the hot and humid climate. No flip-flops, jeans nor shorts should be worn during Pre-Service Training.
Once you arrived at your site, you will need to observe and ask questions about appropriate clothing and shoes for day-to-day. Teaching is considered a noble and respectable profession in Sri Lanka, therefore you are asked to be well-groomed and tidy and to follow the Ministry of Education dress-code.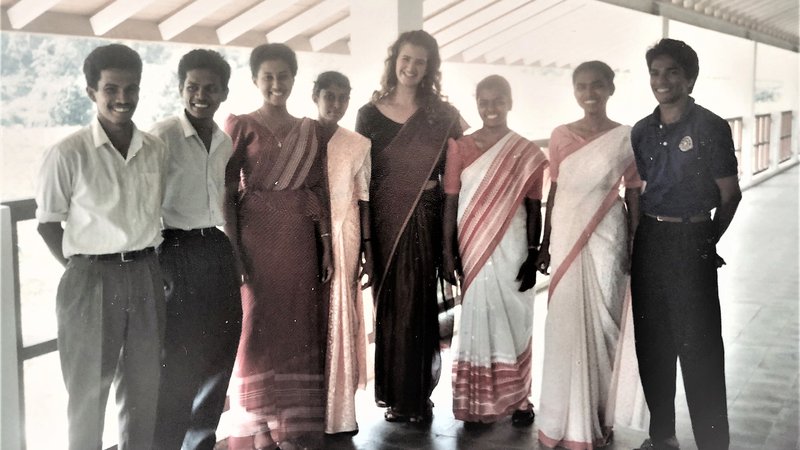 Females at School: When at school, women will be required to wear a saree, as it is the teacher uniform in Sri Lanka. Peace Corps Sri Lanka will provide you with your first set of sarees and you will receive an allowance to buy additional sarees for once you are at site.
Males at School: Male teachers wear short or long-sleeved pressed collared shirts that completely button up the front. Shirts are tucked neatly into pressed fitted pants. Any shirt, such as a polo that does not button all the way up the middle, is considered a t-shirt and is inappropriate for school. You should wear a belt and closed-toe shoes (no athletic shoes) with socks.
After School Hours: You will be wearing your teacher clothes the majority of the time, at least five days a week, so you will not need nearly as many clothes as you think you will! For both men and women, t-shirts and casual pants/jeans are appropriate for after hours and weekends. Sri Lankan men do not generally wear shorts in public, except in very relaxed situations; Sri Lankan women do not wear shorts in public especially in rural areas. Tank tops are also considered inappropriate, as they reveal too much.
General Packing Guide for Your Consideration:
Hat
Bathing suit or swim shorts (conservative one-piece for females unless you are on leave)
Underwear, in breathable cotton fabrics
Sunglasses
Lounging around the house clothes (loose pants, long shorts (males) long skirts (females), and t-shirts)
Long sleeved shirts (for protection from sun but also for cool nights and mosquitoes)
Short-sleeved shirts (for women it is best to avoid sleeveless shirts)
Socks, more for men
Sweatshirt, fleece top, or cardigan for cooler areas of Sri Lanka
Women
Business casual dress pants (conservative/loose cotton pants are okay for training, jeans are not)
Long skirts (below the knee at a minimum)
Casual pants/jeans to wear at home or when on vacation
Lightweight blouses or shirts (shirts should not have a low neckline or be transparent; sleeveless is okay but spaghetti string straps are not)
T-shirts; conservative casual tops
Pajamas (you will not want to walk around your host family in short/skimpy pajamas. Bring a cotton night-dress (knee-length), flowy pants, or long shorts for around the house.
Men
Business casual dress pants (you will where these every day you teach)
Dress shirts, short and/or long sleeves that button up the center
White undershirts
Neck tie
Jeans, casual pants, long shorts
Belts
T-shirts and other casual shirts
Shoes
Consider shoes that you can slip on and off easily, as shoes are usually removed before entering a home.
Dress shoes/flats for work
Slip on sandals/flip -flops for weekends; shower shoes
Shoes for walking and hiking; about half of the sites are in mountainous areas that will be muddy parts of the year
Personal Hygiene and Toiletry Items
Three-month supply of any medications, to last through pre-service training; copy of prescription.
If you wear glasses, bring two pairs.
Due to increased eye problems and infections, the Office of Health Services does not support the use of contact lenses during service. If you choose to bring contacts you will be wearing them against medical advice.
Toothpaste, body wash, shampoo, and conditioner can be purchased in country. You should bring a few small containers to use until more can be purchased.
Deodorant
Cosmetics/skin care
Travel or quick-dry towel
Insect repellent, to get you started (Peace Corps will also provide)
Sunscreen, to get you started (Peace Corps will also provide)
Tampons are available in Sri Lanka though the selection is limited. If you are interested in a menstrual cup, we advise that you have your gynecologist recommend a size for you, and that you practice use before coming to Sri Lanka. If needed, you will be able to replace it Colombo.
Electronics
All of these items are optional:
Smartphone (must be unlocked so you can use local SIM)
External battery for extra phone charge when the electricity is out
Headphones
Camera and charger
Lightweight computer or tablet (you will get a lot of documents on a USB so make sure your device is compatible).
USB drives/micro-storage devices/external hard drive
Small portable/USB speakers
E-reader
Extra/spare charging cords
Miscellaneous
Headlamp (highly recommended) or flashlight and extra batteries
Battery operated reading lamp (can buy here with appropriate voltage)
Solar powered lantern
Small backpack or duffel bag for weekend travel
Sturdy umbrella
Multi-purpose tool/knife (packed in your luggage and not your carry-on)
Games (e.g., Scrabble, Uno, and playing cards)
Durable water and/or insulated bottles that are easily washable (can buy here)
A small photo album with pictures from your life in the U.S., such as your American house, seasonal photos, and places you have visited
Small gifts for host family and local friends (not required); knickknacks for the house; pictures, books, or calendars of American scenes; souvenirs from your area; hard candies that will not melt or spoil; photos to give away
Contact information and important scans for resources in America (former employers, school loan information, colleges, organizations, resumes, documents, etc.), which can useful for obtaining materials during service or for applying for jobs near the end of service.
If you bring cash to exchange, bring crisp, new bills that are not wrinkled, folded, or creased.
There are ATMs in most towns, so you may want to bring an ATM card if plan to access a bank account in the U.S.