Sri Lanka
Living Conditions
Communications
Mail
During your first three months in the country, you may have mail delivered to the Peace Corps office at the following address:
Your Name 11 Kinross Avenue
Colombo 04
Sri Lanka
When you move to your assigned site, you will have a local mailing address for the duration of your service. Mail sent through the U.S. Postal Service will take several weeks to reach Sri Lanka. Packages may be opened by Sri Lankan Customs, but we are told items rarely go missing.

Telephones
There are a number of cell phone companies in Sri Lanka with cell service coverage throughout most parts of the country. Usage fees associated with mobile phones are lower than in the United States. Most communities where Volunteers will be placed have reasonable cell phone coverage, though in some areas the coverage may be "spotty" and require making calls from nearby locations.

Please note: In emergencies, your family can call the Behavioral Health and Outreach Unit's 24-hour duty phone in Washington D.C. 855-855-1961 Option 1 Extension 1470. The Behavioral Health and Outreach Unit will notify a Volunteer of an emergency (e.g., critical illness or death of a family member), respond to family questions about a Volunteer's status, and/or provide an update about civil unrest or a natural disaster in the host country.

Internet
Internet service is widely available. Phone plans and data are inexpensive, however internet service may be unreliable and slow. You should not expect internet service to work consistently or at high speeds during training or at your site; when it does work, you may not be able to stream or download content. Video calling on applications such as Skype and Whatsapp are possible from some, but not all, sites.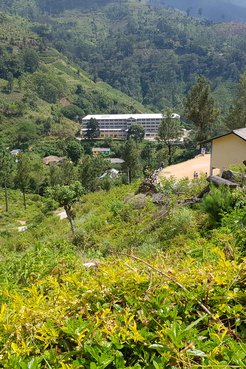 Housing and Site Location
Volunteer sites will be located in rural areas that have the greatest need for Peace Corps Volunteers. Volunteers will not be assigned to Colombo or areas frequented by tourists. Unless you are part of a couple, you will be the only Volunteer assigned to your site. Most Volunteers will be within one or two hours of another Volunteer and between four and ten hours from the Peace Corps office by public transportation. Note that you will be expected to immerse yourself in your community and commit to staying in your community for the majority of your service. Volunteers live where they serve and at the level of the people with whom they work. This means you may need to do without many of the amenities that you may be used to. Living conditions will be simple and probably unfamiliar. Being flexible, non-judgmental, and remaining curious will be essential as you settle into your new home.
You will live with host families for your entire service. Many Volunteers cite host family living as one of the most positive aspects of their Peace Corps service. Given the hospitality and warmth of Sri Lankans, those who are open to new experiences will enjoy host family life.
Aspects of living conditions in Sri Lanka that may be new to you include:
Personal space and alone time is not common; you may be accustomed to more privacy than you will be afforded in your new home;
Sri Lankan family members often relax together, talking and watching TV, and may expect Volunteers to join them. In many homes, the TV is kept on during waking hours at a volume that might be considered loud;
Typical homes are made of cement block; they do not have air conditioning, hot water, ovens or fridges; gas burners and fire-heated hearths are used for cooking; fans are used for cooling;
All homes will have electricity but outages occur;
Water is likely to come from a well or tap located in the yard; a minority of homes have inside taps;
Squat toilets rinsed with water from a bucket are common;
All homes have private bathing areas; "bucket baths" are a typical practice;
Laundry is done by hand;
Mosquitos, cockroaches, spiders, lizards, ants and snakes are common in Sri Lanka; Volunteers will sleep under mosquito netting;
Depending on your site, temperatures can range from 50F to 95F; during the monsoon season you can expect heavy rain, as well as occasional flooding and landslides.
All housing will be subject to the Peace Corps standards for safety and security.
Living Allowance and Money Management
Volunteers receive a monthly allowance in Sri Lankan currency (rupee) that is sufficient to live at a level comparable to host country counterparts. The allowance covers food, housing, household supplies, clothing, transportation to and from work, utilities, recreation and entertainment, and incidental expenses. The Peace Corps discourages Volunteers from supplementing their living allowance with funds from home. Credit and debit cards can be used in major cities and tourist areas. There is a risk for credit card fraud and potential identity theft. Volunteers who travel while on vacation, however, may find having a credit/debit card useful during their travels.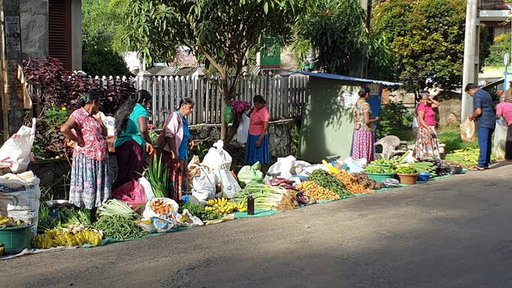 Food and Diet
Sri Lankan food is characterized by fragrant spices, all forms of coconut, and rice. Rice and curry is the main dish which can be served at breakfast, lunch and dinner. Sri Lankan cuisine tends to be quite spicy. Additionally:
Curries can be made from fish, shell fish, meat and/or vegetables such as lentils, chickpeas, beans, potatoes and pepper; even fruit can be curried;
Seasonal fruits and vegetables are plentiful in all parts of the country; organic options may not be available;
Chicken is the most common meat served; fish and shellfish are also widely used; you are likely to be served meat and fish with bones and skin;
Markets and homes in rural areas do not have refrigeration; expect to see butchering in the open;
Vegetarians will have many options available, however as an honored guest you are likely to be served curry with meat or fish as a sign of respect;
Due to prevalence of fish and fish products in many dishes, host families will be challenged to exclusively provide vegan dishes;
Sri Lanka produces the best tea in the world; it is prepared with milk and plenty of sugar; you can expect to be served tea frequently. Coffee, if available, is likely to be instant;
Sri Lankans eat with their one hand; you will be expected to do the same when you eat in public or with your host family;
Peace Corps will provide training on how to treat drinking water.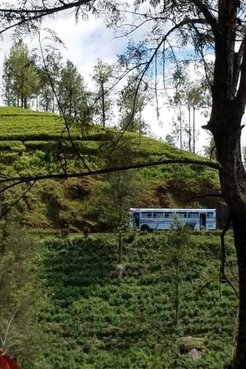 Transportation
Public buses and trains are the modes of transportation for long-distance travel in Sri Lanka. Bicycles, buses, and tuk-tuks (three-wheeled vehicles) are the modes for local transportation. Volunteers are not allowed to operate cars and motorcycles, but some may choose to ride bicycles which will be provided by Peace Corps if needed for transportation at your site. Wearing a helmet while riding a bicycle is required; Peace Corps will also provide bicycle helmets. Travel in Sri Lanka, whether by foot, bicycle, tuk-tuk, bus, or train, is potentially hazardous and therefore can be very stressful. Buses may be crowded and unreliable, and roads in poor condition are made more dangerous by the chaotic mix of vehicular, pedestrian, and animal traffic. Delays and cancellations due to bad weather, mechanical failures, or lack of personnel are to be expected. More information on transportation within Sri Lanka will be given during pre-service training.
Social Activities
You will spend much of your free time eating, attending Sri Lankan festivals and cultural events, playing sports, and socializing with your colleagues and neighbors.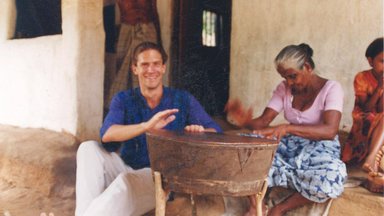 Please be prepared to have a very different kind of social life in Sri Lanka and to spend time in your community with your colleagues and neighbors and not necessarily other Volunteers or foreigners. Your ability to adjust and adapt to new social environments and routines will be an important aspect of your success as a Volunteer, as will your genuine interest in getting to know Sri Lankans.
Professionalism, Dress, and Behavior
Peace Corps Sri Lanka is very serious about Volunteer professionalism, as each Volunteer represents the Peace Corps, and in turn, the United States. You, as a member of the first group of Peace Corps Volunteers, will have the duty and privilege to set a high standard for yourself and for Volunteers who follow. Peace Corps' presence in Sri Lanka is predicated on the agency's ability to provide technically competent, culturally-sensitive Volunteers. Expectations are high for Volunteers to establish the strong relationships with neighbors and colleagues that characterize Peace Corps' community-based approach to development and to demonstrate a steadfast commitment to being a classroom teacher. In addition to being a dedicated teacher, professionalism means being aware of how your appearance and behaviors affect others and adjusting accordingly. A lack of professionalism can damage your reputation and can alienate you in your community. Applicants should consider carefully whether or not they are willing to make any necessary changes to their dress and behavior in order to integrate and serve a Sri Lankan community.
Although you will see some local people in Sri Lanka dressed less conservatively, particularly in the larger cities and tourist areas, teachers adhere to a dress code set by the Ministry of Education. Following the dress standards of teachers will help you avoid unintentional offenses and incorrect assumptions on the part of local population.
Male Dress/Appearance
At school, males will wear pressed, solid-colored, long pants with a belt; clothes should be fitted, not baggy;
Shirts must be collared and button all of the way down – all shirts that need to pulled-over the head (such as a polo-type shirts) are considered t-shirts in Sri Lanka and they cannot be worn to school; shirts can be long or short-sleeved;
Lace-up or loafer-type shoes are required; sandals, sneakers/running shoes, moccasins, flip-flops etc, cannot be worn to school;
Outside of school, longer shorts and t-shirts are acceptable for males;
Hair should be short and neat; asymmetrical or partially-shaved haircuts are not acceptable; a fully-shaved head means you are becoming a monk;
Neatly groomed facial hair is acceptable;
Tattoos are not acceptable in professional settings and must be covered at all times in the classroom and as you are integrating into your community; tattoos with religious symbols may be particularly sensitive;
Piercings should be removed; heavy/chunky necklaces are not worn by males in Sri Lanka;
Clothing with religious or offensive images should not be worn.
Female Dress/Appearance
Sri Lanakan female teachers wear saris to school; female Volunteers will also wear saris (you will get and learn how to wear a sari once you arrive);
At school, acceptable shoes include heels, flats, and sandals. Sneakers/running shoes, moccasins, flip-flops cannot be worn to school;
Outside of school, female volunteers can wear loose pants or leggings with longer shirts that reach mid-thigh or more, long skirts or long dresses (below the knee at a minimum);
Shorts, yoga pants, tight fitting, transparent or revealing clothes are not worn by females in rural communities;
At school, female volunteers with long hair need to wear it in a bun or pony-tail; loose hair is not acceptable in a professional environment;
Tattoos are not acceptable in professional settings must be covered at all times in the classroom and at all times when you are beginning to integrate into your community;
Female volunteers can wear modest jewelry – big, dangly earrings or large chains and medallions are not worn in professional settings;
Pierced ears and/or single nose piercing is acceptable.
Professionalism in Peace Corps Sri Lanka also means making intentional efforts to integrate in the school community and to foster productive and supportive relationships with Sri Lankan community members. When Volunteers choose to travel away from their community frequently, or for extended periods, these relationships cannot be developed. You will be expected to be at school when it is in session and to spend most weekends in your community. School operates year-round with breaks in December (one month); April, and August. Volunteers are welcome to take annual leave during school breaks. Excessive absence from site is not consistent with Peace Corps Sri Lanka's philosophy or policies. Please note for the first 30 days after swearing-in, Volunteers can only leave their sites if traveling with their host family or with co-workers. Annual leave and visitors are allowed after the first three months of service.