Sri Lanka
Welcome to Peace Corps Sri Lanka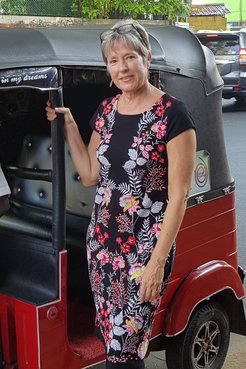 Greetings from the Sri Lanka. I hope you come away from this website with some insight and a desire to learn more about this unique country, its complex history and its path to an even brighter future. It is a privilege to live among people who are so warm and welcoming, and to work with Peace Corps staff members who are passionate about the development of their country and the contributions that Peace Corps Volunteers will make working with their local counterparts.
The Government of Sri Lanka invited Peace Corps to return to Sri Lanka after a 20-year hiatus to support English language education across the island. Volunteers will take on the respected role of teacher in public middle and high schools in working side-by-side with Sri Lankan teachers of English in rural, under-served areas. Peace Corps Volunteers are well-suited to build students' confidence and speaking skills through the development of student-centered, communicative language learning classrooms. Counterpart teachers will also gain confidence and new techniques in implementing these methods, as well as improve their own English language skills, through co-teaching. Beyond formal teaching assignments, Volunteers will be encouraged to take on secondary projects in their communities where there is an identified need.
Serving in Sri Lanka will be both rewarding and transformative, but it will not always be easy. You will go through a rigorous pre-service training where you will live with host families for about ten weeks and focus on acquiring language (Sinhala or Tamil), cross-cultural, technical and health/safety skills. Once you are "sworn-in" at the end of your training, you will move to your permanent site where you will live with a new host family for the next two years. Every day, you will interact with your family, your students and school colleagues, and community members. No day will be the same, some will be routine and others will be unforgettable. Friends will be made, connections established and ideas exchanged. You will be changed and will change others.
As part of the first batch of Volunteers to re-open Peace Corps Sri Lanka, you will need extra reserves of flexibility, patience and resilience. You will be called upon to provide recommendations and feedback that will benefit the generations of Volunteers who will follow you. I believe that being a part of our start-up is an opportunity of a lifetime. If you are serious about service and are excited to immerse yourself in a new culture, I look forward to welcoming you to Peace Corps/Sri Lanka.
In peace and friendship,
Kris Besch
Country Director
Returned Peace Corps Volunteer, Swaziland