Xam sa bopp. Fonk sa bopp. Gem sa bopp: The Sixth Annual Kaolack Girls' Leadership and Empowerment Camp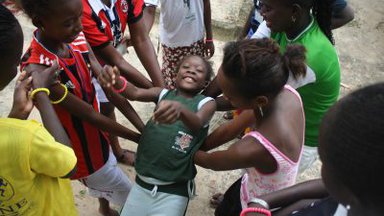 To celebrate international youth day, Peace Corps Volunteers in the larger Kaolack-Kaffrine-Fatick region gathered with 39 Senegalese teenaged girls for the 6th Annual Kaolack Girls' Leadership and Empowerment Camp.  16 volunteers were joined by four Senegalese women passionate about girls' rights, who volunteered their time and talents at the camp.  Girls were chosen throughout the three regions by Peace Corps Volunteers and local educators, seeking out high performing girls in danger of being taken out of school or disadvantaged in other ways.  The five-day camp focused on self-identity, female health, environment, gender, and setting goals for the future.
The goals of the camp were to introduce new knowledge, increase individual self-esteem, encourage critical thinking, and create a peer support network within the group of girls.  Our mantra throughout the camp was:
Xam sa bopp.  Fonk sa bopp.  Gem sa bopp. ("Know yourself. Respect yourself. Believe in yourself.")
From those of us on the planning team, we'd like to extend our many thanks to those involved.  From the generous donors to the courageous girls to our guest speakers to those goofy, hard working Peace Corps Volunteers, you created a wonderful camp for us all.
---