Volunteer-Organized Yène Festival Welcomes Over 2,000 Visitors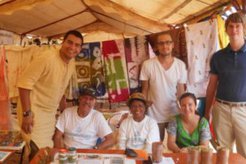 The Yène Festival International, with the municipality (Commune) of Yène and the Peace Corps Senegal as partners, was held June 12-14, 2015, in the courtyard of the Mayor's Office (Hotel de Ville), in the town of Yène. Designed to promote the Global Vision Cultural Center (GVCC) project, the Yène Festival was a major accomplishment in its own right. Peace Corps Response Volunteer Connie, Business Advisor for the GVCC, was among the organizers of the event. Other Peace Corps Volunteers took part in the festival, including Community Economic Development Volunteer Eric, who gave an impressive talk in Wolof. Agriculture Volunteers Gary, Dellie, and Mallory gave demonstrations on micro-gardening, and Community Economic Development Volunteers Eric, Estevan, and Joshua were instrumental in helping local artisans participate in the exposition at the Festival.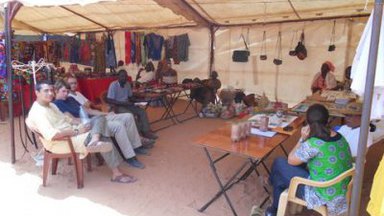 The site for the Global Vision Cultural Center for the Promotion of English and the Arts has been cleared and mapped, and tentative architectural drawings have been made. The center, to be located in the village of Ndoukhoura Peulh in the Commune of Yène, near the tourist town of Toubab Dialaw, is expected to be an international venue for culture, the arts, and promotion of the English language. The center will provide space for meetings, conferences, and civic events, especially those featuring the English language. It will also offer English and arts classes, promote tourism and cultural exchanges, and contribute to the socio-economic growth of the Yène area.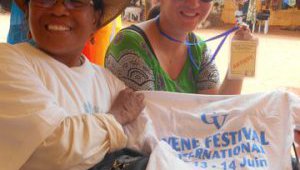 The Yène Festival has been hailed as a great success with approximately 2,000 people in attendance over the course of three days; about 60 exhibitors, both local and from major locations such as Kaolack, Thiès, Mbour, and Dakar; scores of local musicians and other performers; plus many students, local dignitaries, etc. Music and dancing took place on a continuing basis, and other entertainment included dramatic sketches, poetry readings, a children's chorus, and various speakers, including Peace Corps Senegal Country Director, Cheryl Faye, and Deputy Chief of Mission of the U.S. Embassy, Sandra Clark.
Daouda Fall, President of the GVCC and Artistic Director of the Festival, and the GVCC Board members are planning to make the festival an annual event that will continue growing for years to come.