A Tree for all Sectors: Volunteers in Northern Senegal Band Together to Promote the Benefits of Moringa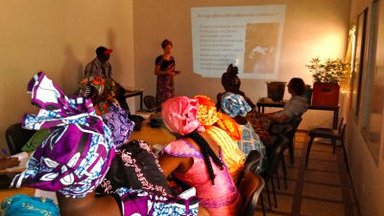 In early August, 188 health agents in the department of Podor attended a half-day training on Moringa. Made possible through the generous support of the Kansas-based NGO Trees for Life and two local organizations, the Peace Corps-led training covered the health and economic benefits of Moringa before discussing its agricultural propagation and potential barriers to adoption. The goal was to incite health agents (who are paid monthly to distribute nutritional supplements) to extend the Moringa seed distributed at the training and teach at least five households in their neighborhood about the tree. More broadly, the training sought to promote Moringa as a sustainable way of alleviating vitamin and mineral deficiency in the department of Podor, one of the most food insecure regions in Senegal, according to the United Nation's World Food Program. A cross-sectoral activity, it fulfilled primary goals and objectives in all of Peace Corps Senegal's frameworks.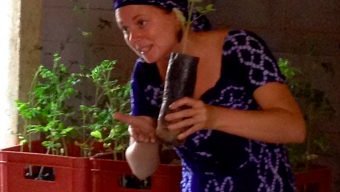 To cut costs and maximize efficiency, the training was incorporated into a two day seminar on alleviating childhood malnutrition organized by the Senegalese government's Malnutrition Alleviation Cell (Cellule de Lutte Contre la Malnutrition) and the locally acting NGO Le Partenariat. Members of both organizations helped Peace Corps volunteers transmit information in three languages (Pulaar, Wolof, and French) and animate brainstorming sessions. Le Partenariat also played a critical role financing and coordinating the logistics of the training. The organization covered the neighborhood agents' per diems, booked the venues and convoked the neighborhood agents, among other contributions.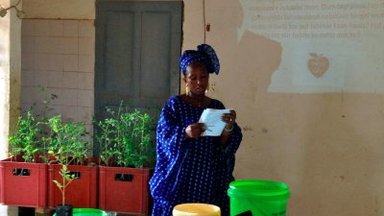 Six Peace Corps volunteers in all three of Peace Corps Senegal's sectors of action led the trainings. Peace Corps Senegal's National Moringa Coordinator Gordon captivated the attention of the neighborhood agents with his carefully put-together demos and impeccable Wolof. Health Volunteer Jill used beautifully crafted drawings with Pulaar text to better convey the nutritional value of moringa. Agroforestry Volunteer Alicia wowed the women with her in-depth knowledge of Moringa cultivation. Community Economic Development Volunteer Alice (who traveled over 70 km in a rickety van to attend the training) drew many smiles with her sense of humor before plunging into a detailed overview of Moringa's economic benefits. Health Volunteer David Lederer used Pulaar proverbs to build rapport with the audience before explaining Moringa's nutritional benefits. And Urban Agriculture Volunteer Alyssa designed the session plan with input from local work partners and was present at each of the eight training sessions, providing information and animating the brainstorming activities.
---