Training of Trainers in the Integrated Home Visit System
During the first few months in her village, Zola had the opportunity to accompany Community Health Workers as they conducted home visits. During home visits, Community Health Workers speak with adults of the household about a specific health issue like the prevention of malaria, Ebola, or common childhood illnesses. These visits are an effective method of disseminating specific health information to a household. Unfortunately, only a selected number of topics are covered, resulting in a limited amount of health knowledge being shared. During her Peace Corps Senegal pre-service training, Zola learned about a well-rounded system of home visits that covered various health topics, and realized that she had an opportunity to train local health workers in this system.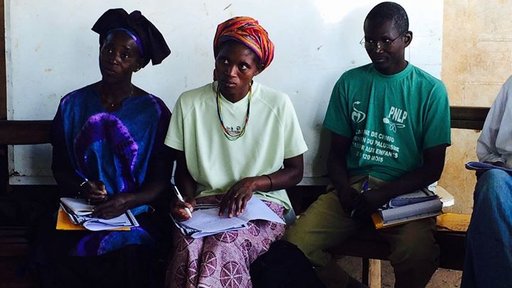 In 2014, the Ministry of Health had developed a handbook for Integrated Home Visits. While the handbook was published nearly two years ago at the time, Integrated Home Visits had not yet been adopted by her Health Post. During a discussion with her counterpart and the head nurse at the Post, they decided that training on the Handbook could add value to the efforts that the health workers were already undertaking. The handbook includes nine sections: the care of the pregnant woman; the newborn and new mother; the malnourished child; the sick child; the healthy child; promotion of family planning; prevention of neglected tropical diseases; promotion of health care coverage; and the prevention of malaria, diarrhea, and upper respiratory infections.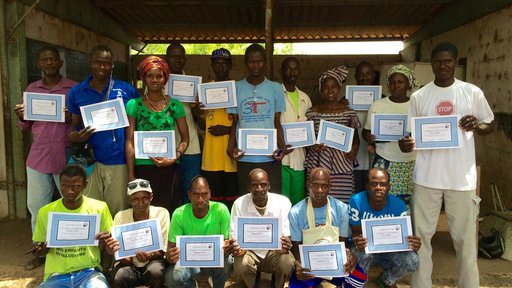 Zola and her counterparts chose 17 Community Health Workers from 11 villages that are served by the Health Post to take part in the training. These men and women had already been doing health work in their communities so were an ideal group to train in this new system. Beginning in last February, she and her counterparts held a four-part training on the Integrated Home Visit Handbook. After each day-long training, the health workers were tasked to go back to their respective villages and hold community health talks based on the information they had learned. The final training was dedicated to preparing the men and women to complete thorough home visits. After graduating the course, the 17 Community Health Workers held three Home Visits in each of their respective communities.
Through this training, over 50 Integrated Home Visits were completed in 11 villages, thus providing vital information about preventive health care, vaccinations, nutrition, exclusive breastfeeding, family planning, and more to households all over the Health Post zone. Additionally, 963 people benefitted from community health talks. When well applied, Integrated Home Visits have been shown to reduce maternal and childhood morbidity by up to 25%. While the impact on the long-term effects on her community's health, Zola and her counterparts are excited about the opportunities that this training has created.