Teamwork Leads to More Efficient Development for the Future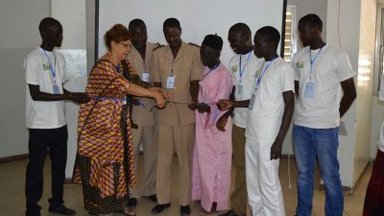 The city of Kaffrine was alive with creativity on January 28, 2016. Located in Senegal's peanut basin and with approximately 40,000 inhabitants, Kaffrine is a modest city comprised of farmers, health workers, government officials and a whole gamut of non-governmental organizations. Yet, with so many governmental and nongovernmental bodies present, development work is still often not coordinated, with each group working in isolation, and many similar activites going on simultaneously, consuming resources that could otherwise be used more efficiently. This situation does not lead to maximum productivity and can have negative impacts on communities. But, on this special day, Peace Corps volunteers invited over 65 people representing 40 organizations, who converged in a conference room to discuss joining forces and to talk about future goals.
Officials discussed their accomplishments completed in 2015 and their projected work for 2016. Many important people were present in the room, including the Vice Governor, Prefet and Mayor, as well as Peace Corps Country Director Cheryl Gregory Faye, who each delivered a brief statement about the event's importance for our mutual goal of sustainable development.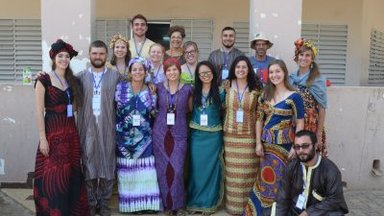 Specializing in agriculture, health, and community economic development, 15 of Kaffrine's Peace Corps Volunteers introduced themselves in local languages such as Wolof and Mandinka.  In addition, volunteers Christina, Abigail, Stefanie, and Michael presented on the state of work in the region's two work zones: Kaffrine and Koungheul.  As soon as this was finished, attendees broke into small group sessions in order to promote networking and collaboration. People discussed the importance of combining our resources to reach our development goals. Ideas and suggestions were exchanged as well as phone numbers and e-mail addresses.
Finally, a ribbon cutting ceremony was held for a new initiative called "SEN-ECOKAF SARL" to collect trash and recycling in the city of Kaffrine, a project started by Community Economic Development Volunteer Stefanie. Her counterpart and project organizers presented on the initiative and what they hope it will accomplish.  All those in attendance came away from the event with optimism and a greater sense of common direction.
More information: https://www.facebook.com/senecokaf/