Talibé Child Protection Conference Mobilizes Kolda Communities to Modernize Daaras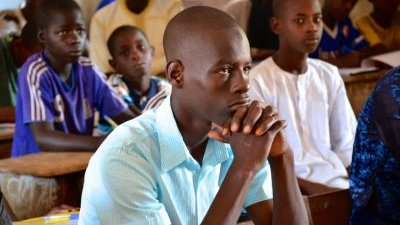 Adapted from Unheard World: Eyes on Talibés in Kolda
I honestly didn't know if everyone we invited would show up. But there they were, 38 talibé boys flowing into the room, shaking my hand shyly. The next day, 39 Kolda villagers showed up. On the third day, 37 marabouts (Koranic teachers) from the city of Kolda and surrounding villages swept into the room in their grand boubous. Every population we'd hoped to reach was in attendance at Kolda's first Regional Conference on Daara Modernization and Talibé Child Protection, 10-12 October 2014.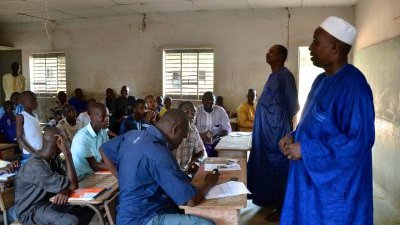 I planned the event in partnership with organizations advocating for child protection in Senegal including Tostan, World Vision, USAID, United Nations Office on Drugs and Crime (UNODC), the Ministry of Justice's anti-trafficking bureau (CNLTP), La Lumière and Enda. In total,164 talibé, marabouts, community members and local officials attended the conference. We a film by UNODC on the struggles of talibés and organized a panel of five to eight Senegalese speakers each day, all experts on daara modernization, Islam, child protection and community mobilization.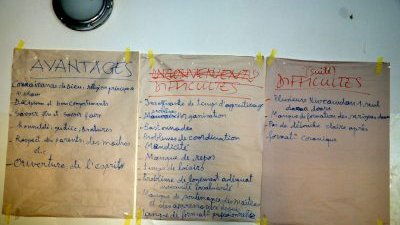 Background on the Talibé Issue
The exploitation of talibés, young Koranic students sent to live in Koranic study centers called daaras under the tutelage of marabouts, is a contentious issue in Senegal and neighboring countries. Talibés are often denied an education beyond Koranic memorization and are victims of forced begging, hunger and abuse.Talibés are considered an at-risk population in Senegal by Human Rights Watch.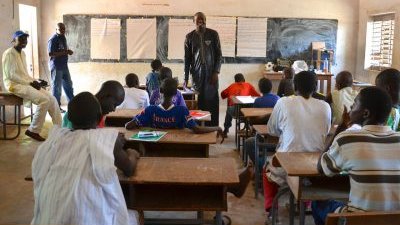 The Senegalese government has started a national movement to modernize the daara system and improve conditions for talibé. To be recognized as a "modern daara" by the State, a Koranic school must meet certain specific qualifications, including:
Students receive both a French and Koranic education
Hygienic and sanitary conditions 
Safe and secure housing for talibés
No begging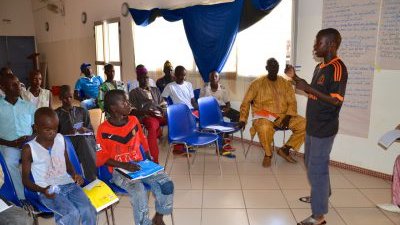 Kolda is an epicenter for talibés trafficking. Daaras here receive a flow of children from Guinea, Guinea Bissau, and Mali. Kolda talibés are often sent north to live in urban daaras in Dakar, Mbour, Thiès and St. Louis. During my first year and a half of service, I visited dozens of daaras in the Kolda region and started developing relationships with local marabouts and talibés. We only have a handful of "modern daaras" in Kolda. Many of the marabouts I've met are unaware that the system could be any different. Same goes for parents who send their boys away – and for talibés who see little hope for their future.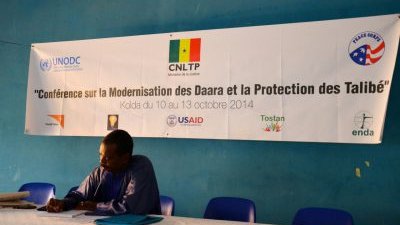 Goals of Kolda's Daara Modernization and Talibé Child Protection Conference
Motivate Kolda talibés and give them a chance to discuss their difficulties, hopes and fears for the future. The points they raised were then communicated to the two other groups including marabouts and rural parents.
Raise awareness of the Senegalese Government's national efforts to modernize the system. This included the enforcement of regulations, construction of new "modern daaras," and the how a community daara can become a State-recognized modern daara.
Empower community members to modernize and improve local daaras for talibés.  We outlined implementation of Daara Management Committees and/or Child Protection Committees.
Gather recommendations for next steps from each target population. Talibés, community members, and marabouts helped plan follow-up activities.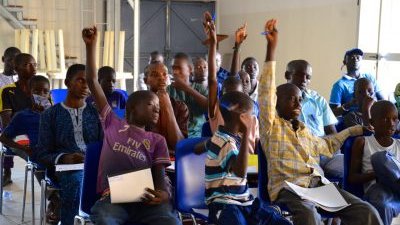 The Team
Speakers from local NGOs, the Kolda Academic Inspector, and government representatives all made important contributions to the conference. UNODC sent a speaker to present their film and discuss human trafficking. In particular, the participation of local marabouts was essential to the conference's success.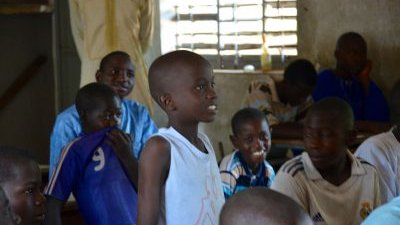 Thierno Mouhamadou Diamanka, one of my community work partners and President of Kolda's Association of Koranic Masters, helped me plan the conference and led activities and discussions each day. As a respected marabout who has chosen to modernize his daara, he was able to reach his peers. Behavior change – especially when ingrained traditions and beliefs are involved – won't happen quickly, but marabouts listen to Diamanka and respect his views.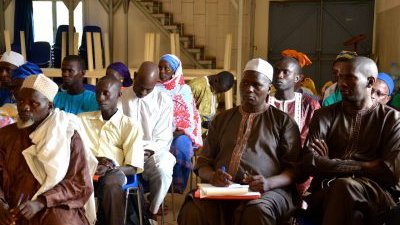 Mouhamed Chérif Diop, Child Protection Specialist at Tostan and Islamic Scholar, was also a panel speak. Diop has spent years working with communities and marabouts across Senegal and is well known among Koranic masters for his radio talks. He was able to explain the steps other communities have taken to modernize their daara systems and outlined what communities need to do to get there. In his words, positive change for the talibé situation in Senegal must come through an overall change in social norms, led by communities and guided by a clear concept of child dignity, rights and protection.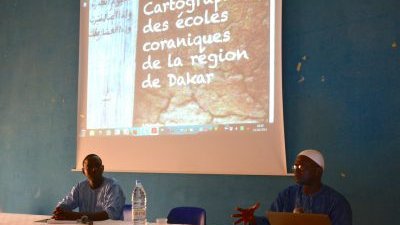 Results & Outcomes
Despite my worries about who would show up for the conference and whether or not we would offend anyone, the event was a success. Nearly everyone invited participated and our panel speakers were able to keep the audience focused and facilitated a calm discussion. With all the experts present, there was no question that couldn't be answered – whether it related to Islam, the law, academic standards, government actions, child protection, or the practical steps of daara modernization.
On the talibé day, Peace Corps Senegal Volunteer Support Assistant (VSA) Sakhir Dia, a former talibé, shared his personal story with the boys. Thierno Diamanka also played an Islam Q&A game with the boys called "Genie en Herbe" and I hurled candy prizes to the winners. All of this seemed to loosen the boys up and they participated in the group discussions with a candor I didn't expect. Most importantly, the event gave the talibés a chance to voice their opinions and be heard. Hopefully this is the beginning of a real movement for change in Kolda.
For more on talibés' difficulties with the current daara system, community members' and marabouts' recommendations for next steps in reform and more, visit Unheard World for Peace Corps Volunteer Lauren's full coverage, Eyes on Talibés in Kolda.
For more information and updates join the Peace Corps Senegal: Talibe
https://www.facebook.com/groups/pcsenegaltalibe/
 Facebook group.