System of Rice Intensification (SRI) Training Reaches 24 Farmers in Thilambol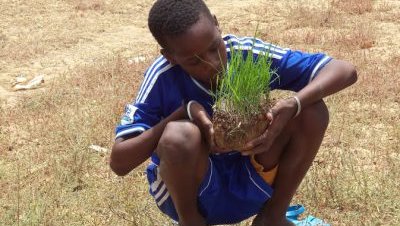 Peace Corps Volunteer Dana organized a System of Rice Intensification (SRI) training at a Master Farm in northern Senegal 16 June 2014. Twenty four rice farmers from the region attended.
The Senegalese government provided tractors to prepare the new fields and irrigation trenches along with water pumps. Seeds and fertilizer will be delivered to the farmers soon. The Thilambol farmers are on track to successful rice farming this year. All they need now is training to get the most out of these technologies.  That's where Peace Corps comes in.
Peace Corps Volunteers promote SRI as a sustainable, productive method of farming that can be implemented and taught their friends and co-farmers. All the farmers understood the methods and were excited about implementing them in their fields.
For more information on SRI explore Peace Corps Senegal SRI lesson plans, power points and more on our Drive Library.