Senegal Peace Corps Volunteers Assist CDC with Entomology & Camp -- Malaria Research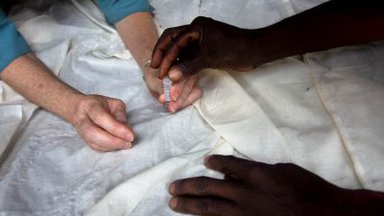 Dr. Ellen Dotson, Research Entomologist for the Centers for Disease Control and Prevention (CDC), visited Peace Corps Volunteers engaged in malaria prevention and entomology research in Senegal's Tambacounda, Kedougou and Kolda regions 24-27 September 2014.
The Center for Disease Control (CDC) trains volunteers to collect and prepare mosquito samples for research purposes. During her tour Dr. Dotson coached volunteers through malaria and mosquito physiology presentations they'll deliver to at-risk communities. Community members were trained in the 'spray and capture' technique as well.
More than 20 Peace Corps Volunteers have been trained for and participated in entomology research since Peace Corps began its collaboration with the CDC in Senegal. More trainings are planned for 2015.
"The hope is to find out how the malaria parasite, and other parasites, work within the mosquito's stomach," Dr. Dotson said. "Once we know how to create a malaria nullifying mosquito parasite, we may begin to make progress."
---