Rebuilding Soil Fertility in a Semi-Desert
Cheikh Dabo does his best to cultivate a dusty plot on the western outskirts of the Linguere, but it's been an uphill battle. The soil there has been hardened from lack of water, and is infected with disease, depleted of nutrients, and eroded from the strong winds.
At first glance, the idea of farming in Linguere, a small city in north-central Senegal, may seem like an impossibility. The city is located in the Sahel, a transitional zone being slowly enveloped by the Sahara desert. Plunging water tables, sandy soils lacking organic matter and migrating herders – who blow through amidst hundreds of cows, goats and sheep, leaving desolation in their wake, not unlike the wind and sandstorms carrying away Linguere's topsoil –all exacerbate dire environmental issues including deforestation, overgrazing, and erosion.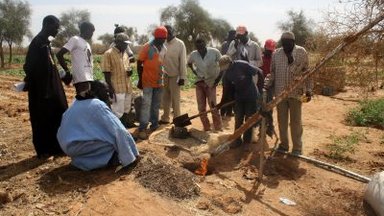 Still, like much of Senegal, the region's inhabitants rely on subsistence, often rain-fed, agriculture. Although 2015 brought an abnormally heavy rainy season, the previous years yielded minimal rainfall, leading to poor yields in many crops. A short "cool" season (when temperatures range from 80˚ F to 100˚ F) follows the rainy season, and farmers take advantage of the respite from heat, wind, and lack of water to plant vegetables like carrots, okra, tomatoes and parsley.
Despite the challenging conditions, there is a large community of market farmers like Cheikh Dabo who are open and receptive to learning new practices that could improve their yields and incomes and lighten their workloads.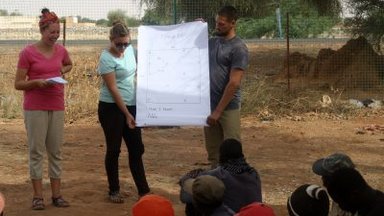 Mid-way through last rainy season, an opportunity presented itself for Dabo to start farming on the east side of town. The Minister of Agriculture created a ten-hectare field to be parceled up and given to 20 farmers in the area, including Dabo. Shortly after, Dabo introduced the idea of holding a training with the other farmers in basic gardening practices.
Dabo worked with four Peace Corps Volunteers in the area –Brice, Megan, Adam and Sara –to determine the best approach to take. Together they designed a Training of Trainers, involving several topics related to soil management. Over the next few weeks, they prepared Dabo's field to include examples of some of the techniques to be covered in the training, such as mulching, using corn as a temporary windbreak, intercropping and creating organic fertilizers.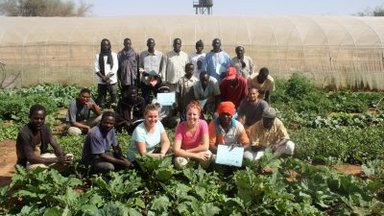 On the day of the training, Youssoupha Boye, a member of the Peace Corps agriculture technical team, came to assist with the event. Demonstrations were held on such topics as bed preparation, organic soil amendments, proper spacing between plants, crop varieties, companion planting, mulching, compost and manure tea, and wood vinegar. The volunteers led discussions with farmer-trainers from neighboring areas to talk about how each of these techniques will build soil fertility, save water, increase yields, and reduce pest pressure, as well as discussing the problems associated with conventional alternatives, such as monocrops, chemical fertilizers, and pesticide.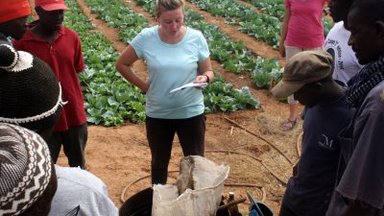 Fifteen farmers attended the training, and all were receptive to the lessons and eager to try the new techniques out on their own fields. Now, equipped as trainers themselves, they will be assisting volunteers in the coming months as they expand their reach to nearby communities. The next target audience is a women's gardening group that recently formed in the city. As they gain experience testing and teaching these techniques, they will be well on their way to organizing and leading trainings on their own, without the help of Peace Corps staff or volunteers.