Putting on a play to educate about malaria
Grasping at her scarf nervously, Tida knew this was the moment.  Taking a deep breath, she stood gracefully and uttered her lines with conviction: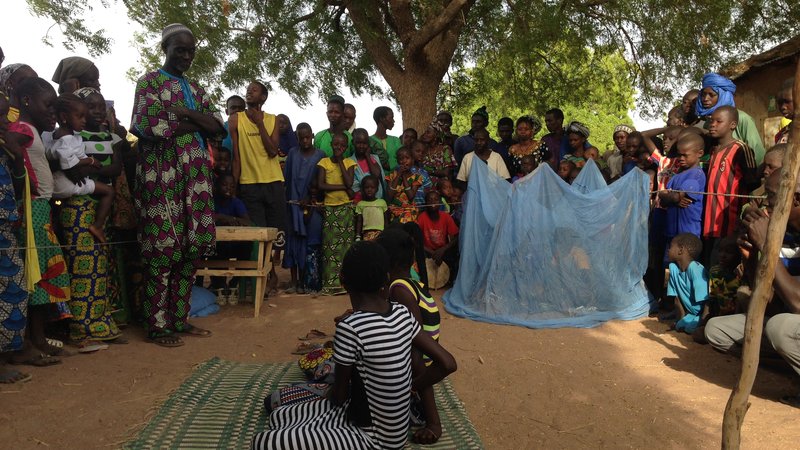 "My body hurts. Last night I was bitten over and over by mosquitoes. Today I will go to the health clinic to get a bed net so that my children and I do not get malaria." Her fellow student, Adama, joined in declaring, 
"Last time my son had malaria, I did not take him to the clinic to get medicine. He died. Now I am asking everyone, if they love their children, to take them to see the doctor if they have malaria.  We never want this to happen again."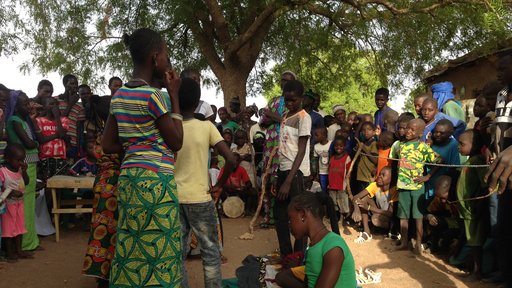 Their part of the theater performance over, Tida and Adama joined their 26 peers from the elementary school club as their many hours of hard work were rewarded by the cheers of over 200 friends, parents, and other community members. 
The students began planning the play in March. They were sitting in a stuffy classroom in their rural village in the Tambacounda region and listened as local Peace Corps Volunteer Sophia taught them about malaria symptoms, treatment and prevention. They took home paper and colored pencils to draw something about malaria that stood out to them. They brought their artwork to class the following week. Each student was excited to stand up in front of the class and present their drawing.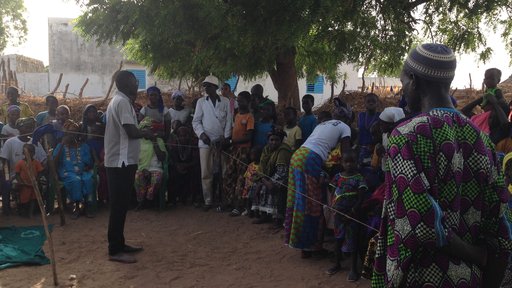 Sophia helped the students transfer their work into two skits on the issues of malaria prevention and early care seeking. A community health worker partnered with the school teacher to direct the skits. The long, hot month of April consisted of many rehearsals, as the students learned to speak loudly and act with enthusiasm. Village elders chose the top three art drawings, and on the day of the theater show, all the drawings were hung by the stage for the community to see. The nervous students arrived early that day. Finally, as the drums were played, people streamed out of their compounds to see what the commotion was about. The students took their places and the show was off!  
These 28 students are now confident in their ability to take responsibility for their own health and promote malaria treatment within their village.

Health Volunteer Sophia
Afterwards, the school teacher, Volunteer, and community health worker summed up the Mandinka-language performances in Wolof, Mandinka, and Pulaar so that everyone in the audience understood. The students celebrated their success before heading home to use their newly-installed bed nets, which had been distributed to the club students as a part of the project. 
Sophia's rural community suffers every year from high malaria rates and bed net coverage is far from universal. However, these 28 students are now confident in their ability to take responsibility for their own health and promote malaria treatment within their village. The collaborative capacity of the local health clinic and elementary school was strengthened, and over 200 people from multiple villages were reached. As a result of this project and with funding from USAID, the students are better protected from malaria and the community is now motivated to fight the disease, just in time for rainy season.