Poultry Feed Project Long in the Making Finally Takes Off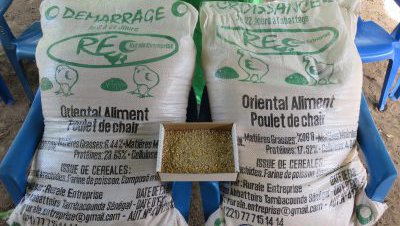 For the first time ever, there is a poultry feed source in Tambacounda. This innovation has come about thanks to a Feed the Future grant, the dedication of 31 members of a local economic interest group called Rural Entreprise, and the tireless efforts of three Peace Corps volunteers.
Tambacounda Aliments Oriental is up and running after several years of organizational and product development, as well as a long wait for the government's regulatory seal of approval. The project was born out of the observation that the only sources of poultry feed were far away in Senegal's capital, Dakar, and a huge component of any poultry producer's bottom line was the cost of transporting feed over long distances. At the outset, the project sought to achieve three goals: provide a cheaper, centralized feed source to producers in Tambacounda and the surrounding regions; increase the availability of quality poultry and by-products (e.g. eggs); and provide employment and income for the members of Rural Entreprise.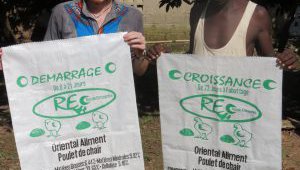 These goals dovetailed perfectly with those of USAID's Feed the Future program, which seeks to promote the three pillars of food security (availability, access, and food use), making it an ideal recipient of grant funds. While waiting out the long process of receiving government approval, Community Economic Development Volunteer Ethan, who inherited the project from returned Volunteers Kelly and Jenn, focused on building organizational capacity and educating Rural Entreprise members about good business practices and the poultry industry. Training topics included marketing, accounting, health, and safety.
Once the project was approved, the group was able to jump into full-scale production, launching a stock depot and retail location. Several media outlets including print, radio, and online, covered the inauguration, successfully introducing the brand to the public.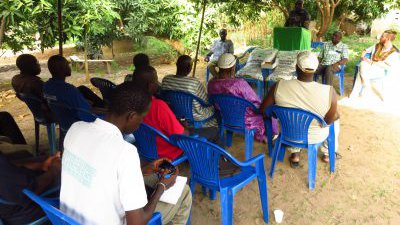 Due to local sourcing of raw materials, continual product development, and a model that prioritizes job creation, this business is positioned to be a strong economic force within the community, region, and national poultry feed production market. On the community scale, the business directly provides over thirty people with sustained employment and business training. Also, the increased knowledge about the poultry industry enables a higher capacity for by-product business development by group members. Regionally, the impact is felt as an increase in food security and nutritional benefit without an increase in the cost of living for the end consumer. Finally, nationally, the introduction of a locally sourced, high quality product at a competitive price marks the end of an era when the majority of poultry feed's costs were determined by transportation and logistics expenditures.