Peace Corps Volunteers in Kolda Help Shape the "Leaders of the Future"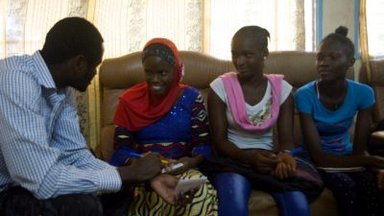 While summer vacation can bring fun for some, it brings dread for others - having nothing to do all day can be pretty boring. Back in the States, many high schoolers have summer jobs in a kitchen doing dishes, lifeguarding at the community pool, or bagging groceries at the local supermarket. Here in Senegal, there is little opportunity for youth to fill their vacation days working for a little extra money. But for 13 high school students from Lycée Alpha Molo Baldé in Kolda, this summer is bringing anything but boredom. In partnership with World Connect and local organizations, the "Leaders of the Future" internship program provides these students with a six-week internship designed to give them a better perspective on life in the professional world.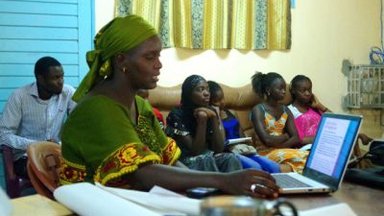 The organizations, including the Chamber of Commerce, a women's maternity health clinic, a pharmacy, a hotel, a local radio station, and other development and government agencies, host their intern Monday through Friday during normal working hours. Each weekend, the volunteers in the Kolda work zone, along with high-school counterpart, Madame Fanta Boiro, hold professional and personal development meetings with topics including financial literacy, leadership, and health. Nathan, a health volunteer based in rural village in Kolda, even had the students put Laamude (a very sour local fruit) in their mouths and practice speaking as an exercise in building public speaking skills and confidence!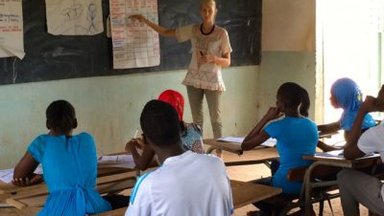 Over the six-week period, the students get to experience a wealth of opportunity usually inaccessible to them. They have learned what is expected in professional environments and what organizations in their community are doing to further develop Senegal. By attending meetings, learning how to type reports (most students can only use a computer well enough for social media), assisting their supervisors with work in the field, and entering data into the computer, these students are not only preparing themselves for the world after high school, but they are better able to participate actively in community activities. One student, Maguette Kané, participated in a meeting with the National Director of ADC/Ninnaba, a local organization working with women's groups and rural agriculture. Another, Mamadou Diallo, assisted in going to the bank to reconcile accounts of a project for USAID Yaajeende.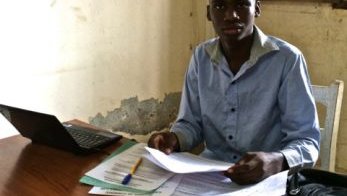 In its second year in Kolda and first year in other regions including Velingara and Kaffrine, this program is a simple way for students to learn more about their communities while preventing them from whiling their vacations away drinking attaya (the local, sugary tea) or getting into trouble with friends. Madame Boiro, project counterpart at Lycée Alpha Molo Baldé, calls the program "a good initiative that enhances the leadership skills of the awardees and allows them to have a clear idea about their futures, and tackle professional life with with regards to health, economic development, and entrepreneurship."
As this year's internship wraps up, volunteers, interns, supervisors and parents alike are excited about this year's accomplishments and about enabling youth with the tools to not only be leaders of tomorrow, but leaders in their communities today.
---