Peace Corps Volunteer Project Inspires PC Senegal and Proplast to Establish "Plastic-Free Communities" Program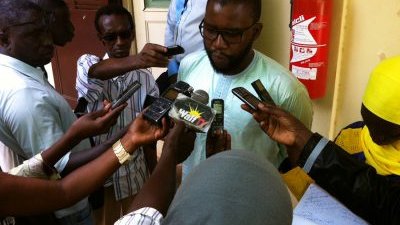 In late 2012, following completion of her In-Service Training, Community Economic Development Volunteer Karen returned to her site, Louga, with an idea: Could a group of interested citizens be organized to form a business collecting recyclable plastic from their community and selling it to a plastic-recycling operation in the city of Thies?
Two years of effort—planning, negotiating, organizing, training and motivating—culminated in the summer of 2014 with the Louga-based group's first plastic sale to Proplast, a Thies-based plastic collection and recycling operation.
Friday 10 October 2014 a Memorandum of Understanding was signed between Peace Corps Senegal and Proplast to create a new waste management program and partnership based on the model Karen developed called "Plastic-Free Communities." The program allows communities to start their own plastic collection enterprises. Operating within the guidelines for collection, sorting and transportation, the communities will be able to contract with Proplast for sale of their collected hard plastic.
The benefits Karen initially identified and envisioned for Louga are now within reach for communities across Senegal. In addition to the health and sanitation benefits of plastic-free communities, the program also offers the opportunity for motivated groups or individuals to reap the economic benefits of plastic recycling through sustainable employment and modest added income.
Karen closed her Peace Corps service in August 2014. Although she was not present at the historic Memorandum of Understanding signing, her dedication served to inspire and empower the people of her community in ways that will continue long after her service was completed.
---