Peace Corps Volunteer Ebola Prevention W.A.S.H. Training Reaches 400 in Tamba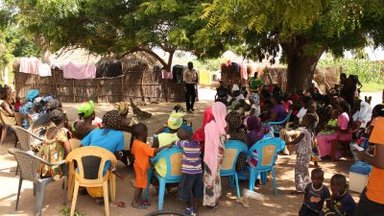 Peace Corps Senegal Volunteers Dario, Katie and Lindsay organized an Ebola prevention W.A.S.H training and reached 400 people across four villages in Senegal's Tambacounda region in just two days!
Dario's Africare counterpart, Omar Ba, led the training. He discussed the symptoms and dangers of Ebola and focused on ways to prevent transmission.
At this critical time, Peace Corps Senegal's Water, Sanitation and Hygiene (W.A.S.H.) curriculum, teaching proper hand washing and sanitation, has never seemed more pertinent. For more information on the W.A.S.H. program please visit: http://goo.gl/2AsPwj